Pro Football Hall of Fame 2011 Induction Class Hails Chris Hanburger
August 6, 2011
The Pro Football Hall of Fame inducts their 2011 class today. Washington Redskins legend Chris Hanburger, a Seniors nominee, finds himself joining the heralded walls of Canton.
Some of you may recall my quest to get Chris his long overdue respect. His nine Pro Bowls are the most in Redskins history, and his four First Team All-Pro honors is tied with the legendendaty "Slingin" Sammy Baugh as the most in franchise history. He was also named 1972 Defensive Player of the Year by the NFL 101 Committee.
I wanted to give you real Redskins and NFL fans a gift. I spent months talking to players and coaches Chris played against or with. They graciously gave me quotes and letters, which I compiled into a package and submitted to the Seniors Committee of the Hall of Fame a few months ago. His peers awoke the voters and got "The Hangman" finally inducted.
For those who saw Hanburger play, none of these quotes will surprise you. For those younger fans oblivious to his greatness, this may help educate you on the impact Chris Hanburger had on the game of football while wearing a Redskins jersey.
Please enjoy :
JACKIE SMITH
Tight End
1963 - 1978
Hall Of Fame Inductee 1994
As tight end playing for St. Louis and in the same division as the Redskins, I played against Chris twice a season for quite a few years. When I first started playing, linebackers were big strong guys, not very mobile and geared more to stopping the running game.
Chris should be the "poster boy" for the new era of linebackers that could not only be effective against the run, but equally effective against the pass. His combination of strength and speed made it very difficult to block him or even get position on him. His ability to anticipate and then react allowed him to knock down passes in the intermediate distances and make tackles on the opposite side of the field.
He had to be the first linebacker to broaden the scope of the linebacker and increase the expectations of other teams of their linebackers.
I seriously doubt if I ever effectively blocked Chris. My guess is I only got in his way for a split second, because he was intent on being where the ball was on every play.
He was a player all teams had to prepare for...or at least try to.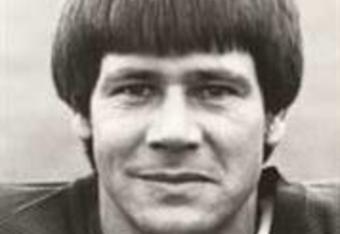 Added to his great skill is another important aspect of Chris Hanburger. We need to remember the gentlemen that played this game. These are players that played the game with their heart because they appreciated the opportunity and wanted to do their best. They modestly reflect on their accomplishments simply because they would not have been satisfied with less.
Chris Hanburger belongs in the Pro Football Hall of Fame.

Joe Gibbs
Former Head Coach, The Washington Redskins
1981 - 1992, 2004 - 2007
Hall Of Fame Inductee 1996
When Chris was an active player, I coached against him when I was an assistant coach of the St. Louis Cardinals. When we prepared our game plans, we always considered how Chris might react against our plays. We considered him to be an exceptional player and we always took that into consideration during our game planning. He was an all around player who made the most of his abilities. He was tough and smart – two player qualities that I always wanted in my players.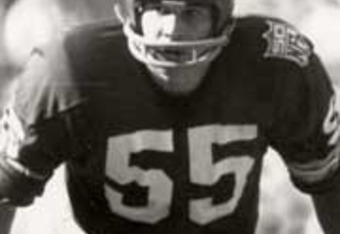 Even though I never coached Chris, I have respect for him as a person and a football player. He is a big part of the Washington Redskins history.

MIKE DITKA
Tight End
1961 – 1972
Hall Of Fame Inductee 1988
Chris was a hell of a player. He could beat you with finesse. He was always in position, and was smart and quick. He also could use power.
He was quiet and did his job, having a great career without the attention he deserved.
People get too caught up in statistics. He knocked me on my ass.
When I was in Dallas, Coach Landry would always tell us to watch him.
He belongs in the Hall Of Fame.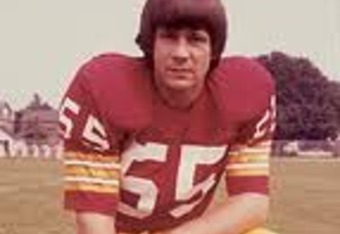 CHARLIE SANDERS
Tight End
1968 - 1977
Hall Of Fame Inductee 2007
Chris was smart. He was a real student of the game, and studied his opponents. He had a nose for the ball, and was very hard to block. He always gave me a headache.
RAYMOND BERRY
Wide Receiver/ Coach
1955 – 1967, 1968-1992
Hall Of Fame Inductee 1973
He should be in the Pro Football Hall Of Fame. Nine Pro Bowls speaks for themselves.
I remember one play I caught a pass, and Hanburger absolutely blasted me. As he was laying on me, I fixed my helmet, looked at him and asked, "Are you OK?" Hanburger looked at me stunned by the question.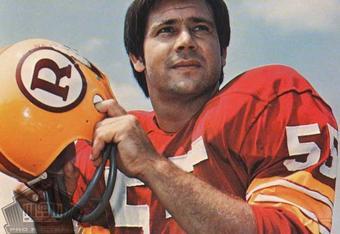 SONNY JURGENSEN
Quarterback
1957 – 1974
Hall Of Fame Inductee 1983
Chris Hanburger is the smartest linebacker to ever play in the NFL. He was a coach on the field.
Chris belongs in the Pro Football Hall Of Fame. His nine Pro Bowls is proof.

Roger Staubach
Quarterback
1969 - 1979
Hall Of Fame Inductee 1985
Chris was an outstanding linebacker in the NFL. Even though we had our great rivalry and I didn't like the Redskins, I respected him.

John Hannah
Offensive Guard
1973 - 1985
Hall Of Fame Inductee 1991
He was, at that time, the smartest player in the league. We did everything we could to try to eliminate him from the play. We knew if we didn't neutralize him, then we had less of a chance of winning.

CHARLE YOUNG
Tight End
1973 – 1986
Chris Hanburger was one of the best. It takes an All-Pro, such as myself, to know another All-Pro.
He was the toughest linebacker I ever went against in my career.
He was extremely difficult to block, and he was never out of position. He was a smart, hard working player who got the job done.
He could read you. He knew what you were going to do before you did.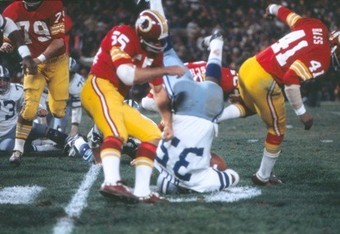 HOMER JONES
Wide Receiver
1964 – 1970
I feared Chris Hanburger much more than Dick Butkus, or any other linebacker in the NFL. He could run with me, and he could hit very hard. He was also very smart.
Chris Hanburger deserves entry into the Pro Football Hall Of Fame.

NORM BULAICH
Fullback
1970 – 1979
Chris Hanburger should be in Canton. The voters must wake up. He went to nine Pro Bowls!
Voters do not realize how hard it is to just make an NFL team, let alone be voted to the Pro Bowl by your peers.
He is at the top of my list of linebackers I played against in my career.
I respected him. He had great football sense. He was very fast, and hard to block. His knowledge of defense was excellent, and he always got to the ball.
JIM HANIFAN
Coach
1973 – 2003
Chris Hanburger played a mistake free game. He just never made mistakes. Don Coryell, Joe Gibbs, and I would game plan on him, but it did not work.
He was intelligent and excellent. He deserves induction into Canton. .
I will always remember one particular game. George Allen had Hanburger reading the hand signs Gibbs and I was flashing to Jim Hart, our quarterback. Hanburger kept making play after play, destroying our gameplan.
I got so mad. On the next play, I saw Hanburger looking over at our sideline. I flashed him the middle finger, which caused Hanburger's jaw to drop as he looked at me in disbelief. I still laugh today at this memory.

CALVIN HILL
Running Back
1969 – 1981
The best outside linebackers I ever faced were Chris Hanburger, Jack Ham, and Chuck Howley. It was Hanburger, however, who gave me the most trouble and taught me the most. Hanburger made me a better player.
He was scary.
He was the guy who captained the Redskins defense, and called their signals. I hardly ever beat him, and it usually took me all game just to beat him on a play.
You never knew when he was going to blitz, and he often jumped over me on a blitz. He was smart, and gave you different looks. He was a nightmare to oppose.
You would just hope to try to beat him some of the time. He was slippery, and was resourceful. He was difficult to beat athletically, because he was such a great athlete. He was great at the point of attack.
He could really run, and was fluid in his flow. You had to game plan specifically against him, because you knew he was a top opponent.
When I was with the Redskins, he was a great teammate. He was really great in practice also.
He was a big play guy who defined the WLB position. There is a reason he was a Pro Bowl player nine times.
The fact he is not in Canton shows the voters do not understand how good he was.
BRIG OWENS
Safety
1966 – 1977
Chris Hanburger is one of the all-time greats. He was a strong leader both on and off the field.
It is inexcusable that he has yet to be mentioned for induction. He went to nine Pro Bowls, the most in franchise history.
He knew how to read plays. He would argue with Sam Huff in the huddle over what play to call, which kept the team loose.
He was a great friend and teammate.

PRESTON PEARSON
Running Back
1967 – 1980
I had lots of clashes on the gridiron with him, and I never looked forward to opposing Chris Hanburger. He was an all around linebacker.
He was studied, and he knew his opponents. He was always well prepared.
Not only was he very smart, but he was a hard-hitting linebacker. He was really, really tough. He deserves induction.

BRAD DUSEK
Linebacker
1974 – 1981
Chris taught me everything I know how to play linebacker.
He was our "one" general on the team. He knew over 300 audibles for our defense.
He was modest, smart, quick, and fast. He was always one step ahead of the opponents. He had this amazing ability to read the eyes of running backs. He had a sixth sense.
Chris Hanburger should be inducted into the Pro Football Hall Of Fame.
LEN HAUSS
Center
1964 – 1977
I was Chris Hanburger's roommate for eight seasons on road games. He was always a smart player, and one of the hardest hitting players in the league.
He had a quiet, business like approach. He was not a "look at me" type of player, meaning he would never blow his own horn. He put the team first.
He would study the opponent's non-stop. He knew the opposition, and was excellent at studying their tendencies.
He was a great player, and a team player. He deserves to be in Canton.

RICKIE HARRIS
Defensive Back
1965 – 1972
Chris Hanburger was the smartest player I ever played with. I really respected him.
He taught me how to read a defense, and he often covered me on the field. He was so smart; you knew you could depend on him to play a defender. It made my job easier.
Our defense was dependent on him to get us in the right position. He was regimented on defensive duty, and knew all of our assignments.
He could run with everyone in the NFL, and he often covered wide receivers on pass plays. He is also one of the best blitzers I ever saw play.
Chris Hanburger was a great player, and he deserves induction into Canton.

Facts :
Chris Hanburger
Washington Redskins
Linebacker
6'2" 220
1965 - 1978
14 Seasons
187 Games Played
19 Interceptions
17 Fumble Recoveries
5 Touchdowns
9 Pro Bowls
4 First Team All-Pro Teams
1972 NFL 101 NFC Defensive Player of the Year
Christian G. Hanburger was an 18th round draft choice of the Redskins in 1965. He was the 245TH player chosen that year. He was a 25 year old rookie, due to his service in the Army before going to the University of North Carolina.
At UNC, he was a 2 way player who was named All ACC at Center his junior and senior years. In 1963, his team won the ACC Championship.
Hanburger played right away and was in the Pro Bowl by his second year in the league. He would then begin a string of Pro Bowl appearances until 1969.
He then resumed that string in 1972 until 1976.
Sacks and tackles were not recorded in those days, but Hanburger was a playmaker.
He is considered one of the best of his era. He was known for his blitzing ability and pass coverage.
Ever the complete player, he returned three fumbles for touchdowns, the third most in NFL history, in his career to go with two more on interceptions.
In 1972, Hanburger captained the Over The Hill gangs defense to a Super Bowl appearance and was named NFC Defensive Player of the Year by the NFL 101 Club.
Hanburger was known not only for good speed, but his exceptional intelligence and quickness.
He had the innate ability to diagnose a play before the ball was hiked. He often would cover the other teams tight end and peel off to knock passes down meant for wide receivers.
Hall Of Fame coach George Allen liked to leave Hanburger in charge of the play calling on defense, and named his team captain for many seasons.
Chris Hanburger's nine Pro Bowl appearances are still the most by any player in the entire history of the Washington Redskins.
His four First Team All-Pro honors are tied with Hall Of Famer Sammy Baugh as the most in team history.