Tennessee Titans: 2011 Season Prediction and Breakdown
August 6, 2011
Grant Halverson/Getty Images
With a week until the Titans line up for their first preseason game of the 2011 season, it is time to identify what to expect from the team this year. But before any predictions are made, let's take a look at some of the changes that will be shaping the results we see on the field this year.
When it comes to making predictions the first place you start at is at the top. The Titans are in unfamiliar territory having to deal with a new coaching regime coming in this season. And of all the years for the team to finally decide to move on from Jeff Fisher's seemingly eternal run, they do it in a year where there is a lockout and coaches were not allowed to even make contact with their players until just days before camp.
The only silver lining with this new move is that new Coach Mike Munchak was promoted from within the franchise. So he was a member of the family, thus making the transition from offensive line coach to head coach  hopefully a smooth one. This familiarity with some of the players and front office can only be considered a plus. Add that with his Hall of Fame career that should give him instant credibility in the locker room among the players whom he is working with for the first time.
Now when it comes to the additions and subtractions made with the roster this offseason, things can get a little dicey depending on who you speak to. Perhaps the biggest point of contention among observers is the drafting of quarterback Jake Locker in the first round of this year's draft.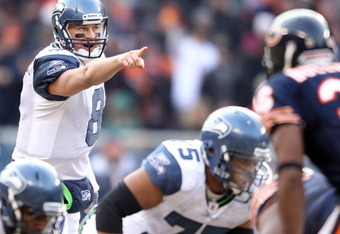 Andy Lyons/Getty Images
Although many consider taking him so early to be more of a stretch than anything else, it is important to remember that had he entered the draft last year he would have been the likely No. 1 pick overall. The new coaching staff picked Locker as "their guy" and are putting all their eggs in his basket. They see something they like and are going with it. Although this will be a topic brought up many times throughout the season, he will likely be more of a storyline than a contributor on the field.
In other Titan QB news, they brought in stable veteran Matt Hasslebeck to hold down the fort while Locker waits in the wings. It is hard to criticize this move; he seems to be exactly the right guy for this situation. He is a strong veteran with hopefully something left in the tank. That brings us to the obvious move of the summer, which was the team telling Vince Young to get out of town. Everyone knew this was happening and you'll be hard pressed to find anyone to disagree that these two needed to end their rocky relationship.
Besides all the quarterback news, the biggest offseason news concerning the team is the hold out of all-world running back Chris Johnson. Now as toxic and distracting as this situation has the potential of being, it probably will not affect the on-field product much unless this situation gets ugly and spills into the season, which it may. So Titans fans, just keep your fingers crossed that this situation gets resolved.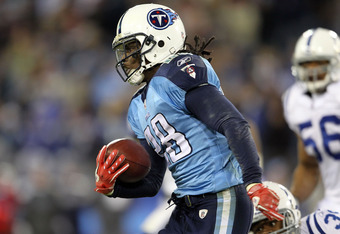 Andy Lyons/Getty Images
There are several other newsworthy moves made this offseason, such as losing LB Stephen Tulloch and replacing him with ex-Buc Barret Rudd, losing DE Jason Babin and the signing of safety Jordan Babineaux from the Seahawks. All these moves along with losing TE Bo Scaife will have an effect on the team, the question is do these moves make them better or worse? Probably neither.
It is hard to fathom that the defense will be better than last year, which can be considered mediocre at best. There were ranked 15th in points allowed and 26th in yards allowed per game. That is definitely nothing to write home about, especially with the loss of perhaps the two most productive members of that unit in Babin and Tulloch. Team that with the reports that cornerback Cortland Finnegan walked out of camp this week due to a contract dispute. It seems things are probably going to get worse before they get better on this side of the ball.
Moving to the offensive side of the ball, things seem to be on much sturdier ground. They made a huge move by re-signing Guard Leroy Harris. This will allow them to return their entire offensive line from last season. Even though they underperformed as a unit last year, you cannot discount the importance of bringing everyone back. Maybe having another year under the tutelage of Munchak will bring improvements to the line play.
Assuming the mess with Johnson gets worked out before the season, they will be pretty set at that position. But if the situation is not worked out they will be in obvious trouble. Taking a look to the outside, there seems to be an adequate group of receivers if Kenny Britt can stop being an idiot off the field and is able stay healthy on it. His maturity will be the key. He showed flashes of brilliance last year that has given fans hope.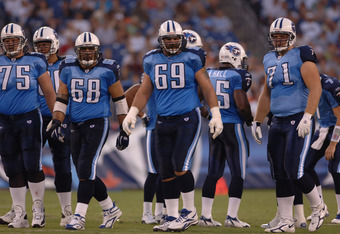 Joe Murphy/Getty Images
When you team that upside with solid veteran Nate Washington and highly thought of youngsters like Damien Williams and Marc Mariani, they could have a much more productive set of wideouts than originally thought.
The most solid phase of this squad will most likely be the special teams unit. With stud kicker Rob Bironas and Pro-Bowler Marc Mariani returning kicks, the special teams should again play a big role for Coach Munchak.
PREDICTION:
Taking the fact that the Titans have "REBUILDING TEAM" written all over them into consideration, there likely won't be too many wins coming this year in what is primed to be a tough division. Playing the likes of the Colts, Texans and Jaguars twice this year could spell an ugly division record. Their out of division schedule is not exactly a walk in the park having to play teams like the Steelers and Falcons on the road. But on the flip side of that, there are some very winnable games on their schedule like the Bills, Bengals, Browns and Panthers.
Taking everything into account, the Titans will finish with a 5-11 record, taking a small step back from last year. Although reports thus far out of camp are that the team is responding well to their new coaches, I believe the coaching turnover teamed with the lack of an offseason and off-the-field issues will take a toll on this team.