DeSean Jackson: If Holdout Ends Monday Eagles Will Have a Tough Decision
August 6, 2011
Nick Laham/Getty Images
DeSean Jackson will end his holdout and report to the Philadelphia Eagles training camp at Lehigh University on Monday, Jeff McLane of the Philadelphia Inquirer reports.
Jackson and his agent, Drew Rosenhaus, have been pretty quiet about the ordeal. Perhaps Rosenhaus learned a few things from the Terrell Owens debacle back in 2005. Owens hired Rosenhaus after he thought he outperformed his contract. With a new agent on board Owens let everyone know how he felt by holding a press conference at his house and doing sit-ups in his driveway among other things.
The Eagles didn't blink and when Owens continued to create distractions he was dismissed from the team after seven games.
The Eagles can't be too happy about Jackson holding out this long, but at least it has not escalated into a situation similar to T.O.  And  if Jackson does report on Monday he would be giving in and playing by the Eagles' rules, which are simple: They don't negotiate with holdouts.
In defense of the Eagles, it makes sense to have this policy. You can't let players use a holdout as leverage to get what they want when they're not happy. It sets a bad precedent and would result in players like LeSean McCoy and Jeremy Maclin possibly holding out next year.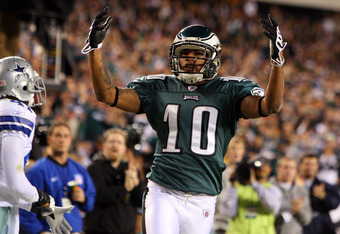 Jim McIsaac/Getty Images
Due Jackson's camp being quiet no one is sure what the three-year pro and two-time Pro Bowler will want. The speculation is Jackson will seek something similar to Santonio Holmes' five-year $50 million deal, which includes $24 million guaranteed or Sidney Rice's five-year $41 million contract, which includes $18.5 million in guaranteed money.
But for all we know Jackson may want more because those two players have played a combined nine years and only earned one invite to the Pro Bowl between both of them.
That's where things will get incredibly interesting.
If Jackson asks for more than Holmes and Rice he will actually pick up a bigger contract than Arizona's Larry Fitzgerald, who is regarded by many as the game's best wide receiver in the NFL. Fitzgerald is currently working under a four-year contract worth $40 million, including $30 million guaranteed. He is scheduled to become a free agent in 2012.
Regardless of what Jackson wants, the Eagles do need to cough it up and get this guy paid more than $565,000 in 2011. And that says a lot coming from someone who is not the biggest Jackson fan.
He doesn't have the stats of someone like Fitzgerald. In his first three years he has hauled in 62, 63 and 47 passes and his touchdown totals stand at four, 12 and eight.
Obviously people think of his as being a huge playmaker and that is supporter by his league-leading 22.5 yards per catch. But his return totals have dropped going from 50 returns as a rookie down to 29 and 20 over the last two years.
If the Eagles do pay him like a big-time receiver you don't want to risk him getting hurt as a returner, which ultimately takes away from his value.
And then the Eagles have to factor in his health. In three years he has missed three games and by way of concussions.
Hopefully Jeff McLane has another report next week explaining how the Eagles and Jackson came to terms on a long-term deal.