Tampa Bay Rays: Humble Casey Kotchman's Magic Continues into August
August 12, 2011
Al Messerschmidt/Getty Images
With one swing of the bat Monday night, Casey Kotchman characterized his 2011 campaign—a smashing, shocking success.
The Rays' first baseman, who I profiled in-depth a few weeks ago, has not let his foot off the gas pedal yet. As the season grows gray hair and the impostors have identified themselves (I'm looking at you, Sam Fuld), Kotchman is a surprise that has simply not gone away.
Following Monday night's game, Kotchman was hitting .341 with seven home runs and 36 RBI. Those are incredible numbers for a guy who had never really done much of note in the majors. Combined with sparkling defense, the Rays' first baseman has been nothing short of outstanding for the third-place Rays.
"I'm just looking for the baseball, and if it looked like a decent pitch, I'll give a whirl and see what happens," Kotchman said following the game. That laissez-faire approach has been part of the formula for success for the first baseman.
In fact, when talking to Kotchman after the game, he almost seemed apathetic about his own personal achievements.
When asked about the walk-off adding to his list of achievements for the year, Kotchman responded, "No, I don't consider anything this year an achievement at all. Just showing up every day and trying to enjoy myself with my teammates and get some Ws."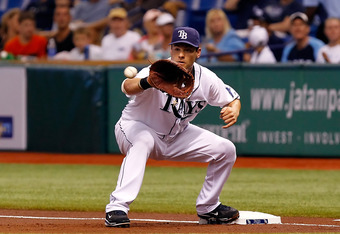 J. Meric/Getty Images
That phrase came up repeatedly in conversation. Despite hitting at a pace that blows his previous career numbers out of the water, he was almost reluctant to talk about himself. It was all about the teammates.
He talked about getting the starting pitchers more run support and continuing to pressure New York and Boston as the playoffs approach.
It seems, however, like everyone except Kotchman realizes how special his season is.
Rays manager Joe Maddon was very complimentary of his first baseman.
"How about Casey?" he beamed.
"I mean, that home run to dead center, we knew off the bat that it was gone. Overall, he's really swinging the bat a high level."
For the humble Kotchman, his dream season almost seems to be a side note to the success of his team. If the Rays make the playoffs, perhaps he will recognize how big of an impact he had.
But if not, it is up to his observers to talk about his brilliance.
Early in the Rays' season, Sam Fuld captured the hearts of fans. The Legend of Sam Fuld became a trend on twitter and a relatively short-lived megafad. But as that has died down, the Magic of Casey Kotchman has grown.
All season he has provided a steady diet of base hits and stellar defense. His walk-off earlier in the week, as brilliant as it was, probably isn't the lasting image the Rays and their fans will have of Kotchman's season.
Whether it is the frozen rope singles, digging out poor throws to first base, or his half-shy, humble demeanor, this certainly has been a memorable season for Casey Kotchman.
Just don't count on him to tell you that.