MLB Prediction: Why the Royals and Pirates Will Surprise Next Season
August 5, 2011
Jim Rogash/Getty Images
It's that time of the year again.
Every August, half the teams in MLB are gearing up for the playoffs while the other half are just trying to stick it out until their grueling 162-game schedules finally come to an end.
It isn't easy being an MLB bottom feeder, but as is often said in the world of sports, "there's always next year." 
Despite the struggles they have endured over the past several seasons, here are two perpetually struggling teams that could realistically do some big things in 2012:
The Low Down: Kansas City has been the joke of the AL Central for years. Every season we hear about all of the great things happening in the Royals' farm system, but their Major League franchise never fails to put up a losing season.
The tides have to turn at some point, though, and 2012 could very well be the year KC fans have been anxiously awaiting.
This season (although you wouldn't know it from looking at their record) has actually been quite promising for the Royals. Billy Butler, Alex Gordon, Jeff Francoeur and Melky Cabrera have all put up impressive numbers and rookie first basemen Eric Hosmer seems to be the real deal.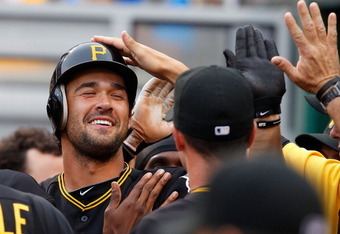 Jared Wickerham/Getty Images
If the Royals can find a few more guys in their ever-so-hyped farm system to fill in the remaining holes in their lineup and beef up their rotation, they should be able to improve drastically in 2012.
It's been a long haul for Kansas City over the past several seasons, but there is certainly light at the end of the tunnel.
The Low Down: Just about a month ago it appeared as if this season might finally be the year that the Pirates would ditch their losing ways.
Sadly, as I said...that was month ago.
Pittsburgh has lost nine of their last ten and it looks like any remaining playoff hope for this season is just wishful thinking. Still, Pittsburgh has proven themselves to be a threat in the NL Central and, considering the abundance of talented young players on their roster, there's no reason to believe the Pirates won't improve in 2012.
Andrew McCutchen, Jose Tabata, Pedro Alvarez and Neil Walker all have serious potential and with the emergence of several talented pitchers, including closer Joel Hanrahan, the Pirates have a promising young pitching staff as well.
Pittsburgh fans have high hopes for 2012, and with good reason.