Chicago Bears 2011: Areas Bears Need to Strengthen for 2011 Schedule
August 4, 2011
Jonathan Daniel/Getty Images
 Just one season after the Chicago Bears lost in the NFC Championship, to the rival Green Bay Packers, it's just about one month until the season kicks off. The Chicago Bears schedule is going to be a lot tougher than last season, as the division has gotten a lot stronger. Let's take a look at how the Chicago Bears should mold their team based off of schedule.  
Game 1: at home against the Atlanta Falcons
Atlanta has improved since last season since they traded three draft picks to move up and grab the burner Julio Jones, who runs between a 4.3-4.4. They improved by grabbing another weapon opposite side of Roddy White that will make the Falcons have a more dangerous offense than last year. 
Needs: The Chicago Bears are going to be starting unproven safety Major Wright who made some strides last year. but the young safety is not the answer.
Answer: I would like to see the Chicago Bears draft Donte Whitner to help with the secondary. 
Game 2: away against the Saints
The Chicago Bears face another high flying offense. The Saints are led by Drew Brees, who also improved by drafting a pure downhill runner in Mark Ingram. Ingram will give the offense what it needed, which was a bruising running back that will be effective and open an even more explosive passing game.
Answer: Sign Lofa Tutupu. What better way to contain the passing game by making sure the running game gets shut down. Lofa Tutupu is still really NFL young, meaning he hasn't been in the NFL for very long; he just has some problems staying healthy. I would like the Bears to take a chance for Lofa.
Game 3: at home against the Packers
For the third week in a row, the Chicago Bears face another great offense. Many people look at how the defense matches up against the offense. Well, let's look at how the Chicago Bears offense matches up against the Packers defense.
The reason I say this is because the Chicago Bears lost last year because the lack of offense. The defenses cancelled. Yes, Roy Williams was a solid addition, but when looking at Green Bay's corner backs in Charles Woodson, Tremon Williams and Sam Shields, with Nick Collins a really good safety over the top, Roy Williams is not enough.
Answer: The Chicago Bears need to sign a veteran guy like T.O and or Steve Smith from the New York Giants. We need someone who can catch passes over the middle for safeties to come up and to let Johnny Knox use his speed for 1-on-1 coverage for catches. This would look much better than having Devin Hester as the slot guy from a match up perspective.
Again, the Packers upgraded just by getting Jermichael Finley back, who was a top five tight end before going down with injury. The Chicago Bears have a good rush defense with Julius Peppers, but they have to get better in the secondary, with the first three games with really good passing attacks.
Game 4: at home against the Panthers
I'm not worried about the Panthers, seeing as how they are in the re-building stage and led by a rookie QB, Cam Newton, who most think will be a bust. I don't see any matchup problems for the Chicago Bears
Answer: Get to Cam early and often and make him beat us with his arm. We should win this game by double digits.  
Game 5: at Detroit against the Lions
Detroit has improved by drafting Nick Fairley, the best defensive tackle in college last year, and it wasn't even close. Fairley is a guy who will look to Ndamukong Suh, who had 10 sacks as a rookie, and Suh could look to be the best defensive tackle in the league in the 2012 season. This could be the best Defensive tackle tandem in the league for years to come. Fairley did just have surgery on his foot, but should be back by the time Chicago Bears face the Lions. Fortunately for the Chicago Bears, Fairley should not be in NFL form with no training camp and will probably not be effective until a little later in the season.
Answer: There is no current long term answer for the Chicago Bears. Since Leonard Davis and Brian Waters are the top two guards on the market, there would not be a significant upgrade at guard with what the Bears already have, meaning it is what the Bears need to go after in the draft next year.
Game 6: at home against the Vikings
The Vikings did improve at quarterback by trading for Donovan McNabb. They don't, however, post a real threat match up wise, with former wide receiver Sidney Rice leaving via free agency to the Seattle Seahawks. They did pick up former wide out Michael Jenkins from the Atlanta Falcons, and they still have Percy Harvin. This is still not enough to pose any match up problems that I can find. If we shut down Adrian Peterson, then McNabb should struggle, thus creating offense problems for the Vikings.
Answer: Lofa Tutupu
Game 7: in London against the Buccaneers. 
The Buccaneers offense is going to be a force to reckon with. Rising QB Josh Freeman has many   weapons at his throne and will target Mike Williams, Arrelious Benn and Kellen Winslow.  Freeman also has a running back in LeGarrette Blount, who showed flashes of a good running back rushing for just over 1,000 yards on only 200 carries, averaging five yards per carry.
Answer: Eliminate the running game, and make Josh Freeman beat us.
Game 8: at the Eagles.
Surprisingly last season, the speed of Desean Jackson and Jeremy Maclin didn't torch our corners. That's because we took out the facilitator by blitzing Vick and using the same scheme most teams had used to slow down Vick and the Eagles later in the year. This year is different considering the Eagles went on a free agent rampage by getting the second best corner in the league Nnamdi Asomugha, along with Dominique Rogers Cromartie. They also have better gap coverage on the D-Line with Cullen Jenkins and Jason Babin now on the roster. This defense is looking a lot like Green Bay corner back wise, with three good cover corners. 
Answer: Bears need another receiver to match up against them offensively.  
Game 9: at home against the Lions
This is where Nick Fairley should be at his strongest during the season. 
Answer This is where the Chicago Bears are going to need good Guard Play.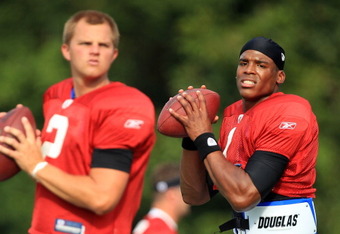 Streeter Lecka/Getty Images
Game 10: at home against the Chargers
It seems no matter who Phillip Rivers is throwing to, he amasses 4,000 yards a year no matter what. This is definitely a match up problem for the Chicago Bears. This means Phillip Rivers gets enough time in the pocket to throw to for long periods at a time. In the Chicago Bears defensive scheme, they mostly rely on the front four to get to quarterback. Chicago Bears linebackers have never been known to rack up the sacks.
Answer. This is why we need to improve the secondary.
Game 11: at the Raiders
The only person I'm worried about on the Raiders is home run threat Darren McFadden. I think he will have a break out year this year if he stays healthy. Darren has the ability to take it to the house on every play. The Raiders don't have any threats at QB or receiver, in my opinion.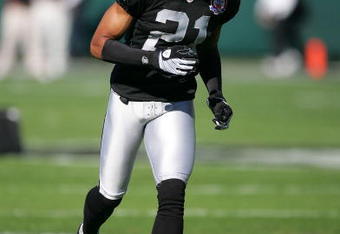 Ezra Shaw/Getty Images
Answer. This one is pretty glaring. We need a another run stopping linebacker. We also need to stack the box with a safety cheating toward the line of scrimmage, with one safety staying home on a reverse. We need to make Jason Campbell beat us.  
Game 12: at home against the Chiefs
Like the Raiders, the Chiefs have a deadly home run threat in Jamaal Charles. The difference now is, they have a legit QB threat in Matt Cassel. They also have some dangerous receivers in Dwayne Bowe and new addition Steve Breaston. They also have some up and coming players on defense as well as Eric Berry and Brandon Flowers. 
Answer: Upgrade in safety, and take your chances on Matt Cassel beating us. Contain Jamaal Charles.
Game 13: at the Broncos
This is one of the few teams on the Bears schedule I don't see any real threats to beat us.
Answer: Contain Knowshon Moreno, and this should be a pretty easy game.
Game 14: at home against the Seahawks
Even though the Seahawks picked up Sidney Rice, they don't have anyone to throw the ball to him
Answer: Attack the quarterback before getting it off to Sydney Rice.
Game 15: at the Packers
See Game 3
Game 16: at the Vikings
See Game 6 
Conclusion
The Chicago Bears have been pretty quiet during free agency
They do, however, need to make a few changes. In a pass dominant league, we need to improve our secondary, with linebacker depth and guard depth too.