Which Loss Was Bigger for the Oakland Raiders, Nnamdi Asomugha or Zach Miller?
August 4, 2011
Ezra Shaw/Getty Images
The 2011 Oakland Raiders will be without two of their stars from last season. Nnamdi Asomugha and Zach Miller have moved on and the Raiders will be hard pressed to fill the talent gap left in their respective wakes.
Will Asomugha or Miller have the bigger impact on the Raiders this season?
Zach Miller has the larger statistical impact. In his first four seasons in the NFL, Miller caught 226 passes for 2,712 yards and 12 touchdowns. Miller led the Raiders in catches, yards and receiving first downs each of the last three seasons. Miller was the one constant in the Raiders' passing offense in his four years in Oakland. Despite having a number of substandard quarterbacks (Campbell excluded), and poor receiving threats (ahem, DHB), Miller always managed to have a big impact on every game he played.
Nnamdi Asomugha's impact is less apparent on paper. Despite having only 11 career interceptions, Asomugha is widely regarded as the best shutdown corner in the NFL. In 2006 he intercepted eight passes and ever since, no one throws his way.
Asomugha's been named All-Pro each of the last three years, although he combined for only 93 tackles, one forced fumble and two interceptions in that time period. Asomugha is a game changing defender who forces opposing quarterbacks to think not once, not twice, but three times about throwing his way.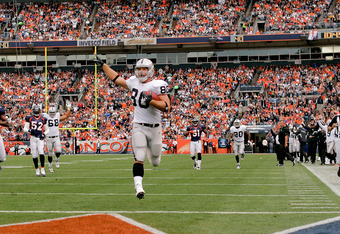 Justin Edmonds/Getty Images
Both Asomugha and Miller were key players on the Raiders. But which will be missed more?
Asomugha went to the NFC East Eagles while Miller went to the NFC West Seahawks. Neither team plays the Raiders this year, or any other AFC West teams. Miller and Asomugha will need to wait until the Super Bowl before hurting the Raiders this year.
In terms of universally recognized talent, Asomugha is a few years ahead of Miller. If asked which one has a better chance of being enshrined in Canton one day, Asomugha is the obvious choice. But talent is not the deciding factor in the issue in question.
Asomugha's and Miller's replacements are really where the issue is decided. The Raiders' secondary was one of the best last season, in no small part to Asomugha, but, they also had and still have safety Michael Huff, who had a fine 2010 season.
Cornerback Stanford Routt performed admirably as a starter in 2010, despite being thrown at often, thanks to Asomugha. Walter McFadden and Chris Johnson are solid players off the bench and draft picks Chimdi Chekwa and DeMarcus Van Dyke are athletic corners that could see significant time in 2011. The Raiders secondary is obviously not as good without Asomugha, but it will still be solid. The Raiders knew Asomugha probably was not going to  return and were able to draft accordingly last April.
The Raiders were not given such forewarning when it came to Zach Miller. Most everybody in the Raiders organization believed Miller was due to return and failed to find any potential backups in the interim. The Raiders drafted TE Richard Gordon from Miami, but he had only 10 catches in college. Period. Brandon Myers is the only of the four current TEs that has any NFL catches—16 catches to be exact. Miller's departure left the Raiders high and dry without a tight end.
If the Raiders find a way to sign Kevin Boss, Miller's departure will be mitigated. If they don't sign Boss, the Raiders will be in big trouble. Nnamdi Asomugha is a superior talent, but losing Zach Miller will prove to be the bigger loss for the Raiders in 2011.