Tony LaRussa: Has the St. Louis Cardinals Manager Lost His Natural Born Mind?
August 4, 2011
Dilip Vishwanat/Getty Images
Why does Cardinals manager Tony LaRussa feel under so much pressure these days?  I have a theory, and I'll espouse it to you all in a minute. 
For the sake of inducing down to the last second riveting suspense, though, I'll deal with first things first. 
LaRussa has become a total embarrassment for me and many other lifelong Cardinals fans, probably including Rasmus Girl.  The latest incident involving LaRussa in Milwaukee was very reminiscent of a Spice Girl throwing a heated tantrum, except he doesn't have a hit song.
He's known, though, for ordering more hits than a Mafia boss.  Tony's hits are usually executed against superstar enemy combatants in the batter's box.  Poor Ryan Braun was the mark last Tuesday night—poor in the sense of innocent bystander and not money.
If it doesn't make dollars, then it doesn't make sense.  LaRussa could be coughing up a few dollars if Bud Selig takes offense to him calling Milwaukee's fans "idiots."  Idiots?  Yikes.
LaRussa apparently has been secretly growing a pair of rabbit's ears.  What happened to the days when baseball players shrugged off what fans said?  Evidently those days are long gone, at least in LaRussa's case.
I believe the man is becoming a head case instead of a head coach and a fit MLB manager.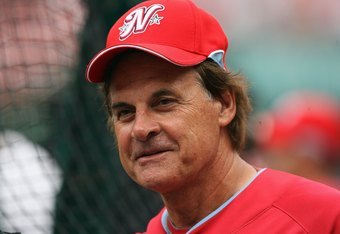 Dilip Vishwanat/Getty Images
He reportedly heard a fan saying he hoped LaRussa got shingles again.  If I had a dime for every time a reader has said that to me, then I'd be broke because I never had shingles.
I hope you get the idea.  This is a free country and people are allowed to say what they want.
As a public figure and a representative of the Cardinals, it's up to Tony to refrain from being unprofessional.  The Redbirds won the game, and he should've been happy.  But no, this wasn't the case. 
He put a damper on what could have been an inspiring victory. 
According to the ESPN report linked above, LaRussa appeared to get into a brief back and forth with Milwaukee fans.  Classy moves on both parts.  Don't get mad at me, I report them like I see them.
My free press friends know players and managers often spew forth hot venom in interviews right after a game.  Professional interviewees should know this and temper themselves.  So, after a four-hour game last Tuesday night, LaRussa played into their hands in Wisconsin.
A furious Tony was tantruming in Milwaukee during the impromptu press conference shown on MLB TV soon after the epic extra-inning game.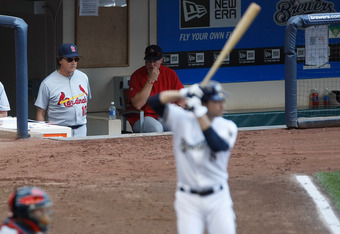 Scott Boehm/Getty Images
"We did not hit Braun on purpose.  We threw two balls in there real good just to send a message.  If he ducks them, it's all over, and we don't hit him."
I'm wondering what message LaRussa was trying to send.  It certainly wasn't one of the electronic type.  There was more for sure:    
"That's what all these idiots up there—not idiots, fans are yelling," he continued ranting.  "I don't want to even hear about Braun getting a little pop in the back when we almost lose (Pujols) in several ways."
In what ways, Tony? 
"The ball that they tried to throw on Pujols was aimed right where they aimed it.  Did they try to hit him?  No, but there's a small window there.  They did it yesterday.  The ball trickled off his bat.  You know how close that is to your face and your hand?" 
How close is it? 
"He got hit right here.  So, I don't want to hear about our tactics versus what they did.  They did not make an intentional hit, but they tried to throw the ball up and in and it's a very dangerous pitch, and we almost paid a hell of a price.  So, I don't want to hear about it." 
Really?  You don't want to hear about it?  Trimming your rabbit ears and concentrating on the fat part of the game could possibly help.
You will now hear about it for a while to come.  Since when does calling a paying customer an idiot in front of the commissioner's hometown press represent the Cardinals way?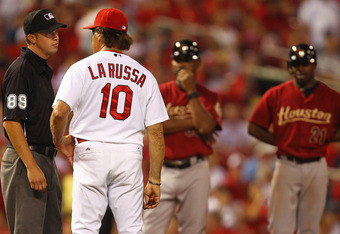 Dilip Vishwanat/Getty Images
Never has, never will.  This outlandish behavior shouldn't fly in St. Louis, but it probably will because the new-fangled general manager and owners won't stand up to the guy.
I don't blame LaRussa for all of it.  This is what happens when adequate discipline isn't enforced from within an organization after a manger has obviously gone wild.
To throw spice on LaRussa's wounds, former Cardinal Felipe Lopez slapped the Cards up for two hits, a walk and a run in the rubber match blow out win for Milwaukee Wednesday afternoon.  Lopez was cut by LaRussa last season, reportedly for tardiness.
I hope the Cardinals front office wakes up and realizes that Tony's behavior is too often fuel for their NL opposition and fierce rivals.  The Brewers and Reds especially loathe LaRussa, and they play like it against the Redbirds.
As much as I loathe to admit it, maybe Brandon Phillips was right. 
I believe LaRussa feels the pressure because he knows losing Pujols for any stretch of the remaining season probably means he looks like an idiot in trading Rasmus. 
If LaRussa hasn't lost his natural born mind, then he's seemingly heading in that direction.