2011 NFL Predictions: Why the NFL Should Fear the Philly "Dream Team"
August 3, 2011
Al Bello/Getty Images
The Philadelphia Eagles are absolutely loaded this season.
Vince Young, one of the Eagles' latest one-year free-agency signings, even went so far as to proclaim them a "Dream Team."
Well, aren't they?
Their offense, spearheaded by the incredible Michael Vick, is as energetic, exciting and dangerous as any team in the NFL. Jeremy Maclin is barely 23-years-old, but he is already a force to be reckoned with. DeSean Jackson has the speed to change a game in seconds, just ask the Giants. And running backs LeSean McCoy and Ronnie Brown are a terrific mix of explosion, quickness, toughness and catching ability.
Not to mention their offensive line, which has one of the best left tackles in the game in Jason Peters.
To everybody worried about a Michael Vick injury, would it make that much of a difference for a few games if backup Vince Young came in? Probably not. He has shown the ability to win and perform with a much lesser supporting cast in Tennessee.
Now on to the defense.
Their defensive line by itself is enough to keep an offensive coordinator sleepless for weeks. But to add the Big-Three cornerbacks? That's just totally unfair.
Listen to this front-four: Jason Babin at left end, 13 sacks last season; Mike Patterson at defensive tackle, one of the most durable and successful tackles in the NFL for the past six years; Cullen Jenkins, a total beast and was arguably the best defensive lineman for the Super Bowl Champion Green Bay Packers last season; Trent Cole, 31.5 sacks in the last three seasons.
Wow. That is one of the best defensive lines I've seen in the NFL this decade. Already up there with the 2007 New York Giants in my book (assuming they stay healthy), as a defensive line that can single-handedly win a Super Bowl.
The cornerbacks.
What needs to be said that hasn't already been said? Nnamdi Asomugha is amazing, Asante Samuel remains underrated, and Dominique Rodgers-Cromartie is possibly the most athletic corner in the NFL. And he is their number three!
The problems lay in the weak linebacking corps. Jamar Chaney in the middle, with Moise Fokou and Casey Matthews flanking him, is not exactly the most dominant group we have seen. But with a defensive line like the Eagles have, and the cornerbacks locking down receivers, how much affect are the linebackers really going to have anyway?
That kind of talent on both sides of the ball is definitely a Dream Team if I have ever seen one.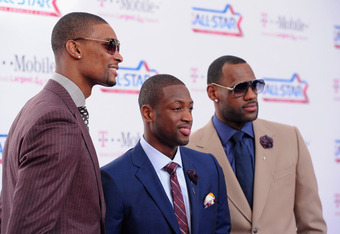 Alberto E. Rodriguez/Getty Images
The rest of the NFL should be shaking in their boots right now. This team should be able to tear through its schedule as easily as the 72-win Chicago Bulls. Once the playoffs come around, however, anything can happen. We all saw what happened with the Miami Heat this season after they put together their "Dream Team."
Philadelphia will have their hands full with the defending champion Packers and the reloaded Atlanta Falcons and New Orleans Saints. And even if they do make it to the final game in Indianapolis, who is to say the AFC is going to roll over and die?
With the New England Patriots, Indianapolis Colts, Pittsburgh Steelers, New York Jets and Baltimore Ravens, the AFC should produce a juggernaut as its Super Bowl representative.
When all is said and done, and the dust settles, Michael Vick and the Philadelphia Eagles could very well be lifting the Vince Lombardi Trophy as the Super Bowl XLVI Champions.
Don't think for one second, though, that it's going to come easy, even with a "Dream Team."
Just ask LeBron.