Pete Carroll and the Price of Loyalty for the Seattle Seahawks
August 3, 2011
Otto Greule Jr/Getty Images
You've got to hand it to Pete Carroll. "Always Compete" is not some empty slogan for t-shirts and posters at training camp.
Yet, you have to wonder how much fun it would be to actually play for the guy.
Imagine you're John Carlson, waking up in the morning. This is the first season of your career where your head coach is the same as the year before; however, you once again have a new offensive coordinator.
In spite of the chaos, for the past three seasons you've been the Hawks' starting tight end, having only missed one game in that stretch. Your stats from your first two years were steady, but last year your numbers dropped as the team struggled to move the football.
Still, through yesterday it seemed reasonable to believe that you held one of the more stable spots on the Hawks roster, with the chance to redeem yourself in a contract year. 
And then Zach Miller shows up.
Don't get me wrong, I think Miller is a fine tight end and his numbers are actually better than Carlson's. 
He gives the Hawks versatility in their passing game along with solid blocking protection, which is especially important if Tavaris Jackson becomes the starter, as he'll likely need all the help he can get. There's nothing wrong with adding a Pro Bowl player, provided he's needed.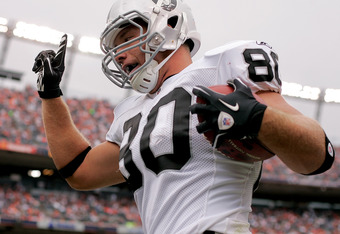 Justin Edmonds/Getty Images
For Pete Carroll it's a nice, albeit expensive, luxury. "We think those guys will play in tandem, on opposite sides, we'll be moving them around to matchups and stuff. I think it's a great asset for us now and we've always liked to play with two tight ends in a number of different packages and this just gives us tremendous flexibility at a really high level," Carroll recently commented, as reported by ESPN.com.
For Carlson though, as someone trying to earn his next contract, this move is a nightmare.
In his first two seasons, he had the two best single-season catch totals of any tight end in Hawks history. True, his yardage was down last year along with touchdowns, but his yards-per-catch and yards-after-the-catch weren't all that different from the two seasons prior. He simply didn't get the ball enough. 
If he has to share with someone the team has heavily invested in for the next several years, does he now have a legitimate shot to get those touches again and improve his stock for either the Hawks or anyone else? 
Meanwhile, if he says anything negative or asks for a trade, he potentially hurts himself as coming off as a selfish malcontent with no concept of team.
Carlson took the high road yesterday stating (via the same ESPN.com article), "We have to perform on the field. I have to prove I deserve to be out there as are the other guys at our position. We're all trying to fight for a spot, for a role. It's like that every year. It's always competitive; you always have to earn your spot."
I appreciate that there is no room for complacency as the Hawks rebuild and I believe Carlson does as well, which makes this different than last year's summer clearance of someone like T.J. Houshmandzadeh.  
There reaches a point though where progress for the sake of progress isn't necessarily a good thing. Until now, Pete Carroll and John Schneider's moves on paper have largely made sense. Matt Hasselbeck, Lofa Tatupu, Lawyer Milloy, etc., were never going to be long-term fixtures at this point.
But if I'm a Seahawk this morning, I'm left to question what the price of loyalty and concept of team truly is with the door constantly swinging.   
For a guy who is about to reach his prime earning potential to find himself in a place where no job is safe beyond the terms of a signed contract is scary. One hopes that Carlson can get a legitimate shot, but for today it doesn't look too encouraging.
Would I want to play for Pete Carroll? 
Not so sure anymore, but I imagine it's a question that John Carlson has to be asking himself this morning. Unfortunately, there are no easy answers.