New York Yankees: Should They Take on Jake Peavy If White Sox Waive Him?
August 2, 2011
Jonathan Daniel/Getty Images
The July 31 trade deadline passed for Major League Baseball and we saw a lot of moves made before Sunday's deadline.
The strange thing was, the Yankees didn't make a single move to change up the roster.
They didn't get any bats to help the bench, but they did get Eric Chavez back from the DL and they can call up Marcus Thames from the minors if needed.
They didn't get any relievers for a depleted bullpen, but Rafael Soriano did just return off the DL and if healthy, could help and be extremely effective.
Last but certainly not least, they did not add a starter. OK, here's where it got tricky.
The prices for available starters weren't reasonable enough for the Yankees to trade away their top prospects for, not even Ubaldo Jimenez, who ended up going to the Cleveland Indians.
But rest assured, the Yankees still need to get help.
Now, I have an idea. And you all might call me crazy for it and might think I've just lost it. But, I'm trying to think a little outside the box here, so bear with me here.
Now teams can put players through waivers to see if teams claim them and have until August 31 to do so.
Tim Dierkes from MLB Trade Rumors did a whole story with a list of players with the possibility of being claimed should they be put on waivers this month.
One of those names struck my attention and got me thinking. He also pitched Monday night against the Yankees and it then really got me thinking.
Yup, Jake Peavy from the Chicago White Sox.
OK, so his 2011 season is nothing to go crazy over, 4-5 with a 5.13 ERA and 57 strikeouts with 14 walks in 73.2 innings.
He's also been battling injuries over the last couple seasons. Since his Cy Young year in 2007, the most starts he's made is 27 in 2008. In two-and-a-half seasons, Peavy has only made a total of 32 starts for the White Sox.
But, as we saw Monday night, after he had the rocky beginning to the game against the Yankees, he settled down and kept the Yankees off the board after the third inning.
His control is still there, which you can tell from the low walk totals this year. Peavy is still trying to regain the velocity and movement on pitches he had as a dominant pitcher for the San Diego Padres.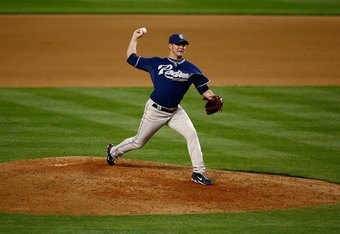 Jeff Gross/Getty Images
That Cy Young year I mentioned back in 2007, he was 19-6 with a 2.54 ERA, had 240 strikeouts and only 68 walks in 223.1 innings.
When healthy, Peavy still has the stuff to be an ace on the mound.
So, why would the White Sox want to put this guy through waivers? Peavy is making $16 million in 2011 and another $17 million in 2012, plus a $22 million option with a $4 million buyout in 2013.
The White Sox are 52-55—third place and 4.5 games back in the A.L. Central. With the Indians and Tigers chasing each other in the division, the White Sox will likely start to fall out of contention and could look to shed some payroll for next year.
White Sox GM Kenny Williams has always been an unconventional guy when it comes to his team. Though both moves didn't really pan out, two years ago, Williams took on Alex Rios' contract off waivers and claimed Manny Ramirez off waivers last year.
Williams also dealt for Peavy two years ago from the Padres for four prospects while he was still injured and recovering; Peavy made three starts for Chicago in 2009.
So here's what I ask. If the White Sox do in fact put Peavy on waivers and he drops down to the Yankees, should they make a claim for him?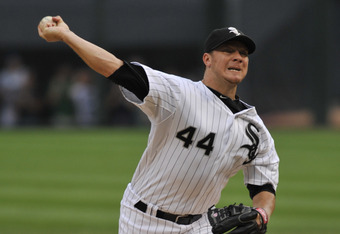 David Banks/Getty Images
Now, why would Peavy fall all the way to the Yankees on waivers? His contract. A lot of teams are not going to want to take on that kind of money to the payroll—except for the Yankees. We all know they could afford it.
So, if I am Brian Cashman and I don't want to try and get someone like Carlos Zambrano from the Cubs, or someone really mediocre like Wandy Rodriguez from the Astros (like they thought about doing on Sunday), Peavy could be an interesting name to consider for the rotation.
OK, yes, he is expensive and I also bet if the Yankees didn't want to trade prospects for him, Chicago would almost certainly ask the Yankees to take on the rest of his deal.
But he's still relatively young at 30 and if you saw the game on Monday, despite his struggles in the first inning, Peavy still looked like a very tough pitcher who can get outs. And just a few years ago, when healthy, Peavy was one of the best pitchers in all of baseball. But that was before all of the injuries kicked in.
Peavy has been healthy since May however, and could help a team in the thick of a pennant race.
Now, for all I know, I could really be jumping the gun and the White Sox have no intention whatsoever of putting Peavy through waivers.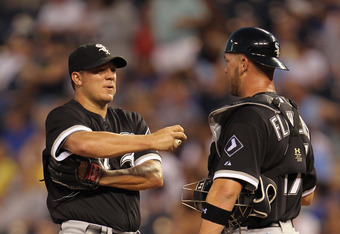 Jamie Squire/Getty Images
But should Chicago decide to, maybe the Yankees will be interested—especially if A.J. Burnett continues to lose games for the Yankees and Phil Hughes continues to struggle with his command. Plus, Bartolo Colon and Freddy Garcia are no sure things considering their age.
The only sure pitcher for the Yankees is CC Sabathia, who is now 16-5 and could be the front-runner for the Cy Young Award. But Sabathia can't go out there every game. He needs help. If Burnett and Hughes can't help him, and if for some reason Colon and Garcia falter, the Yankees are in some trouble.
As long as Peavy is healthy, I think it could be worth a shot.