NFL Free Agency: Grading San Francisco 49ers' 2011 Pre-Training Camp Signings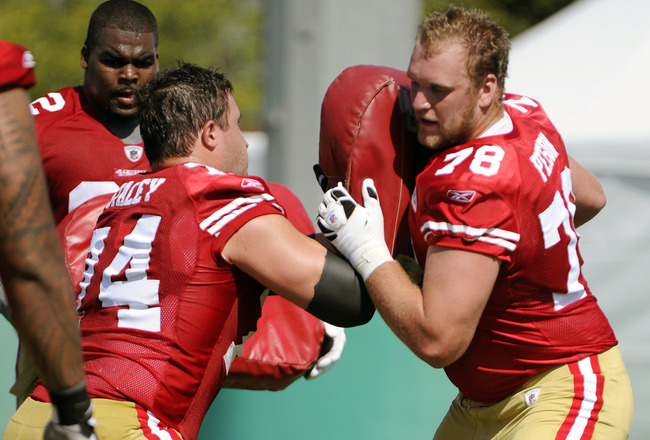 Thearon W. Henderson/Getty Images
No team's roster remains the same from August to December. There's too much turnover due to injuries, too many on-field performance issues that don't come to be known until the bell rings in early September, prompting changes.
Yet as the 2011 NFL season gets under way, you have to wonder if San Francisco 49er fans are wondering why general manager Trent Baalke seems to be sitting on his hands. The Niners haven't signed any name players other than their draft picks. They have secured the services of defensive end Ray McDonald as well as quarterback Alex Smith—contracts that had to be done, to be sure, to limit the losses the team has already suffered.
Yet with the loss of linebacker Takeo Spikes and center David Baas to go along with the release of cornerback Nate Clements (which many fans consider addition by subtraction), the Niners don't look any stronger on paper than they did in mid January.
At the same time, to read about teams like the Eagles signing head-of-class free agent Nnamdi Asomugha or the Jets adding Plaxico Burress to the team can make fans more than a little anxious. What about us?
Indeed, but to Baalke's defense, it's still early in the free-agent game. There's still more churn to consider, and the signed veteran free agents like Smith can't practice until Aug. 4. In the meantime, ardent followers of the 49ers have to sit back and consider the following state of the team. Put another way, here's grading the 49ers' 2011 pre-camp signings.*
* With the caveat of "so far." Things are sure to change.
Draft Picks: B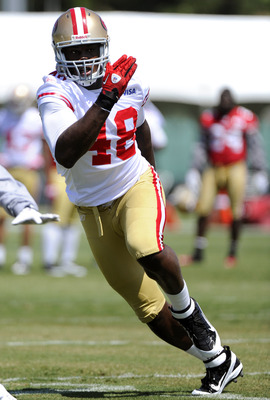 Aldon Smith
Thearon W. Henderson/Getty Images
Getting all the draft picks signed and in camp on time is a great addition to the team. It suggests stability and clear-headed thinking. It also was easier this year than any other in recent memory due to the recent collective bargaining agreement between the NFL Players Association and the owners.
In other words, there was virtually no chance of a first-rounder holding out. Yet it's a positive sign that first-round selection Aldon Smith is in camp and working with the first-team defense. It's also good for the development of second-rounder Colin Kaepernick to get plenty of work quarterbacking the first-team offense.
Nonetheless, this wasn't the work of the front office as much as the new rules of operation in the league.
Cornerback: D-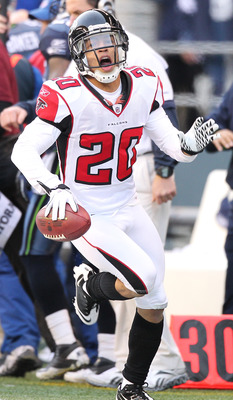 Brent Grimes
Otto Greule Jr/Getty Images
Prior to the 2011 draft, most in the league as well as within the team's front office knew that getting a first-rate corner like Patrick Peterson of LSU would do much to heal a 49er secondary that ranked 24th in the league last year.
To put that number in perspective, remember that the 49ers faced weak passing teams like Arizona and St. Louis twice a year. To finish that low suggests that the team has little chance of holding up against elite passing teams like the Green Bay Packers.
Reports last week that the 49ers jumped in heavy for Nnamdi Asomugha were reassuring. Finding out that the former Raider corner signed with Philadelphia is a reminder that elite players like Asomugha, who is going into the eighth year of his career, want to win now, or at least go deep into the playoffs.
The top cornerback still unsigned, as of Monday, is Brent Grimes of Atlanta. But he's a restricted free agent; getting him will take a first-round draft pick, and there's little chance the Niners would pay that heavily. Meanwhile, corners like Johnathan Joseph, Antonio Cromartie, Ike Taylor and Josh Wilson all have signed new contracts.
It appears that the best choice for the Niner coaching staff is to hope that returning starter Shawntae Spencer remains healthy and third-round draft choice Chris Culliver out of South Carolina can hold up. They might—that is, if first-round selection Aldon Smith turns out to be the second coming of Lawrence Taylor.
That's a big "if." But it's a long season, and rookies do indeed improve over the course of the season. Yet it has to be a fresh reminder that when free agents think San Francisco, they don't think "proven winner" but probably something along the lines of "rebuilding." Well, it should be.
Right there should tell 49er fans that new coach Jim Harbaugh faces a treacherous, difficult road to elevate the team's perception around the league.
Quarterback: B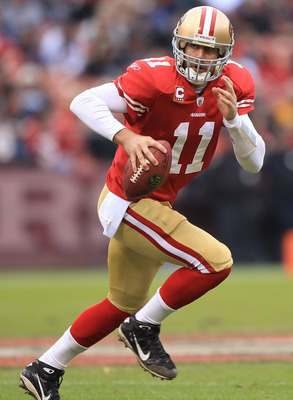 Alex Smith
Jed Jacobsohn/Getty Images
Re-signing Alex Smith was the most prudent, reasonable thing to do. Due to the lockout, there was going to be no time to bring in someone new to the team while the team was learning a new system.
Credit goes to Harbaugh and Smith for both being reasonable about the situation. Stability can only help in a situation like this, and even if the Niners falter to less than six wins this year, much of the blame should not fall on Smith. There are other holes in the roster—some known prior to camp, some not—that have to be addressed.
Offensive Line: INC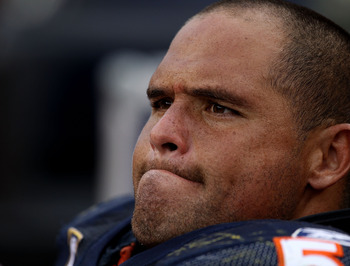 Olin Kreutz
Jonathan Daniel/Getty Images
The loss of former starter Eric Heitmann to a neck injury didn't seem like such a big problem because the Niners had David Baas to step in. Well, Baas is now a New York Giant, and Adam Snyder is, ostensibly, the starter.
Snyder has never played center in the NFL. There's a free agent from Stanford, Chase Beeler, as a backup. But the loss of Baas depletes the team's depth at what once was thought of as a position with plenty of depth. An injury among this group could be really detrimental.
Rookie draftees Daniel Kilgore and Michael Person don't appear to be solutions either. There are few positions more difficult to adjust to for a rookie than center in the NFL. The center makes the line calls for picking up blitzes and blocking schemes on certain running plays.
That's why when teams get a first-rate center, like Jeff Saturday of the Colts, they nail him down with a long-term contract.
One possible replacement for Baas is free agent Olin Kreutz of the Bears, though there are reports that he's thinking of retirement.
This could be a real problem for the Niners. Poor play in the middle of the line does little for the physical security and confidence of a quarterback who needs plenty of both right now.
Defensive Line: B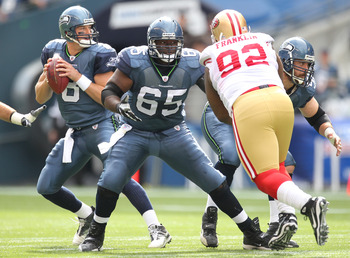 Aubrayo Franklin
Otto Greule Jr/Getty Images
The good news so far in this condensed free-agent period is that nose tackles don't seem to be in such high demand. That means perhaps Aubrayo Franklin can return to the 49ers. It was assumed that Franklin might be one of the most coveted free agents this year, but as of Monday he's still unsigned and reportedly talking with the 49ers.
An Aubrayo Franklin of 2009 vintage would have a big effect on the defense. Thanks to Franklin and others, the Niners ranked about the best against the rush that year. With Franklin and Ray McDonald as well as Justin Smith, the Niner front-line defense could be a very effective group in keeping the team in games while the offense adapts to the team's new offensive schemes.
Wide Receiver: C-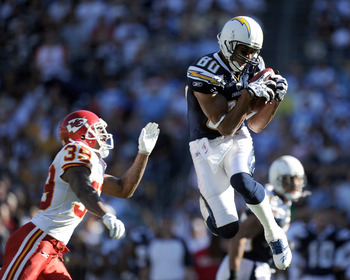 Malcom Floyd
Harry How/Getty Images
This one sort of sprang up on the organization. There's no doubt that the team needs Michael Crabtree to elevate his game. Crabtree appears to have the skills to be among the league's elite. If only his left foot would cooperate.
It's the same foot that caused Crabtree to miss most of the 2009 offseason. He had surgery on it, and now problems have reappeared. For the 49er front office, that fact has to make the nearest pro personnel assistant start speed-dialing the agent for Malcom Floyd of the San Diego Chargers or Braylon Edwards of the Jets.
At 6'3" and over 215 pounds, Edwards has the size and strength to fight off press coverage. He also has problems consistently catching the ball once it gets to him. (Of course, a former wide receiver of the 49ers had the same problem—Terrell Owens.) That said, it seem Edwards' prima donna attitude wouldn't be a great fit for the way Harbaugh runs his team.
Floyd, who is 6'5", seems to have the size to give Smith another easy target to find. But then, Floyd also was a beneficiary of having Vincent Jackson on the other side of the field. Many believe Jackson is the premier wide receiver in the game; Floyd got more single coverage because of it.
Nonetheless, the idea of going into the season with Josh Morgan and Ted Ginn Jr. as the starting receivers does not give 49er fans much hope for an electric passing game.
Overall (So Far): C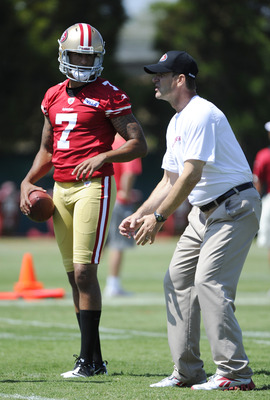 Colin Kaepernick and Jim Harbaugh
Thearon W. Henderson/Getty Images
It's still early in terms of assessing needs. Give it two preseason games before it's time to think of brash decisions, such as adding Edwards or begging Kreutz to join forces in Santa Clara.
At the same time, it is important for 49er fans to remember that things could change as Harbaugh and Baalke assess the team's needs. If Aubrayo Franklin comes back, and the team takes to the attacking schemes of defensive coordinator Vic Fangio, maybe the Niners develop into a dominating defensive team that carries the offense into the playoffs.
Or maybe not. Time will tell.
Keep Reading

San Francisco 49ers: Like this team?