Peyton Manning Received Perfect Contract for a QB Both Overrated and Underrated
August 1, 2011
Jed Jacobsohn/Getty Images
Even in his prime, I never felt that Peyton Manning deserved to be the highest paid quarterback in football. I was wrong.
My rationale was banal at best—other quarterbacks seemed to be more clutch.  Accurate or not, it was an elementary point of view. To fans, like myself, football is the business of winning Super Bowls.
As success is viewed, that's not untrue. For a franchise, it also has a ring of truth. That said, the franchise view is more simple—football is business. Period.
Unsurprisingly, Colts management had a different perspective than fans fed up with playoff losses. They were fortunate for seeing things from a more logical perspective than some random fans who feel they have all of the answers but no sense of the business.
After all, no matter how many championships the clubs has won, Indianapolis has fielded a consistently perennial playoff contender. The memories and excitement of Colts football since drafting Manning has been improved exponentially.  This remains one of the finest, most successful eras of any franchise in modern NFL history.
From a business perspective, he was worth every penny of being the highest paid player in football.  However, nobody can ever fault fans who saw things differently. How can you vilify the notion that any player should be paid for winning?
Moreover, winning championships.
It may not be the wide scope of reality, but it's a hard point of view to dispute nonetheless.
From my own discerning eyes, Sunday, February 4, 2007 was a bittersweet night that ended a tailor-made journey from one of the NFL's most exciting players.  Peyton Manning hoisted the Lombardi Trophy, the shiny pulpit mildly sullied by rain pellets falling amidst bright stadium lights, in a scene that was poignant; it may have been sloppy, but here he was.  Peyton was a champion.
It seemed as though every opponent made all of the perfect mistakes for Manning, aided by an out-of body month for the Colts defense, to claim the coveted Lombardi Trophy in the home where the great Dan Marino once played. I remember that night, vividly in fact, for a moment spent thinking about Marino's misfire during his only trip, as well as his misfortune in having to play Joe Montana—and not Rex Grossman.  
Appreciation for the game's history has to at least partially nullify the view of Manning as a choker in a number of playoffs.  The reason is with respect to his place in elevating the illustrious annals of football history—at least for those not wearing blue and rallying the Colts to victory.  From an objective perspective, unshackled by the preconceptions and emotions birthed from fan loyalty, it is undeniable that Manning has advanced the game.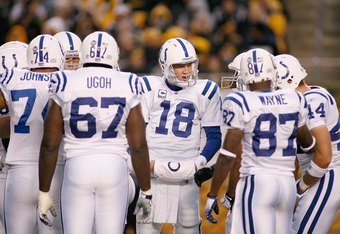 Rick Stewart/Getty Images
He has been a student of NFL offense, the prototype for how a signal-caller can serve as an extension to his coaching staff.  His preparation and ability to read a defense, combined with fantastic mechanics and a surreal arm, make him a rare breed of passer to whom great play comes naturally. 
Cynics view the field general's accomplishments with scrutiny, placing an asterisk next to his work that is ludicrous, as though playing in a dome with great receivers were the equivalent of a corked bat and steroids. 
A franchise can place as many keystones around its star player as contingencies do not restrict, but without the deadly accuracy and solid decision making of the horseshoe helmet that has the ball, it still means nothing.
Yet, in a way, the rampant success of his career voluminously does garner an asterisk.  Fair or not, fans on the other side of the debate will cite his often perfect playing conditions, bevvy of amazing receivers, and division. 
Indeed, the AFC South—as recently as the Texans' standstill pass defense and the Titans' putrid secondary—has not harbored the level of consistent competition of other divisions with much more successful and accomplished rivals.
His 2004 record-breaking season was legendary by any standards, especially considering his timeless (and perhaps unbreakable) quarterback rating of 121.  Yet, while his 49 touchdowns may have broken Dan Marino's former record, was a large part of this feat buoyed by division rivals that simply could not compete with an offense that was ahead of its time (and it was), racking up 4,000 passing yards with the consistency that many teams are only starting to demonstrate, though to a lesser degree?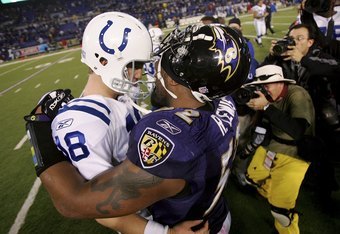 Al Bello/Getty Images
Proponents will tell of a man who played who he was scheduled to play, demonstrating a prowess that was only repeated by Tom Brady in 2007 (who, in that season, also played a struggling division).
Critics will quickly point out that his blowout victory over Denver in the playoffs mirrored his regular season success.  The following game at Gillette Stadium saw the quarterback fizzle in snowy Boston, a regularity that had become as expected as the blare of a working stiff's alarm clock.
By 2006, amidst the glow of success, falling confetti and vibrant green flashes of snapping cameras, Manning had climbed to the peak of the NFL, discrediting those who said he would never win the big one. Yet, did he really devalue the presumptions by the circle of fans who really meant in their hearts and minds that he'd never earn the big one?
It was another question regarding an enigmatic career that strikes fiery debate from those willing to take a side.
On one hand, Manning had just led the Colts on a comeback from deficits in both the AFC Championship Game (18 points) and Super Bowl (eight points) despite early game struggles.  In both contests, he demonstrated a championship resolve.  In the former game, his bulky passing statistics were not mere empty yards, every single and all of his 338 passing yards vital to completing a 38-34 victory that was equal parts legendary and vengeful. 
The following Super Bowl took him out of the same elements used to box his success, as Peyton hit on nearly 67 percent of his passes and won MVP honors.
Critics would not simply fade away, willing to accept defeat to Peyton purists who believes his record breaking statistics bore out his status as an elite passer.
The opposed view cited the team's terrible play down the stretch, particularly on run defense, in losing three of their final four regular season games.  As if from nowhere, the run defense not only stiffened- it performed to the standard of the legendary. 
In their Wild Card playoff against the Chiefs, the defense stuffed Larry Johnson while intercepting Trent Green twice.  The unexpected performance served as playoff perfume, masking what many dubbed a stinker performance by Manning.  Despite completing 31-of-38 passes, three critical interceptions were only negated by Kansas City's abysmal play.
Manning non-enthusiasts had their arguments inoculated during a trip to Baltimore the following week.  Ray Lewis's hands deflected a number of passes—from teammate Ed Reed.  In a 15-6 victory comprised exclusively of field goals, Manning's good fortune, his defense's inexplicable turnaround and Steve McNair's own pair of interceptions again served as cosmetic repair for a stat line that appeared in serious need of Proactive gel.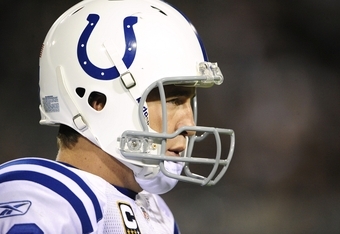 Sam Greenwood/Getty Images
Through two playoff games during the team's championship run, Manning had thrown five interceptions to a lone touchdown.  The following weeks would see his Colts squad teetering on the brink. 
The first contest nearly ended their season, a 28-3 deficit to New England only prevented by untimely Patriots offensive penalties.  Lastly, the Bears committed five turnovers to assist the Colts to a victory in Super Bowl XLI.
Like others who respected his immeasurable talents (perhaps the best in football) but didn't believe he could win the big game, that night was bittersweet.  Manning had his trophy, despite poor postseason play that included some flashes of brilliance—namely, a sublime second half against the Patriots that still serves as perhaps the finest indicator of a fine career that didn't occur during the regular season (or versus Denver).
In my eyes, he deserved to be a champion...
...but did he showcase it in those games?
The Colts had won the Super Bowl...
...but was it in spite of him?
Since that night of conflict, where the NFL landscape changed but few altered their perceptions, most fans in both camps remain in their same tents.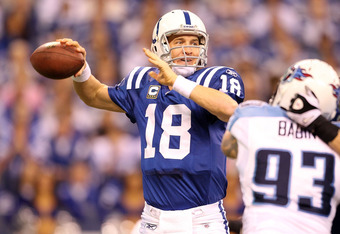 Andy Lyons/Getty Images
The haters hate. The lovers love. And Manning continues to be a great quarterback for the NFL, from exciting the fans on Sunday to wearing fake mustaches for Sprint.
Whether considered the elite of modern talents or a great quarterback with extraordinary handicaps catapulting him to record-breaking heights, his ability to continuously play in January, garner nomination in these debates that have no perfect answer and play a style of quarterback that is fun to watch and entirely enthralling make him worth the price of admission.
Yet, in my eyes, his inability to propel Indianapolis further into a few winters only tempered my icy resolve that he was not worthy of his high profile contract.  The dollars seemed like reward for all of those MVP's, awarded before any of his January struggles created the stigma of winter's "one-eighth of a quarterback." 
Fast-forwarding to 2011, I now realize that Bill Polian and staff had made the correct decision by compensating the NFL's most valuable commodity.  After all, where would Indianapolis be today without Peyton's accomplishments?
Manning recently signed a contract for the next five seasons, which will keep him in Indiana until the age of 40.  It seems safe to assume that he will retire as a Colt.  
With more maturity about my opinion, I can safely say that this time—when I told friends and peers that Manning should not receive the largest contract in football—that I was right.  It was simply common sense. 
History will already remember him as a great quarterback, wonderful debate fodder and razor-sharp member of the business that is Colts football.  For his wonderful contributions to the historical franchise, he has been compensated quite handsomely.
Yet, with his NFL tenure reaching its twilight, it is only wise for him to consider the flexibility of a team that should look to surround him with talent capable of making one last run for a quarterback who likely deserves to be a repeat champion. 
Perhaps in that circumstance, he will win over the criticisms of a few more fans who judge him harshly and retire with a more firmly accomplished legacy.
Moreover, as Manning approaches the age of 40, concerns about his health and the possibility of declining production do not warrant his former riches.  Many fans argued that he should be paid for what he has brought to the Colts—but he has already seen those pays. 
Now, he will get paid well for a man with a bad neck, rewarded for his years of service and statistical excellence with a new gold mine and one last "hurrah!" toward January heroics.
In football, history has given us many characters.
Chucky...
The Nigerian Nightmare...
The A-Train...
Prime Time...
The Man in the Funny Hat...
The Man Who Wore the Funny Mustache in the Sprint Commercial...
No matter what side of the debate you are on, whether or not you feel he is overrated or underrated, it would be a shame for anybody not to look forward to this final half decade from one of the game's most exciting field generals.
With a fitting contract in place, the next (and last) five years of the Peyton Manning era should be very interesting!