NFL Free Agency: Joseph Addai's Re-Signing Drastically Improves the Indy Offense
July 31, 2011
Jonathan Daniel/Getty Images
If you told 100 Colts fans that Indianapolis has re-signed Joseph Addai, 50 of them would say, "Great!" while the other 50 would say, "Not him."
It's happened. Addai re-signed with the Colts late Saturday night.
Addai is a lightning rod for Colts fans; some love him, others can't stand him.
Ever since being drafted 30th overall in 2006, he has had an up-and-down career. Addai rushed for over 1,000 yards and seven touchdowns while catching 40 passes his rookie year—earning himself a trip to the Pro Bowl.
The next two years, Addai's career took a tailspin. His rushing yards and yards-per-carry both dropped.
In the 2009, 2010 and 2011 seasons, Addai's YPC increased, but he missed time each year.
Addai has also drawn criticism for not running hard enough and being too injury prone.
Some Colts fans have never forgiven Addai for those things.
However, they don't realize that Indianapolis' offensive line has been a revolving door of junk since the Colts Super Bowl win in 2006.
Now with a revamped offensive line with two new high draft picks on it, Addai will get his best opportunity to shine since 2006.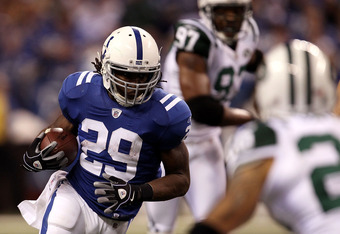 Jonathan Daniel/Getty Images
Addai is the best running back in the league...for the Colts.
Indy's pass-heavy offense requires its backs to be involved in pass blocking more so than other teams and Addai is one of the best at the skill.
His ability to pick up a blitzing linebacker is matched by few backs in the league.
Also due to the Colts' offensive scheme, their running backs must catch well. Addai could move to slot wide receiver right now and be productive for most teams. He runs crisp routes and makes smooth catches, even in traffic.
As far as the actual running of the ball goes, Addai is no slouch there either. He is extremely shifty and can make even the most consistent tacklers miss. When his blocking gives him a decent hole, he can burst through it as well as anybody.
Addai also falls forward on almost every touch, giving Indy that extra yard or two when needed.
If Addai and his line stay healthy for 16 games this season, he has a chance to be the MVP not named Peyton Manning of the Colts.