NFL Free Agency Is Showing the Redskins Are a Real Organization Again
August 1, 2011
Win McNamee/Getty Images
There was a day when the Washington Redskins signing a bunch of high-priced free agents wasn't just expected...it's how you knew it was spring. 
You could almost set your watch to Redskins One taking to the air to snatch up the next ill-fated signing destined to go from supposed franchise savior to waiver-wire fodder.
I'm here to tell you those days are over.
No, not because the lockout moved free agency up from spring to the middle of summer. It's because the Redskins have finally found a way to be fiscally responsible and still spend what they have to to field a competitive football team.
I know, I know...you've heard the whole "this feels different" stuff before. You heard it when Joe Gibbs came back.
You heard it when the team actually slowed its roll and essentially kept the team's free agent spending to just London Fletcher and Fred Smoot in '07.
You heard it again when the team passed on head coaching retreads and went "outside the box" in hiring Jim Zorn the following year.
Well, this time it's for real.
To truly understand what ailed the Skins to begin with is to understand why things are so different now. It was never the simple fact the Redskins were active in free agency that earned them such a crappy reputation and a spotty (at best) on-field product during the Dan Snyder Era. It was their rampant misuse of free agency that hurt them so badly. 
You don't lock the biggest name players you can find inside your facility and keep pouring cash in front of them until they say "when." You don't ignore the player's intentions or his work ethic or how he fits into your scheme simply because he was productive in another city.
You don't give max contracts to mediocre performers who balled out in a contract year or to old guys long past their prime. And, most importantly, you don't let Vinny Cerrato anywhere near your football operation unless it's to fetch coffee and donuts for the grown-ups.
It took about a dozen years, but it looks like the Skins finally got the memo.
Many Skins fans are still punch drunk when it comes to free agency, but the truth of the matter is it's not all bad if you use it properly.
Take the New Orleans Saints; if you listed the top three impact players from their Super Bowl run in '09, they'd be (in no particular order) Drew Brees, Jonathan Vilma and Darren Sharper. None of those players were drafted by the Saints.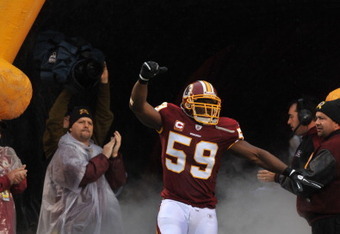 Larry French/Getty Images
As much as the Pittsburgh Steelers are lauded for building their team through the draft (and deservedly so), it's hard to see them winning their last title without the help of free-agent role players Ryan Clark, Mewelde Moore, and James Farrior.
Oh, and the Super Bowl champion Packers? Their best defensive player just might be former free agent pickup Charles Woodson.
At the end of the day, it doesn't matter how you acquire the right players; just that you get the right players. The benefits of building through the draft are apparent. But you can't ignore how free agency (in moderation, of course) can enhance what you're already doing on draft day.
Barry Cofield. Josh Wilson. Stephen Bowen. Chris Chester. Time will tell if these guys pan out as Redskins, but I'd give them good odds since none of them are coming here as "saviors."
They're coming in as role players: team-first guys who work hard and add to the team both on the field and in the locker room.
Hell, Santana Moss is the biggest name acquisition the Skins have made this year. That's not splashy. That's simply taking care of your own.
What a refreshing change.
Don't get me wrong; I'm not viewing this through Burgundy and Gold glasses at all. In fact, I think it's safe to assume that not all of these signings will work out precisely as planned.
But I'll bet this free agent class will look much more like the Class of '04 (Shawn Springs, Marcus Washington, Cornelius Griffin) than the Class of '06 (Adam Archuleta, Andre Carter, Antwaan Randle El).
Plus, these reasonable salaries means there won't be years of cap hell to pay because the team foolishly dished out hundreds of millions of dollars to a select, unworthy few.
Stockpiling draft picks. Fiscally responsible free agent spending. Identifying and excising problem players. While I doubt that the Bruce Allen/Mike Shanahan regime will bring sustained championship success to the Nation's Capital, I do believe that with a lot of luck they've at least got a legit chance at winning by virtue of bringing sanity and reason back to the team's front office structure.
At this point, we'll happily take that.