NFL Free Agency: Top 14 Free Agents Still Available and Their Possible Future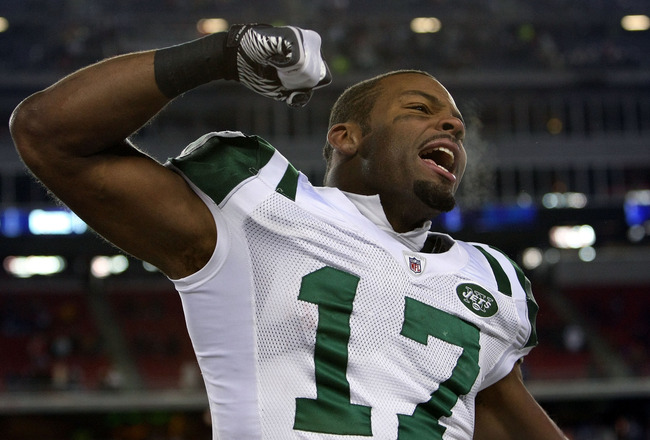 Michael Heiman/Getty Images
Most of the big names in free agency have been taken or re-signed so far.
With the huge deal surrounding Nnamdi Asomugha and the Eagles stirring up the league, there are still plenty of deals yet to be completed.
The lockout has only been lifted for barely a week, and yet so much has been done. There is still plenty of time for teams to sign and re-construct their rosters accordingly.
There are contracts being signed all over the league, it's just a matter of time before these players get taken out of the free-agency pool.
Here are the top 15 free agents still available and their possible landing spots for next season.
15. Randy Moss
Elsa/Getty Images
Randy Moss has seen his career dwindle in 2010.
While many still consider him to be a top playmaker, he will need to find a home for next year. Moss ended last season playing for the New England Patriots, Minnesota Vikings, then finally the Tennessee Titans.
He failed to find his niche in any of the three teams.
Moss has been in the league for 13 seasons, and may finally be seeing the end of his days as a top receiver in the NFL.
If any team were to take a chance on him it would be the New York Jets.
Moss was hated by many Jets fans, simply because, as a Patriot, Moss still dominated in the heated rival games. The Jets recently re-signed Santonio Holmes, and Moss would be a great fit to play aside them.
UPDATE: The Jets have signed Plaxico Burress, making Moss signing with the Jets less likely, although Moss and the Jets have been connected as recently as three days ago.
14. Terrell Owens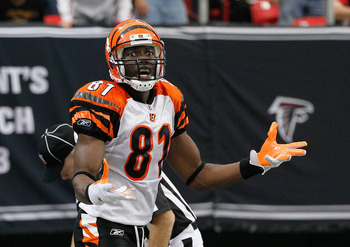 Kevin C. Cox/Getty Images
Another big name who used to be an elite player is still trying to seek a home for 2011.
T.O. had a pretty decent year last season with the Cincinnati Bengals, totaling 72 receptions for 983 yards and nine touchdowns.
He has certainly seen his days wind down, and hasn't been the same guy we've seen in San Francisco, Philadelphia and Dallas.
Owens may be playing as a St. Louis Ram next year and that will probably be his last team.
He would be a great target for the young Sam Bradford and they would probably make some big plays. If the Rams can't make the deal possible, then he also may be playing for the Arizona Cardinals.
The Cardinals have lost their No. 2 and 3 receivers over the years in Boldin and Breaston. Owens would be a great weapon for the newly-acquired Kevin Kolb and would pose a threat playing alongside Larry Fitzgerald.
13. BenJarvus Green-Ellis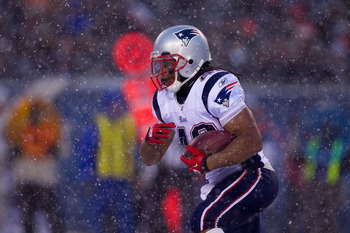 Dilip Vishwanat/Getty Images
The Patriots always manage to find the guys nobody knows, but manage to make them into stars.
That's the case for BenJarvus Green-Ellis when he exploded onto the scene last season for the New England Patriots.
BGE tore up the defenses for 1,008 yards and 13 touchdowns in 2010 and will look to do so again next year.
However, I think he will be staying put in New England.
The Patriots know what they have in this guy and would be crazy to let him go. I say the two will reach an agreement within the next few days and he will be playing in Foxboro again next year.
UPDATE: Patriots director of player personnel Nick Caserio thinks Green-Ellis will be with the team "at some point this week."
12. Cedric Benson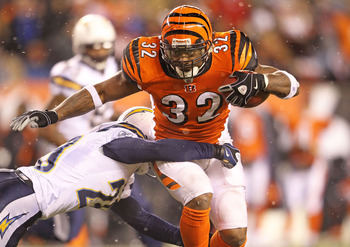 Andy Lyons/Getty Images
This troubled athlete will be back in Cincinnati next year.
The Bengals are having one of the worst offseasons in the league by letting go of their top two receivers, CB Jonathan Joseph and the retirement of Carson Palmer.
Really, the Bengals can't afford to let anyone else with legs go.
Benson had an outstanding season last year rushing for 1,111 yards and seven touchdowns. He can do the same in 2011, but with new quarterback Andy Dalton.
If the Bengals manage to let Benson go, then you might as well be prepared for them to have the first pick in the 2012 draft.
UPDATE: Contract negotiations between the Bengals and Benson are going slowly.
11. Plaxico Burress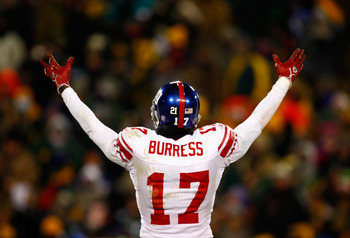 Jamie Squire/Getty Images
The rumors surrounding Plax keep getting bigger and bigger.
Plaxico Burress spent the last two years in jail and is looking to get right back on track in the NFL. Many teams have entertained the idea of bringing him on the roster, but there has yet to be any major discussions.
First, the Eagles were favorites to bring him in for a great red-zone target. Since then, the talks have died down.
There have been some talks between Burress and, believe it or not, the Giants. However, Eli Manning doesn't like the idea of bringing him back at all.
Plaxico had lunch yesterday with Steelers quarterback Ben Roethlisberger. If anywhere, Plaxico will probably be a Steeler come next season.
UPDATE: Plaxico Burress signed with the Jets this morning.
10. Carlos Rogers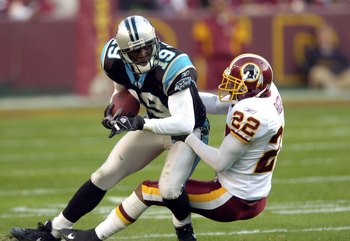 Greg Fiume/Getty Images
The Redskins have dealt away quarterback Donovan McNabb, and will likely do the same to cornerback Carlos Rogers.
Ever since Shanahan took over as head coach for the Washington Redskins, they haven't made any progress towards the next step in the franchise.
With Rogers recording 54 tackles and only two interceptions last season, I don't think he will be returning.
The Detroit Lions have expressed interest in bringing in the corner and so far are in the lead. His 4.4 quickness and speed can be a great addition to the young Lions squad.
9. Aubrayo Franklin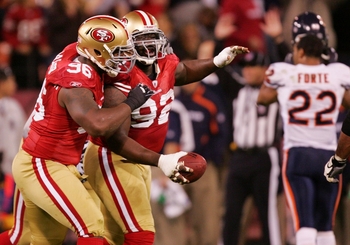 Ezra Shaw/Getty Images
The anchor defensive lineman in Aubrayo Franklin has spent his last year as a San Francisco 49er.
Franklin has played all 16 games in the past three years with the 49ers but has failed to make much of an impact. With only 39 tackles last season, the big man is on the move.
There were a lot of talks about Franklin going to the Kansas City Chiefs, and fans would love to see this happen. The truth is he is a solid tackle and can turn up the notch whenever he pleases.
Not too many teams have checked Franklin out, leaving him to be shadowed by the other big names still available in free agency.
The Chiefs have since reportedly denied any interest, but I think that will be where he ends up.
Kansas City is on the verge of having a pretty good football team, and Franklin could help make that happen.
8. Joseph Addai
Andy Lyons/Getty Images
Joesph Addai is a guy who has talent, but just can't fully express it.
He is quick but has power, and can find the end zone if given the opportunity. Addai was drafted by the Indianapolis Colts back in 2006, but has had some problems staying healthy.
The running back rushed for 495 yards and four touchdowns last year, and will look to bounce back.
I don't think the Colts will let Addai go, simply because for a pass-first team, he makes it work. I expect him to return to Indy and help Manning when his neck is feeling sore.
UPDATE: Addai has re-signed with the Colts.
7. Steve Smith (NYG)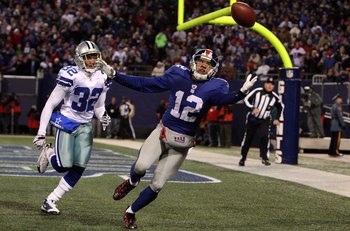 Jim McIsaac/Getty Images
Steve Smith of the New York Giants is the kind of player where when he gets hot, he's hot.
In 2009, Smith opened many eyes by catching seven touchdowns for 1,220 yards. He was the Giants' main man, and had the hands to back that up.
Unfortunately, Smith suffered an injury early in the season last year and only started seven games.
He has made a full recovery, and is looking to come back and play some football.
When next season rolls around, I'd again expect to see him back in New York. He does have the talent and has proven that, so re-signing him would make the most sense.
6. Cliff Avril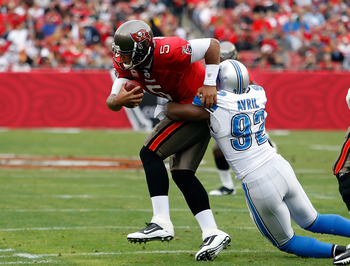 J. Meric/Getty Images
There has been some recent news lately about Cliff Avril, but nothing is set in stone.
The defensive lineman recorded 8.5 sacks last year for the Lions and can provide talent for any team looking at him.
Avril is a restricted free agent and was given a first-round tender. That means that if any team signs Avril, they must surrender a first-round draft pick as compensation.
The Lions are hoping to sign Avril to a long-term contract because he'll be an unrestricted free agent after this season.
So far, the two sides are not close to a resolution. Avril can sign his one-year tender and then sign a long-term agreement at a later date.
5. Braylon Edwards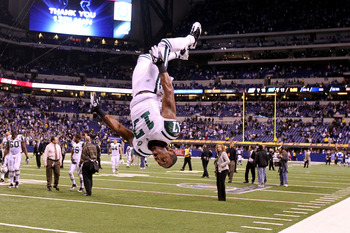 Andy Lyons/Getty Images
This guy can get some air!
After having a solid season as a New York Jet with 904 yards and seven touchdowns, it looks as if Braylon Edwards will be looking for a new home.
In his seventh season in the NFL, the Pro Bowl wide receiver has played for the Cleveland Browns as well. The New York Jets are exploring their options elsewhere at this spot and will not re-sign Edwards.
Next season, he may be playing in Dallas, I predict. Jerry Jones is taking a lot of heat for letting Nnamdi Asomugha slip through his fingers, and the Cowboys also released Roy Williams. Adding Edwards can temporarily shut the Dallas critics up.
There have been several reports that Minnesota had been interested in Braylon, but after signing Michael Jenkins, the odds are now slim to none.
4. Antonio Cromartie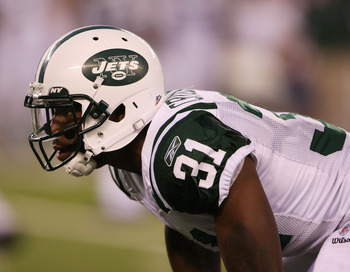 Al Bello/Getty Images
Another New York Jet out on his own.
This time, it's cornerback Antonio Cromartie. As the Jets had also tried to sign Asomugha, they too have let the opportunity slip to Philadelphia. With how much interest they showed in Nnamdi, that means they weren't looking to bring Cromartie back.
The Jets have reached out to Antonio several times stating they wanted to re-sign him, but he has not responded. This very well may mean that he feels like he was "the rebound," and will probably test the waters elsewhere.
The Buffalo Bills and the Houston Texans are teams in need of a top corner as well. I'd expect to see one of the two attempt to bring in Cromartie within the next week.
UPDATE: The Jets made a contract offer to Cromartie this morning.
3. Zach Miller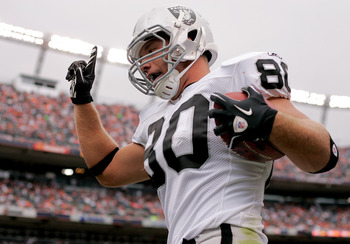 Justin Edmonds/Getty Images
Zach Miller is a tight end who has the ability to make those big plays.
Miller has had a solid career so far in the league in just four seasons, averaging almost 700 yards receiving each year. The Oakland Raiders have decided not to re-sign Miller, and will surely miss out.
A team that I feel will land this talented No. 80 will be the Chicago Bears.
They have recently released their own tight end in Greg Olsen and still have a lot of cap space to work with. The Bears have already signed Roy Williams and Marion Barber, showing that they are trying to make a run at getting a much stronger offense.
Miller may very well be a Chicago Bear next year and will continue right where he left off in Oakland.
2. Ahmad Bradshaw
Jim McIsaac/Getty Images
The New York Giants have paired Ahmad Bradshaw with Brandon Jacobs in the past to show the league their versatile 1-2 punch duo, and that will look to continue.
The Giants are looking to re-sign Bradshaw who had an absolutely outstanding year last season. He managed to put up a career-high 1,235 yards and eight touchdowns.
Bradshaw has reportedly been given a deal by the Giants already, but the ball is still in his court.
With the recent success he has been having, I'd expect Bradshaw to have another big year in 2011. A back with his size and power is rare to come by, and the Giants know that.
1. Stephen Tulloch
Andy Lyons/Getty Images
With all the names still available in free agency, Stephen Tulloch is probably the best remaining.
The linebacker showed his inner beast last season, recording 160 tackles. The monster had back-to-back seasons with 100 or more tackles, and shows no sign of slowing down.
Tulloch was a part of the Tennessee Titans last year, and will not be returning as it seems. The Titans had recently signed Barrett Rudd to the roster, signaling the end of Tulloch's days as a Titan.
The team expressing interest in Stephen are none other than the Philadelphia Eagles. The Eagles have not re-signed Stewart Bradley, meaning they have a gap to fill.
With all the talent and big names the Eagles have signed so far, it would not surprise me if they brought him in too.
UPDATE: Tulloch has signed with the Lions.
Keep Reading