Fantasy Football 2011: Draft Guide for the Serious Player
July 30, 2011
Dilip Vishwanat/Getty Images
Lets be honest, the draft is the best part of a fantasy season. Its when hope springs eternal. Its the time when everybody thinks that their team could be that team. Its that magical time that people still think drafting Ronnie Brown is a good idea.
The camaraderie of the draft is something that you cant find anywhere else. Getting 11 of your friends, enemies, or intellectual equals in one room and duking it out for Michael Vick can be an emotionally cathartic. 
You never want to want to be the guy entering the draft with no clue however. Anyone can read a magazine or check out what the boys at ESPN are saying but not everyone can successfully go into a draft with a strategy that is unique. Being different is almost as important as being informed. There is a lot more to fantasy football drafts than what meets the eye. This is your complete rundown. Give this a read, take what you like, and skip what you don't, but this is how a proven winner is going to draft.
Round One Strategy 
Obviously, everything starts with round one. This is where you are going to get your best player. The key to this round is to get your building block. This spot has to be a guy that you can trust. If you do not have a stud you are going to struggle. There is time for taking risks later in the draft, the first round is not where you should gamble.
This year's first round presents plenty of safe choices. If you're in the first four you will have a shot at Peterson, Johnson, or Charles. These guys are building blocks in the purest sense of the phrase. They will be your leading scorers, flat out. 
I am skipping Arian Foster regardless of what everyone else is saying. Foster was undrafted out of Tennessee. While undrafted guys can be productive, they infrequently set the world on fire long term. I think that Foster had a Steve Slaton like season last year and will follow it with another Steve Slaton like season this year. Heed this warning: stay away.
Towards the end of the first round, there are backs that you can get who will be huge. LeSean McCoy is going to be a monster in Philly's dynamic offense. The 49ers are going to lean on Gore more this year than ever. Mendenhall and Rice are safe bets that will pay off handsomely. Risks that I'm avoiding in the first round include Ray Rice and MJD.
The biggest first round question this year is Michael Vick. Vick is coming off one of the best seasons ever by a fantasy quarterback and is the hottest name in the NFL right now. I am not buying however. I don't like drafting a major injury risk in the first round. While health is always a concern with anyone, few players take as many shots as Vick does and he is too slight to sustain it. I'll get my quarterback and take a reliable running back and let someone else take the risk. This is not to say that Vick isn't going to have a great season, I'm simply saying that I am not willing to wager my team's success on his health.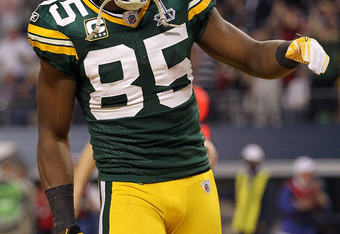 Al Bello/Getty Images
The other biggest question is at what point should you starting think receiver. The talking heads always recommend grabbing a back in the first round, however, if you are through the top 5 or 6, there is no reason not to grab the top receiver on your board. I have Greg Jennings and Roddy White as my top two receivers. I would consider drafting them as high as 7th if all the running backs I have higher go first.
Round Two Strategy
Obviously you're going to have to complement your stud after round one and there has long been debate as to how you should do this. I utilize the following rule:
Round 1            Round 2
RB ->                WR 
WR->                RB
QB->                 RB
These rules are obviously subject to change if a guy I like slips. If Frank Gore somehow slips to me in the second round, I'm not going to pass on him because I already took Jamaal Charles. One rule that I always follow though is that I will get a back in the first two rounds. This, to me, is fundamental.
Beyond the second round, things really become a game of opportunity. I always think I know who I am going to take going into each round, but you can never anticipate guys dropping. I really hate the DeAngelo Williams/ Jonathan Stewart time share, but if one of those guys drops far enough, you can't pass.
Round three is really where I am going to look for the two crucial positions in fantasy football: quarterback and tight end. This years quarterback crop is five deep. After Vick; Aaron Rodgers, Drew Brees, Tom Brady, and Phillip Rivers are the only truly elite quarterbacks out there. That is not to say there aren't other guys that can win you a title. I am only saying that these are the five guys who are head and shoulders better than anyone else. I've got Rivers on the top of my board; if he is available in round three, I am going to grab him. I would think about Brees or Brady in this spot as well, if they are still on the board. 
Outside of the top 5 quarterbacks, there is deep pool of respectable options. These are not guys that are going to be outstanding, but most likely will be serviceable. Guys like Matt Ryan and Matthew Stafford would come late, allowing you to fill other needs first, while potentially still giving you good numbers. They don't come without risk however. Every draft is different, but if the opportunity to grab a top 5 guy is there and it wont break your heart to miss out on guys coming up, I would say go for it. 
The tight end position this year is laughable. There are tow elite tight ends and a mess of average producers. If there was ever a year to go in early and grab Antonio Gates or Jason Witten its this year. If Gates is still around in the third round, I would have a hard time not pulling the trigger. The same goes for Witten in round four. There simply is a chasm between those two and everyone else, don't miss out.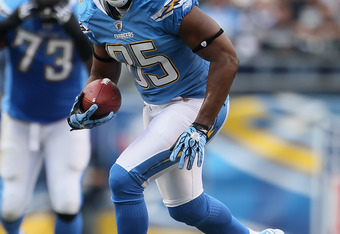 Jeff Gross/Getty Images
Outside of the top 2 tight ends, you really can wait and grab one or two decent tight ends later. I would recommend Brandon Pettigrew from Detroit, Brent Celek from Philadelphia, Jimmy Graham from new Orleans, or Marcedes Lewis from Jacksonville. These guys could all be regular producers. Todd Heap is also an interesting play now that he is in Arizona. Kevin Kolb is known to use his tight ends and Heap has a track record of being productive.
The running back position this year is unbelievably deep. It almost makes me think that drafting a receiver int he first round is the way to go. Obviously there are guys at the top who are known quantities, its the same way every year. The difference this year is that you can get guys much later on who will be steady contributors. Guys like CJ Spiller, Marshawn Lynch, Felix Jones, and Danny Woodhead are far from first round backs but may end up performing like one.
When the draft is moving forward, take receivers when they are available. There simply are not that many quality receivers that can make a difference that you can get late. The class is top heavy with a top 6 or 7 as good as we have seen, but after 10 it really drops off. Sleeper guys usually can make a difference down the stretch, but there is nobody in the 30-50 range in the rankings that will be a steady contributor. The lack of depth puts a huge emphasis on grabbing receivers when you can.