Hunting a Championship: Phillies Sign Pence for Minor Leaguers
July 30, 2011
Bob Levey/Getty Images
With all of the action of the day seemingly happening in the Philadelphia Eagles front office, the Phillies have quietly moved in on one of the top players available right now.
Reports have the Phillies very close to a deal to have Houston All-Star right fielder Hunter Pence to Philadelphia for a set of prospects, which do not include breakout rookie pitcher Vance Worley or outfielder Domonic Brown.
This should bring delight to Phillies fans.
Pence, a 28-year-old right fielder for the Houston Astros has been named an All-Star twice in his five-year career, amassing an average of 25 home runs and 90 RBI per season.
This season he's started out on a tear, with a batting average of .309 and having already brought home 62 runs.
Reports have the Astros receiving Phillies hitting prospect Jonathan Singleton and pitching prospect Jarred Cosart in the transaction as well as two other, not yet named minor league players.
The Atlanta Braves were also trying to work out a deal to try to land Pence, but it seems things have fallen through as they weren't willing to give up their top prospects in hopes of signing the two-time All-Star.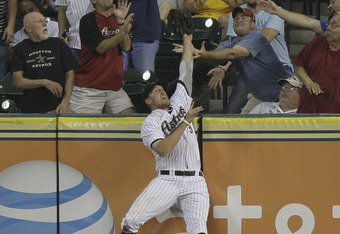 Bob Levey/Getty Images
Pence will likely begin work immediately, giving the Phillies another right-handed bat they've needed to help complete their lineup.
The Phillies have been missing a right-hander since Jayson Werth was released to the Washington Nationals.
This move comes after Carlos Beltran was traded to the San Francisco Giants, a team that had just beaten the Phillies twice in a recent series.
The Astros knew there was one less player available for the Phillies to try to acquire and ended up getting some good value out of Pence.
Pence was pulled from a Friday night Astros game in the fifth inning likely because of the imminent trade scenario.
He will arrive in Philadelphia to join a 65-39 Phillies team that has had no problems winning in recent months.