MLB Trade Rumors: Low Supply Exaggerates Player Values as Deadline Nears
July 29, 2011
Thomas B. Shea/Getty Images
One phenomenon at work this week in Major League Baseball is a basic principle of economics. As the supply dwindles, demand spikes, and the price that teams are willing to pay to add a quality player rises quickly and substantially.
Take Houston's Hunter Pence as a perfect example.  The 28-year-old Pence is a good all-around player.  He plays nice defense in the outfield, can hit with a little power and has speed when needed.  
But Pence currently sports an .828 OPS after collecting a pair of hits on Thursday.  He has 11 home runs through 398 at-bats.  The numbers are good, not great.  Worthy of Pence's All-Star status but hardly the type of production that makes one elite.
And yet according to reports by Buster Olney and Fox Sports, teams including the Phillies and Braves are rabid to add Pence at the deadline.
Again, whoever wins him will be getting a very good player.  He's a player that could have helped my Red Sox without question.  But if and when some club parts with several top-tier prospects, fans are going to have to ask themselves if the price was worth it.
Pence is of an age when players are supposed to be peaking.  Is an OPS in the mid-.800s Pence's peak?  As Rotoworld pointed out, "[d]espite Pence being 50th in major league on-base percentage and 54th in league slugging percentage, for now he's being viewed as a true difference-maker."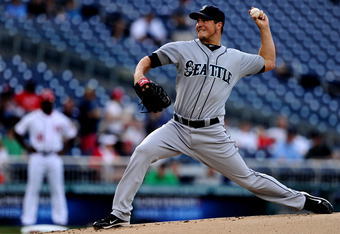 Patrick Smith/Getty Images
This escalation in demand for his services comes on the heels of Carlos Beltran's trade to the San Francisco Giants.  
The marquee deal is another example of value being driven by desperation.  With relatively few truly productive hitters available, the Giants gave up one of the game's best pitching prospects for a two-month rental of the 34-year-old Beltran.
Yes, the right fielder is what San Francisco needs at the moment.  But Zach Wheeler was quite a price to pay.  And if the club fails to repeat as World Series champs, how will the deal be remembered?
Desperation is also fueling the search for pitchers.  The Boston Red Sox, bitten yet again by injuries with Daisuke Matsuzaka and Clay Buchholz on the shelf, are reportedly "all over" Seattle's Erik Bedard.
That's according to Fox's Ken Rosenthal and Jon Paul Morosi, and if true, it flies in the face of good sense.  
A club with an injury problem wants to add Injured Player himself? 
Don't worry fellow Sox fans.  The team has a backup plan in the form of Rich Harden.  Risk piled atop risk but maybe someone assumes that he's due for a healthy two months.
The race for potential ace pitchers Ubaldo Jimenez and Hiroki Kuroda will go down to the wire as well.  Whichever teams come out on top, assuming either is traded at all, will pay handsomely for their rewards.  
In other years, these arms might not be worth nearly as much, but with top flight talent so scarce on the 2011 trade market, teams are willing to raid their farm systems and their wallets.
We will all likely see this in action whenever a Pence deal is consummated.