Jacksonville Jaguars: The Jaguars Still Have a Lot of Work to Do
July 29, 2011
Doug Pensinger/Getty Images
Did you hear "THAT"? "THAT" was a collective cheer from the Jaguars faithful when they heard Jacksonville had agreed with first-round draft pick, quarterback Blaine Gabbert to a four-year deal (with an option for a fifth season) and third-round pick, guard Will Rackley on Thursday afternoon.
The signings meant all of the Jaguars draft picks have come to camp.
Are you ready for some football?
After months of a lockout and the tug-o-war that went on between the owners and the players, fans in Jacksonville and across the landscape are ready for practice and preseason games and the regular season to start.
And they want it NOW.
And while Jacksonville made a splash in the first three days of the free agency period with contractual agreements from linebackers Paul Posluszny of Buffalo and Clint Session of rival Indianapolis, there was still a gaping hole in the secondary and a need for improvement on the defensive line.
Let's not forget the team also lost its punter when Adam Podlesh signed with Chicago Thursday.
Yes, there is a lot to be excited about, but there is still a lot to work on if this team is going to push Indianapolis and an improved Houston Texans team for supremacy in the AFC South Division.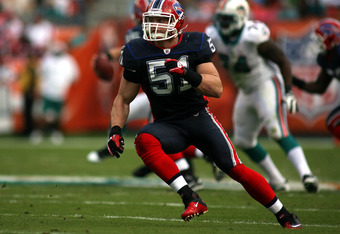 Marc Serota/Getty Images
Where is the help on the back line? The team was rumored for months to be targeting San Diego safety Eric Weddle, but he re-signed with his current team. The Jaguars, who only had 13 interceptions last year, may have contacted Weddle, but they never extended him a contract.
Now, we must look to the defensive backs that remain on the market; Baltimore's Dawan Landry, Oakland's Mike Huff and Buffalo's Donte Whitner and hope one of them will come south and play for us.
Our linebacking situation is solved with our prized gifts. Now both newcomers team with Daryl Smith to form a threesome that can rival anyone in the conference and maybe the league. Defensive coordinator Mel Tucker must be smiling at the idea of having a nucleus like this in the middle of his defense.
We could use another rush end on the defensive line. Aaron Kampman appears to be ready after surgery in the middle of last season on his torn ACL, but the other side of the line needs help.
Jeremy Mincey is the other end and 2008 first rounder Derrick Harvey is still listed on the depth chart. Here's hoping Vikings end Ray Edwards is still on the team's wish list.
Now that Podlesh left,the only punter on the roster is Brian Saunders. While finding a punter might seem like an easy chore, there isn't a Ray Guy or Reggie Roby on every street corner.
The team might want to look at former Bears punter Brad Maynard or former Illinois punter Steve Weatheford because former Florida punter and All-American Chas Henry signed as a rookie free agent with Philadelphia.
And if that was not enough to contend with, there is a certain Pro Bowl tight end that is still in California that wants a new deal from the team. But according to the Florida Times-Union on Jacksonville.com, it is expected that a deal for Marcedes Lewis could be worked out by the end of the weekend.
There are lots of great things to get excited about in this town. It would appear the management and coaching staff are headed in the right direction. But until other holes are plugged on this team, all fans can do is wait and hope the leaks from last year do not spell disaster this year.