3 Reasons Why the New York Giants Should Fight to Keep Osi Umenyiora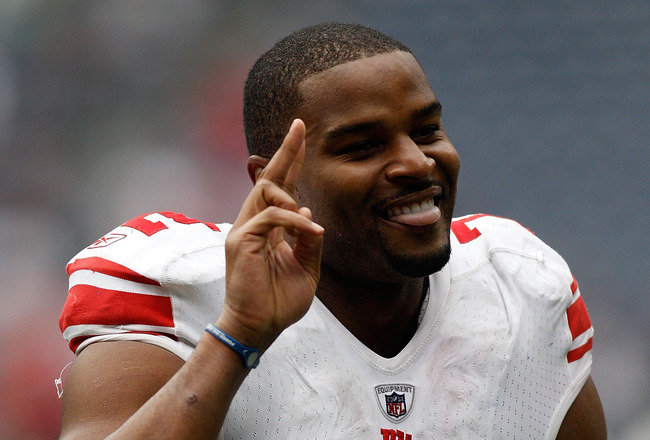 Chris Graythen/Getty Images
The end of the NFL lockout has created a fire storm of moves by every NFL team, and the New York Giants have had some of the more productive last few days.
They let several big name players go, yes, but they've made room to sign their free agents still on the market, and they've also allowed room to negotiate Osi Umenyiora's contract.
I'm not sure the Giants are going to completely cave to Umenyiora's demands to pay him like a top-five defensive end in the league, but you can expect him to get something at or greater than the Charles Johnson range, who re-signed with the Panthers for six years and $72 million.
This slideshow will make the case for the Giants to retain Umenyiora, who has had a spectacular career with the club.
Giants Are Losing Defensive Line Depth
Al Bello/Getty Images
The Giants are reportedly expected to cut Rocky Bernard tomorrow, have already lost Barry Cofield to the rival Washington Redskins and are unlikely to re-sign Dave Tollefson.
They are losing depth at was once considered the deepest defensive line in all the NFL. For a team that likes to rotate their defensive line, they cannot afford to lose Umenyiora.
Yes, Mathias Kiwanuka re-signed and they still have All-Pro Justin Tuck and 2010 first-round draft pick Jason Pierre-Paul, but with the Giants not signing any free agent linebackers as of yet, they could be expecting Kiwanuka to play linebacker.
There is no way the Giants enter the 2011 season having lost Umenyiora and switching Kiwanuka to linebacker. They won't feel comfortable with just Tuck and JPP manning the outsides.
You could make the argument that Adrian Tracy is waiting in the shadows and they signed a great number of undrafted rookie free agents who are defensive ends, but are you willing to trust the pass-rush to them?
I doubt the Giants are.
He Is a Game Changer and Leader on the Defense
Despite the fact that he's seemingly become a bad guy for wanting to up his salary, Umenyiora is one of the leaders on the Giants defense.
He's also the best pass-rusher on the team.
He's led (or tied for the lead this year) the Giants in sacks in six of the last seven seasons. The only time he didn't was his rookie season and the year he missed due to injury.
Umenyiora is a player who can change the game with one play. He forced a record-tying 10 fumbles on his 11.5 sacks, matching the number set by Jason Taylor.
I can guarantee you the Giants will miss him if they let him go.
He Is as Healthy as He's Ever Been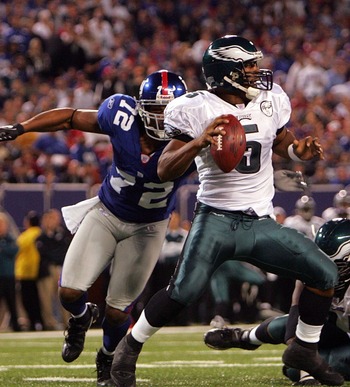 Nick Laham/Getty Images
The last time Umenyiora was truly healthy was 2007—the last time he made the Pro Bowl—and that was the year he was turning in performances like the one pictured to the left.
In Week 4 of the 2007 season, Umenyiora came just one sack shy of tying Derrick Thomas' record of seven sacks in one game.
He completely dominated Winston Justice that day, so much so that Michael Strahan felt sorry for him.
Umenyiora is finally fully healthy, and if you thought he was great in 2010, 2011 has so much more in store. He played through a ton of pain last year, especially in his hip, and has had procedures to alleviate the pain.
Whoever ends up with Umenyiora, they are going to be getting a player with a chip on his shoulder.
Keep Reading

New York Giants: Like this team?