NFL Free Agency 2011: Washington Redskins Add Stephen Bowen
July 28, 2011
Kevork Djansezian/Getty Images
The Washington Redskins have continued their sensible approach to free agency by securing the signature of promising young Dallas Cowboys defensive end Stephen Bowen.
ESPN.com reports that Bowen has reached an agreement on a five-year deal with the Redskins, said to be worth in the region of $27.5 million.
Tipped by many to make their typical ill-advised, big-money splash in free agency, the Redskins have so far resisted the lure of big-name acquisitions and opted instead for more low-key alternatives.
Many experts were certain that the Redskins would throw whatever money it took at securing Cullen Jenkins and Aubrayo Franklin to bolster their defensive front.
But rather than dedicate large resources and cap room to signing two 30-year-old linemen, Washington has gone for younger players with plenty to prove.
Bowen, 27, has been a situational player during four seasons with the Cowboys.  He has demonstrated impressive rush skills in nickel packages.
Bowen's pass-rushing ability will be useful for the Redskins who lack a potent pressure threat along the front three.
Standing 6'5" and weighing 306 pounds, Bowen is the ideal size to man the 5-technique spot.  He can step in at right defensive end and form a dangerous tandem with outside linebacker Brian Orakpo.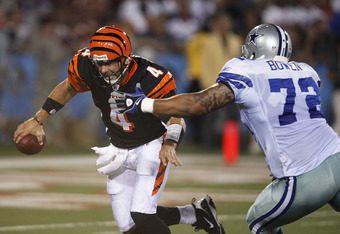 Joe Robbins/Getty Images
Bowen can slide inside to tackle in four-man fronts.  He has the quickness and strength to execute games and stunts and gives coordinator Jim Haslett another weapon for disrupting the pocket.
Bowen can offer the Redskins the kind of third-down rush threat Albert Haynesworth and Vonnie Holliday largely failed to consistently produce in 2010.
In Bowen, the 'Skins get a player with a similar skill set to Cullen Jenkins and the potential to develop to the level of the Green Bay Packers defensive tackle.  Bowen is three years younger than Jenkins and not prone to the same number of injuries.
Bowen joins Barry Cofield as the second young addition made to the Redskins' line, already making this one of the team's most encouraging starts to free agency in recent memory.