NFL Free Agency: What a New Quarterback Acquisition Means for Chad Henne
July 28, 2011
Andy Lyons/Getty Images
The Miami Dolphins are bringing in a new quarterback to compete with Chad Henne for the starting quarterback position.
Miami is reportedly negotiating a trade with the Denver Broncos for Kyle Orton.
As we anticipate the completion of the deal, or the Dolphins switching gears to pursue other free agent quarterbacks, here's a closer analysis of what this will mean for Chad Henne and his future with the team.
No matter what the Dolphins end up doing, the fact that they at least pursued Orton proves they do not have faith in Henne as is. It doesn't mean they've given up on him completely, but that he's no longer considered the franchise quarterback they thought he'd be.
It reminds me of the way the front office treated Tony Sparano in January. They embarrassed the entire franchise with the news of their failed courtship of Jim Harbaugh, then immediately gave Sparano a contract extension.
What is the team supposed to take from that mixed message?
They need to bring in a quarterback this offseason; there are only three on the roster currently, the league minimum, and Tom Brandstater and Pat Devlin are question marks at best. If the front office fails to make a deal for a new QB, how can the team make Henne believe they still believe in his abilities?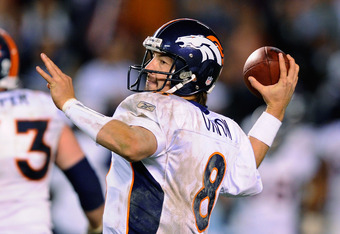 Kevork Djansezian/Getty Images
This is no game you can start without finishing.
Now let's examine the different routes the franchise could take in the next day or two.
I have to start with Orton. He is due nearly $9 million this season and Denver is asking for a high draft pick in return, so Miami is making a huge financial investment in the seven-year veteran. Orton would be the front-runner for the starting job, and Henne would be the underdog in that competition.
I believe Orton is an underrated signal-caller and has put up good stats with sub-par supporting casts. In his two years in Denver, he posted 7,455 passing yards, 41 touchdowns and 19 interceptions in 28 games as starter.
This potential move will probably put Henne on the bench for 2011, and if Orton plays well this year, I wouldn't expect the Dolphins to re-sign Henne when his rookie contract expires after the season.
Vince Young is another possible candidate to join Henne in Miami. Young has had injury problems, personal altercations, and mental stability issues in his tenure in Tennessee that will end Thursday.
Despite the negatives, Young is a proven NFL winner. With Young as starter, the Titans won 30 of 47 games in the last five years, compared to their 15-18 record with another player under center.
I have read so many different reactions to Young's potential signing with Miami, from enthusiastic support to harsh criticism. Young has his issues, but he does bring an athleticism to the position (and the Wildcat formation) that Henne cannot. He also brings a winning record, which again Henne does not.
Young wouldn't be the clear-cut favorite; neither would Henne. Training camp and preseason would determine the Week 1 starter.
There seems to be two levels of quarterbacks on the move this offseason. There's the middle-of-the-league starters (Kevin Kolb, Donavan McNabb, Kyle Orton, Matt Hasselbeck) and then there's the probable backups (David Carr, Bruce Gradkowski, Trent Edwards, Marc Bulger). Miami shouldn't bring in a player of the latter group.
The Dolphins have two backup quarterbacks signed, and adding a new one who isn't as talented won't solve much. It's definitely a cheaper option, a factor the Dolphins are certainly considering with care, but the object of making a move like this is to at least give Henne a competition, if not a successor.
What does all this mean for Henne? If this Orton deal gets done, Henne's pushed to the backseat and potentially out the door.
Should something go wrong in the negotiation process with Denver and Miami goes with Young, Henne isn't safe but sure hasn't lost his chance either.
If neither of those moves are made, Henne finds himself in Sparano's position: Miami failed to get a replacement for him, and now they need him to perform. At least he gets to keep his job.