NFL Free Agency 2011: Will the Raiders Lose Zach Miller?
July 27, 2011
Justin Edmonds/Getty Images
The Oakland Raiders have nothing more than sheer desire to keep their star tight end Zach Miller, but the issue isn't a matter of what the Raiders want; rather, it's what the Raiders have to work with.
Under the new cap rules—and some dead money parameters—the Raiders still face being over the cap floor, which means if they don't quickly whip up some nifty accounting, they aren't going to be able to keep Miller, let alone fend off the vultures with bigger checkbooks.
The Raiders sort of shot themselves in the foot earlier this year by aggressively signing eight players whose total bill came to a whopping $85.48 million, no tip included.
Now, under the new $120 million floor, the Raiders are finding themselves painted in a corner.
The remaining players to deal with are, of course, Zach Miller; DB Michael Huff, who could be off to Dallas; RB Michael Bush, who is a restricted free agent; and CB Nnamdi Asomugha, who is not likely to return.
Bush's restricted free agent tag will indeed allow the Raiders some breathing room with Miller, but again, it isn't a matter of if they want to, but if they can afford to.
If Huff and Asomugha go elsewhere, the Raiders' return in the deals could help matters as well, but again, who knows?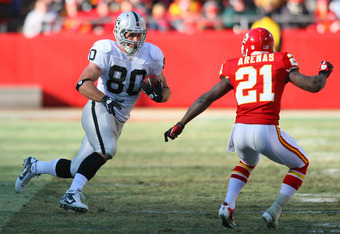 Tim Umphrey/Getty Images
There are plenty of NFL teams in search of a tight end as elite as Zach Miller, and a few of them have more money to spend than half the banks around the country.
Two teams that jump out are the Arizona Cardinals and Philadelphia Eagles (one team that was speculated to have interest).
But the Buffalo Bills, New York Giants, Denver Broncos and Atlanta Falcons are a few others that could pursue a player like Miller.
This is not to say any of these teams have inquired about Miller, but anything could happen in the next 48 to 72 hours.
The Raiders may not have enough time and/or money to keep Miller, which would be terrible, but if both sides can hold out a little longer than usual, this issue may be nothing more than a distant memory come opening day.
Hopefully for all sides involved Miller will be wearing silver and black in 2011.