Seattle Seahawks Quarterback Situation: Buckle Up for 2011
July 27, 2011
Otto Greule Jr/Getty Images
Wow, that didn't take long. 
After months of speculation in all directions, Matt Hasselbeck...done.  Thanks for the memories and best of luck!
No time for eulogies folks, it's time to move forward and fast given the crunch for time before the season starts. 
As you may already know, in the coming days the landscape for the entire NFL will potentially change quite dramatically in one of the greatest free agent periods ever.  I imagine this shaping up to be something akin to the last two minutes of an eBay auction with people firing off wild bids to see if they can win everything from a slightly used quarterback to an All-Pro defensive back and everything in between. 
The scary part for Seahawk fans is we now find ourselves wading into the abyss with coach Pete Carroll and GM John Schneider leading the way. 
We should trust them right? 
After all, the Hawks did make the playoffs last year during their first year in charge. 
Meanwhile the NFC West as a division is a strange mix of teams all trying to claim supremacy while simultaneously rebuilding.
Each team has key pieces in place with Larry Fitzgerald, Patrick Willis, Chris Long to name a few, but none can truly claim to possess a fully developed quarterback amongst the bunch.  With quarterback arguably being the most important position in all of professional sports, one has to wonder what to think this season and beyond of the Hawks chances.  
To date, only Sam Bradford in St Louis projects as the clear starter this year and long term, yet even he now finds himself in a tough spot having to get acquainted with a new QB coach in Josh McDaniels these next few weeks. If they hit it off and get Bradford some targets to throw to, watch out.
In San Francisco, Jim Harbaugh will need to see if Alex Smith has anything left in the tank or if Colin Kappernick is the guy he can build with. 
Finally in Arizona, one has to wonder what direction they will take?
Kevin Kolb, Donovan McNabb (signs now point to him going to Minnesota), or perhaps even Hasselbeck?
Only a few years removed from their Super Bowl run, the Cardinals have an interesting decision to make whether they commit to the likes of Kolb long term or someone like Hasselbeck for the next year or two. 
For this year in the NFC West, anything can happen. 
Which brings us back to the Hawks and their future. 
So far we know that Tavaris Jackson will now be reunited with new offensive coordinator Darrell Bevell and rumor has it that Coach Carroll will potentially be paired again with Matt Leinhart. 
Together with Charlie Whitehurst, it begs the question...
If you have three quarterbacks, then technically do you have any? 
From the outside looking in, the situation will make training camp rather entertaining, but for fans it only begs more questions.  
Why didn't the Hawks take a QB at some point in the draft or did we just miss out on Ryan Mallett in the third round?  
Is the potential trio of Clipboard Jesus, Brett Favre's understudy, and a recycled Heisman winner really going to net a long-term solution or a short term answer? 
OR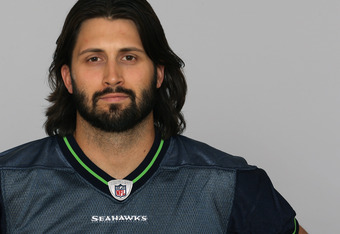 Handout/Getty Images
Are we really just waiting to see if we can get Andrew Luck, Matt Barkley, or whoever makes his way up in the draft next year?
At the end of the day I like Pete's positive attitude and infectious energy, so far it's worked as he cleaned house and managed to steal a division title.  I also understand he probably saw the limit of what he could get from Matt Hasselbeck at this point in his career and decided to move on, but why tell us back in January he was the team's No. 1 priority?
I keep waiting for the grand vision of the Seahawks to be unveiled.
When is the real QUARTERBACK of the Seattle Seahawks going to show up instead of the latest batch of leftovers?
I certainly don't know and I'm left to wonder if the brain-trust does either?  Seems they keep throwing paint at the wall and looking to see what sticks. 
For now Seahawk fans there looks to be turbulence ahead, so buckle up, it's going to be quite a ride.