Baltimore Ravens: Moves the Ravens Should Make in Free Agency
July 26, 2011
Gregory Shamus/Getty Images
The Baltimore Ravens shocked their entire fanbase today when they released several big-name players immediately following the end of the lockout.
Derrick Mason, Todd Heap, Kelly Gregg and Willis McGahee were all informed that they would be released on Thursday, the first day that the Ravens are permitted to terminate contracts.
Not many fans were surprised about the release of Willis McGahee, who was set to receive a salary of over $6 million next season. McGahee's salary will not be missed by the Ravens, but they will need to find a backup running back for Rice.
McGahee hasn't just been Rice's backup. Most run-first teams have a few good running backs, and McGahee has been an excellent complementary back. Having McGahee as an option added flexibility to the offense because he could bring brute force when Rice's style wasn't effective.
Unfortunately, that's a luxury that the Ravens can no longer afford. The salary cap has been set at an astonishingly low $120 million, and the Ravens have been forced to make cuts.
Heap, Mason and Gregg have been three of the most popular and productive Ravens of all time. Heap and Mason are the franchise's top two receivers, and Gregg, who's known affectionately as "Buddy Lee" to Ravens fans, has been a key, underrated player in the Ravens defense for many years.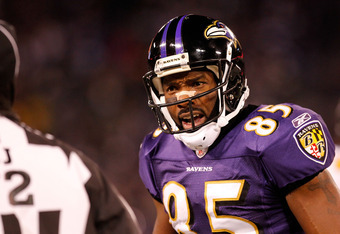 Geoff Burke/Getty Images
It's hard for the fans to see these great players cut, but ultimately, it's the best move for the team. Mason and Heap were in the last, most expensive years of their contracts, and Gregg and McGahee, who were both basically good backup players, were being overpaid for what they added to the team.
After cutting those four players the Ravens will be saving about $18.6 million dollars according to Aaron Wilson via Twitter.
That savings will give the Ravens flexibility in free agency with not only their own free agents but free agents coming off other teams as well.
"With this agreement comes a new salary cap, unlike last season when there was no cap," General Manager Ozzie Newsome said in a statement. "We will be making a number of roster moves in the next 48 hours that will free up salary cap space. This will give us the ability to make offers to our players we want to re-sign, plus put us in a position to sign free agents from other teams."
When the team frees up cap space, everyone starts wondering who they're going to sign. In this instance, the Ravens will probably make their first offers to the players that they just cut.
The Ravens are open to resigning Mason, Heap and Gregg to cheaper contracts, and since the market is flooded with quality free agents right now, the probability that they'll be able to re-sign a few of the players they just cut is high. They may not be interested in bringing back McGahee since he will likely still be too expensive for a backup even at his cheapest price.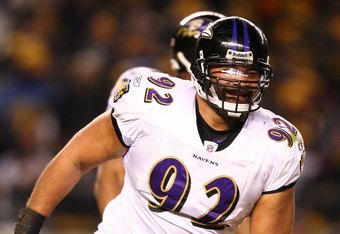 Al Bello/Getty Images
Another move that the Ravens could make is signing Haloti Ngata to a long-term contract. Right now, Ngata's franchise tender is costing the Ravens $12.5 million in cap space.
If the Ravens were to sign Ngata to a long-term contract, they could structure the contract in a way that lowers his cap number for this season and defers the bulk of his contract to years where the salary cap will be higher. Lowering Ngata's cap number would free up space for the Ravens to resign the players they just cut and their rookies while maintaining cap flexibility.
After freeing up cap space, the Ravens can move on to re-sign their own free agents. They absolutely must to find a way to re-sign Marshal Yanda. We've already talked about how important he is to the Ravens offense, and if they cannot find a way to retain him, the Ravens offense could be thrown into disarray.
Yanda may be their most important free agent this offseason. At this point, it would be a major upset if the Ravens did not find a way to retain Yanda.
After they re-sign Yanda, the Ravens should offer a one-year contract to Jared Gaither. Many would not agree on re-signing Gaither, but the situation between them has grown into one of mutual need.
The Ravens need Gaither and are desperate for depth and talent along the offensive line. Gaither needs to prove to the league that he's completely healed before any team gives him a long-term contract.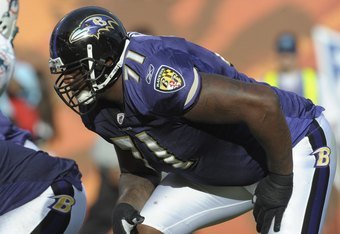 Al Messerschmidt/Getty Images
He will also have the best chance at a starting role in Baltimore since he already knows the system, and the Ravens could certainly use a quality left tackle after Michael Oher's struggles last season.
Chris Carr, Josh Wilson, Dawan Landry and Le'Ron McClain are the other important free agents that the Ravens need to make a decision about re-signing. Carr and Landry will probably be overpaid for their performance in the Ravens defense.
Furthermore, Carr wants a start role, which the Ravens could not promise with the talent they currently have, and Tom Zbikowski is ready to step in for Landry. The Ravens don't need to pay either player.
Wilson, on the other hand, should be retained. Many people don't realize how good he was last season. He has tons of upside and is still young.
Wilson brings a unique skill set. He's a quick, smart and a big playmaker. He could become the league's best second or third corner and will be cheaper now than ever. The biggest reason why the Ravens should keep Wilson is because he still has upside and will likely outplay the contract he signs this offseason. Those are the types of players to build a roster with.
Finally, the Ravens should let Le'Ron McClain walk and sign Vonta Leach in free agency. McClain and Leach will probably get similar contracts, but Leach is more likely to outperform his contract than McClain. McClain is a good ball carrier and a good run blocker, but Leach is a decent ball carrier and an absolutely dominant run blocker.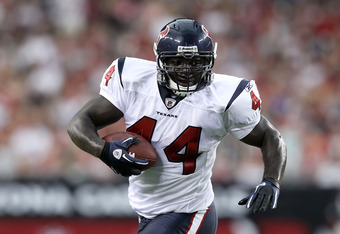 Christian Petersen/Getty Images
The Ravens shouldn't pay McClain a large contract to be a complementary running back. The Ravens could find a cheaper running back to do as good or better than McClain in that role, so paying McClain more to be a running back and a fullback doesn't make sense.
If McClain is going to get a lucrative contract from the Ravens, it should be based on his abilities as a blocking fullback, and since Leach is clearly superior in that role, he is also clearly the better option at fullback if the Ravens are going to give out a big contract.
The Ravens are in a surprisingly good position heading into free agency. The release of four of their older, overpaid players frees up cap space even if they re-sign those players. They have options to free up cap space by re-signing Ngata, and even though they have some critical areas to address, most fans feel confident that Ozzie Newsome will do an exceptional job.
Either way, it's great to be talking about real football issues again.