Baltimore Ravens: Why the Ravens Need to Re-Sign Josh Wilson
July 7, 2011
Larry French/Getty Images
The injury to Domonique Foxworth in training camp left the Ravens paper-thin at cornerback. Going into the draft, the Ravens and most analysts felt like that was their biggest area of need, but unfortunately, they weren't able to find a player in the draft that could help the team.
It was a need that most fans were very worried about, and when the news of Foxworth's injury was released on the first day of training camp, fans started to panic. The Ravens front office didn't panic. They took to the phones and started working an a deal with the Seattle Seahawks.
"[Baltimore] was a team that was very aggressive in coming after Josh," Seattle general manager John Schneider said. "They were in a situation where they have a strong need."
Most people, especially Seahawks fans, believed that the Ravens got a steal since they only sent the Seahawks a conditional fifth-round pick, and the Ravens believed that they received a player that had significant playing time for a young player and was capable of starting from day one.
"Josh is someone who has started a lot of games for a young player, plus he has been a good special teams player, both as a kick returner and in coverages," Ravens executive vice president/general manager Ozzie Newsome said in a statement released by the team.
"He adds depth to our secondary and will help us. We expect Josh to be taking snaps against the Jets on opening night."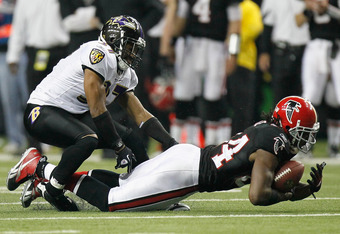 Kevin C. Cox/Getty Images
Wilson didn't start immediately for the Ravens, and his first start didn't come until Week 10 versus the Falcons. In that game, Wilson struggled to cover Roddy White and allowed White to score the game winning touchdown. It was clear that White pushed Wilson to the ground on the final touchdown, but it was also clear that Wilson struggled in the entire game.  
In fact, Wilson struggled in his first four games as the Ravens starter. He allowed 73 yards and a touchdown to Roddy White, was beaten for an 88-yard touchdown versus Carolina and was targeted by the Steelers, who were able to complete six passes for 84 yards when throwing at him.
According to an article by Pro Football Focus, Wilson struggled in his first four games but had a breakout performance versus Houston. The Texans tried to exploit Wilson and threw nine passes in his direction. Wilson deflected two passes and only allowed four balls to be caught.
That may not sound like a breakout game until you consider that he was covering Andre Johnson for half of the game.  Of course, Wilson's best play came in overtime when he intercepted a pass intended for Johnson and won the game for the Ravens with the rare, walk-off pick-six.
Wilson continued his success from the Houston game and finished the season strong, and other teams began to take notice. Opposing quarterbacks threw fewer and fewer passes in his direction as the season wore on.
After being targeted nine times in Houston, Wilson was only targeted 10 times in his next four games, including the playoff game versus the Chiefs, and allowed only 27 yards in the Ravens loss to the Steelers.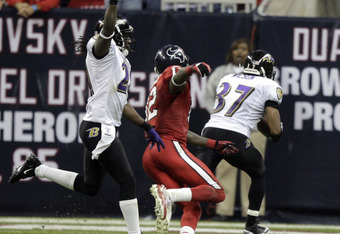 Bob Levey/Getty Images
It was only 10 games, but Wilson played those games as good as any cornerback in the league. He may have started out rough, but was still only allowed less than 50 percent of passes thrown at him to be completed.
There were only seven other corners with 400 or more snaps played who could boast that. The only player who allowed fewer receptions with more passes defended was Darrelle Revis, who is generally considered the best cornerback in the league.
Wilson played a fantastic season for the Ravens and was easily their best corner as the season progressed. His season was so good that Pro Football Focus shows him to be "one of the better cornerbacks in the league" according to their grading system.
The Ravens need to focus on resigning Wilson. He's a unrestricted free agent right now along with cornerback Chris Carr, who also had a good season. The Ravens probably will not be able to retain both and should choose Wilson if they can only retain one player.
Wilson was clearly one of their best defensive players last season, and even if Foxworth and Jimmy Smith are better at playing outside, Wilson brings a unique skill-set to the team.
In an era when a team's nickel corner is basically a starter, the Ravens need three good corners, and Wilson is the answer.