MLB Trade Rumors: Are the New York Yankees Interested in Edinson Volquez?
July 25, 2011
J. Meric/Getty Images
Less than a week away from the MLB trading deadline on July 31, the New York Yankees are actively searching to upgrade their starting rotation.
When Bartolo Colon and Phil Hughes returned from injuries earlier in the month, the Yankees thought they may be able to get by with that they have.
Colon has had a couple of bad starts, but pitched well Sunday. Hughes is still struggling with command and location.
Plus, throw in the fact that A.J. Burnett is still erratic and inconsistent, and the Yankees may be getting fed up with the 34-year old right-hander.
Now, some people on here have said that calling Ivan Nova back up is the easiest solution, but he hurt his ankle in Triple-A and is on the DL, so that changes plans.
We know Ubaldo Jimenez, Hiroki Kuroda, James Shields, Ted Lilly and others have been mentioned and linked to the Yankees.
According to Ken Rosenthal of FOX Sports through his Twitter, Cincinnati Reds pitcher Edinson Volquez could, in fact, be on the block and available.
The Reds, 50-51 and in the thick of an N.L. Central division race, have starters such as Bronson Arroyo, Johnny Cueto, Mike Leake, Homer Bailey and Dontrelle Willis, plus Travis Wood in the minors.
Volquez was sent down by the Reds on July 7 due to a high ERA and control problems in 2011.
Before July 7, Volquez was 5-4 with a 5.93 ERA, 85 strikeouts and 55 walks in 85 innings.
Volquez's best season was back in 2008, where he went 17-6 with a 3.21 ERA and was a National League All-Star.
Since then, he's run into injuries. He had Tommy John surgery in 2009 and was also suspended in the beginning of 2010 for testing positive for a banned substance.
Volquez returned to pitch for the Reds down the stretch in September of 2010 with a 4-3 record and a 4.31 ERA, helping them win the 2010 N.L. Central division.
Volquez pitched in Game 1 of the NLDS against the Philadelphia Phillies, but was knocked out in the second inning after allowing four runs. That was also the same game Roy Halladay threw a no-hitter against the Reds.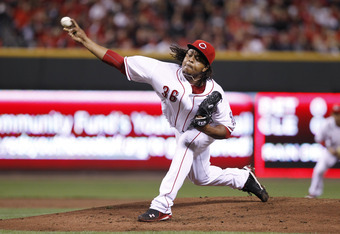 Joe Robbins/Getty Images
The Reds are also rumored to be heavily interested in Jimenez. Rosenthal said the Reds could deal Volquez in a separate deal if they were able to get Colorado's ace.
At one time, Volquez was one of the youngest rising stars in baseball, and he is still a younger arm at age 28.
Rosenthal said the Yankees could be one of several teams interested in Volquez at the deadline.
If the Yankees are, in fact, interested in the former Cincinnati ace, what would the Reds want for him?
Cincinnati has to know Volquez's value has diminished since 2008, especially with him in the minors and an ERA at almost six.
So asking for Manny Banuelos or Dellin Betances wouldn't exactly be the way to go for the Reds. Now if they were interested in Jesus Montero, Andrew Brackman and/or Ivan Nova, then that might be more enticing and a fair deal.
Plus, Volquez's injuries over the last two years have to raise a red flag for anyone interested in dealing for him.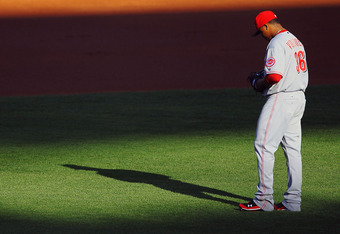 Dilip Vishwanat/Getty Images
But the upside of Volquez is when he is healthy and has his command, he can dominate a lineup and get into double-digit strikeouts.
But I think the past injuries and what Cincinnati and their GM Walt Jocketty might ask for could cause some hesitation from Yankees GM Brian Cashman, if, in fact, he is interested.
If the Yankees are unwilling to unload Banuelos and Betances in a deal for Jimenez, but are still looking for a starter who could be top of the line, Volquez could be the way to go for the Yankees.
Now, am I as gung-ho on going directly after Volquez as I would, say, Jimenez? No, not really.
Volquez's injuries kind of scare me. So does his high ERA and high walk total. And a lot of you are going to say we have the same thing with Burnett.
True. But Volquez is 28 and Burnett is 34. And Volquez is only making about $1.6 million, whereas Burnett's mistakes costs the Yankees $16 million each year.
So money wouldn't be any sort of factor. It's the simple question of, is he worth the risk of bringing him in?
I could go either way with Volquez. On one side, he could have electric stuff and help the Yankees. On the other, he's an injury-prone risk with control issues.
So now I leave the floor for you, the Bleacher Report community, to debate. Would it be a good move if the Yankees gambled and got Volquez?
There are less than six days left until July 31 and the 4 p.m. deadline.
The Yankees hot stove is burning as hot as the weather is in New York right now. Stay tuned.