Obituary: 2011 Tampa Bay Rays Laid to Rest in Kansas City
July 24, 2011
Jamie Squire/Getty Images
After playing a first half that left some thinking that the contention was in the realm of possibility, the Tampa Bay Rays simply could not elevate their game in the last week.
Saturday night, that came to an end as the 2011 Rays were officially pronounced dead as Eric Hosmer belted a game-winning double for the Kansas City Royals.
When analysts look back on this season, they will see a team that overachieved as much as they underachieved. The Rays were a team with tremendous pitching—one of the best rotations in baseball, without a doubt.
But they were pitching with shackles on, as the offense rarely provided any run support. Because of that, close games almost always seemed to go the opponents' way.
This death comes almost one week after the Rays entered the MLB Trauma Center in critical condition, following a 16-inning, 1-0 loss to the rival Boston Red Sox. After remaining stable against the New York Yankees for four days, Tampa Bay's health took a turn for the worse once they arrived in balmy Kansas City.
Two frustrating losses later, the Rays found themselves 9.5 games back in the American League East, 6.5 back in the Wild Card, and losing ground fast. Doctors ordered the Rays be taken off life support in the hours following Saturday night's 10-inning loss.
With eyes towards the next version of the Rays, set to take the field in the spring of 2012, Tampa Bay's caretakers will likely make a flurry of adjustments to ensure that a similarly untimely death does not occur next year.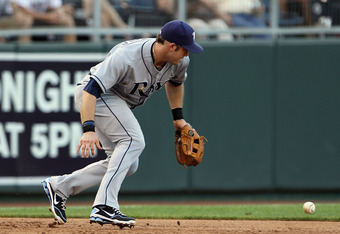 Jamie Squire/Getty Images
First and foremost, the team must be cleared of center fielder B.J. Upton, whose haphazard and careless style of play has resulted in countless missed opportunities and frustrating plays over the year. His .229 batting average and negative defense ratings make him an unwelcome presence on the team.
There will be other moves, too. Rays such as Johnny Damon, Kyle Farnsworth, or perhaps even James Shields could be traded out of Tampa Bay in return for youth and financial flexibility.
For the pitching staff, particularly the trio of Shields, David Price, and Jeremy Hellickson, pulling the plug on the season might be the best thing. Price and Hellickson have both thrown an extraordinary amount of innings, not a great sign for young arms. It is reasonable to assume that Hellickson will not be pitching a whole lot past the middle of August.
And for the offense, a part of the team seemingly in poor health from day one, death was only to put them out of their misery. Supporters of the Rays saw their everyday lineup and saw names that simply do not belong in a major league lineup—Johnson, Shoppach, Jaso, Ruggiano, Brignac, Fuld.
There was a very unstable bullpen. The only rock, Kyle Farnsworth, has become increasingly shaky, including blowing a save last night. There has been questionable work from men such as Joel Peralta, Cesar Ramos, J.P. Howell and Juan Cruz.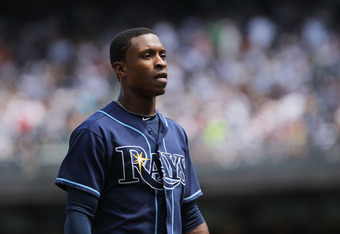 Nick Laham/Getty Images
And for all of their shortcomings, the real fatal flaw of the team was the inability to have consistent production from their best hitters. Only Casey Kotchman, the journeyman who seems to have found a long-term home in Tampa Bay, has hit well all season.
Matt Joyce, Evan Longoria, Ben Zobrist, B.J. Upton and Johnny Damon have not been horrible, but not nearly good enough to hold a candle to the lineups of Boston or New York. Too many strikeouts, too many pop-ups, too many errors.
This was just a team that did not seem to want to win.
The Tampa Bay Rays are survived by a very rich talent base waiting to be tapped. Outfielder Desmond Jennings was ordered to attend to his major league team by its death bed. Pitcher Alex Cobb was also present.
In the coming months, young players such as Robinson Chirinos, Brandon Guyer and perhaps even Chris Archer or Matt Moore will find their way to the majors. But almost certainly, next season will see a lot of new faces.
For the remainder of the 2011 Major League season, a ghost version of the Rays will play their remaining 63 games. There is little hope for improvement.
As long as hitting coach Derek Shelton continues to allow players to take called third strikes down the middle and not work counts for walks when they are ahead, the offense will not improve. And as long as Joe Maddon continues to use his bullpen like they are all clones of Mariano Rivera, leads will keep getting lost.
Yet hope remains strong for 2012, and the ghost Rays will play out the remainder of this season with the future in mind.
As for the 2011 Tampa Bay Rays, funeral services will be held at Tropicana Field on Tuesday, August 2, prior to a 7:10 p.m. game against Toronto. The public is welcome to attend. When contacted, Rays' owner Stuart Sternberg said he expects attendance to be about 13,000.
Donations can be made to the Tampa Bay Payroll Fund or the New Stadium Community Fund.