Florida Marlins: Analyzing Jeff Conine's Desire for a Hanley Ramirez Trade
July 23, 2011
Sarah Glenn/Getty Images
With the July 31 trade deadline days away, the Marlins are in limbo as to what moves they will make since they have proven to be a streaky team when they won 9 of 10 games as recently as last Monday but have now lost four in a row to sink further out of a potential playoff race. 
Mr. Marlin Jeff Conine had an idea in mind when he went on "The Dan LeBatard Show on 790 The Ticket" on Friday.
On the subject of star shortstop Hanley Ramirez, Conine said it frustrated him "on a nightly basis" that "there are some nights when he doesn't work as hard as he should."
Such comments shouldn't be a surprise when last season, Ramirez was scolded for not hustling for a groundball which resulted in him being benched by then Marlins manager Fredi Gonzalez.
This season, interim manager Jack McKeon wasted no time in benching Ramirez when he sensed that he was hustling up the line on groundballs hit.
But when the special assistant to team president David Samson was asked on trading Ramirez, Conine told "The Dan LeBatard Show": "If it were up to me, probably."
Trade rumors surrounding Hanley Ramirez are nothing new this season where as recently as a month ago during the Marlins ongoing June swoon, questions arose on whether the Marlins would be better off trading Ramirez considering his substantial pay raise in 2012 from $11 million to $15 million and poor play.
Yet, Ramirez has turned it around and is hitting .333 in July with 5 home runs and 18 RBIs.  He recently reached the 1000 hit milestone and passed Jeff Conine (1,005) for sole possession of second place on the franchise hit list.  
With the Marlins wanting to keep momentum up with the impending arrival of their new stadium in 2012, such trade will be unlikely, unless the Marlins are blown away with an offer made to them. 
The popular destinations for Ramirez always seem to reside within the AL East with both the New York Yankees and Boston Red Sox as his destinations of the future. 
For the Marlins, they face an array of holes at various positions, such as lack of starting pitching, a stable third baseman and center fielder.
Trading Ramirez would leave another hole at perhaps the hardest position to replace at shortstop.
According to an online poll by the Miami Herald on who is the most untouchable player from the Marlins with the deadline right around the corner, Ramirez was about even (13%) with first baseman Gaby Sanchez (13%) while power hitting outfielder Mike Stanton led the vote (71%).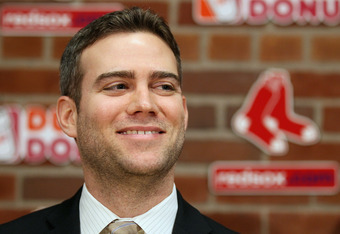 Elsa/Getty Images
But if the Marlins were to trade Ramirez, whether at the trade deadline (highly unlikely) or in the offseason, it would free up roughly $11 million-12 million and push up a spending spree in the neighborhood of around $50 million-55 million to spend on free agents and extensions for current players (such as Anibal Sanchez).
The Marlins have promised to have a middle of the pack payroll so it could be at its highest levels in team history with anywhere from $80 million-90 million in 2012. 
Will Ramirez command the high octane talent in return with his lowered numbers? The one thing going in the Marlins' favor is that they don't have to trade him and teams would have to fork up more to pry him away.
While the Red Sox traded away the top tier of their minor league farm system to get Adrian Gonzalez (Padres had to trade him), the Marlins would probably get a fair share of major league-ready players such as shortstop Jed Lowrie (to replace Ramirez), outfielder Josh Reddick (to play center) along with minor league pitchers Anthony Ranaudo (top prospect) and/or Drake Britton (to enter rotation in near future).
From New York, the Marlins might get Jesus Montero (who could slide to third base) along with Eduardo Nunez (to play shortstop) but whether they get their hands on one of the trio of pitchers Ivan Nova, Dellin Betances or Manny Banuelos remains questionable since the Yankees aren't rushing to replace Jeter. 
Nevertheless, Ramirez will probably remain a Marlin for the foreseeable future, that's if the team wins in their new stadium. If the team doesn't win, then well Loria will surely cut ties with him (owed $15.5 million in 2013, $16 million in 2014) to reallocate money and acquire more talent.