What Would It Take for the New York Yankees to Get Felix Hernandez from Seattle?
July 23, 2011
Ezra Shaw/Getty Images
Pitching wins championships.
The 2010 World Series Champion San Francisco Giants all showed us that last year.
Right now, the Yankees are just getting by with their pitching.
You have the ace, CC Sabathia, 14-5 with a 2.62 ERA, who is having another amazing season and could be up for the Cy Young award.
There's A.J. Burnett, 8-7 with a 4.19 ERA, who is still pitching erratic and not consistent enough.
There's Freddy Garcia, 8-7 with a 3.21 ERA, who has surprised a lot of people by getting by with mediocre stuff but getting outs either way.
There's Bartolo Colon, 6-6 with a 3.34 ERA, who started out pitching really well but has struggled as of late.
And then there is Phil Hughes, 1-2 with a 9.47 ERA, who is fresh off being on the disabled list since April with shoulder inflammation.
So, let me ask you all right now: If the Yankees were to enter October baseball with this rotation, would is scare you in anyway?
If you are all shaking your head no, very good. Because you, like myself, wouldn't be scared of it once you got past Sabathia.
Right now, the Yankees would be just good enough to get to the playoffs.
If the playoffs were to start today, the Yankees would fall short of the Boston Red Sox in the AL East, but they would win the wild card.
But this rotation has the makings of a one-and-done appearance in the playoffs.
The Yankees still need pitching. Friday night's game against the Oakland A's showed that.
Hughes should have won the game against the A's when the Yankees gave him a 14-2 lead in the third inning. Yes, the Yankees gave Hughes a two-touchdown lead in a blowout.
And what did Hughes do? Nine hits, seven runs, four walks, three strikeouts and a no-decision over 4.1 innings.
Hughes also gave back three runs and walked the bases loaded in the fifth before Joe Girardi had seen enough after 98 pitches and pulled Hughes from the game.
Hector Noesi was able to settle down the Oakland offense and keep them from making it look like an actual football score. Well, actually, the Yankees did win 17-7, so all Oakland needed was a touchdown and a field goal to be back in it.
The Yankees needed Hughes to show them that he's reliable, and he did the complete opposite.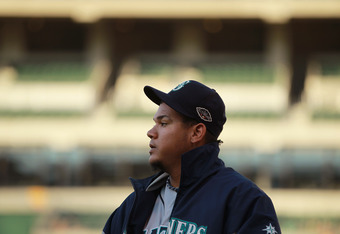 Ezra Shaw/Getty Images
So now, the point of this story.
With the Yankees needing pitching, there is always one name that always comes up on the Yankees fans and Brian Cashman's wish list: Felix Hernandez.
Hernandez is 8-9 with a 3.47 ERA in 157.2 innings pitched for the last place Seattle Mariners.
Seattle is currently 43-56 and 13.5 games out of first place, and really have no major shot of the playoffs and aren't exactly looked at as a major contender anytime soon.
That's right. The Mariners are awful.
Hernandez was also signed to a five-year extension in 2010 worth about $78 million, which means Hernandez is locked up until 2014.
Now, King Felix is a great pitcher, we know this. He's the reigning 2010 AL Cy Young winner.
With Seattle, he's also rather expensive for a team that isn't going to compete anytime soon. In 2011, Hernandez is making over $10 million. In 2012, he'll command over $18 million per season.
Seattle still reiterates not wanting to deal Hernandez, but how long is it going to last?
The Yankees have checked in from time to time with Seattle to see if they would consider dangling King Felix, which the answer is usually the same, which is usually no.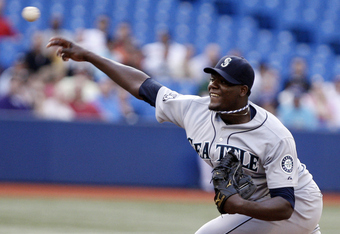 Abelimages/Getty Images
But, Seattle has another developing star in their pitching staff, Michael Pineda, who could be a future ace for their team.
The 22-year-old Pineda is 8-6 with a 3.24 ERA and could be up for 2011 Rookie of the Year. He's already made his first All-Star Game this year in Phoenix.
So, now if they have Pineda, who makes all of $414,000 on Seattle, and is three years younger than King Felix, you have to wonder if that would make Seattle a little less reluctant to deal Hernandez.
If Felix is ever put on the block for whatever reason, what would it take?
Essentially, it would in fact be "The King's Ransom."
It's almost around the certain package that the Colorado Rockies want for Ubaldo Jimenez, pitchers Manny Banuelos, Dellin Betances, Ivan Nova and catcher Jesus Montero.
That would be at least to start.
So, if the Yankees aren't willing to deal it for Jimenez, would they be willing to deal off their best prospects for King Felix?
The Yankees once weren't willing to trade off any of "Generation Trey" Joba Chamberlain, Ian Kennedy and Hughes in a deal for Johan Santana in 2007.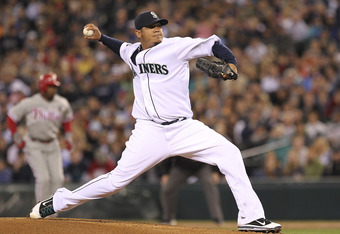 Otto Greule Jr/Getty Images
Hughes is still with the team, Chamberlain is in the bullpen but out for the season and Kennedy is now with the Arizona Diamondbacks.
So "Generation Trey" was nothing more than hype. Now, we have the "Killer B's" with Banuelos, Betances and Andrew Brackman.
Are they hype or for real?
Right now, it seems like they aren't worth giving up for Jimenez?
But, what about for King Felix? What would it take for Mariners general manager Jack Zduriencik to unload his best pitcher?
We know the Yankees are always interested. We know Cashman will still keep calling Zduriencik from time to time.
But would Cashman have the guts and the package Seattle would want to give Hernandez to the Yankees?
I doubt that with nine days left until the July 31 trade deadline the Mariners would be inclined to deal Felix to any team, much less the Yankees, who have the money and prospects to warrant a fair enough deal.
But then again, with Hughes looking awful Friday night, Burnett still erratic, Colon looking shaky and Garcia getting by with average stuff, you never know what Cashman just might do.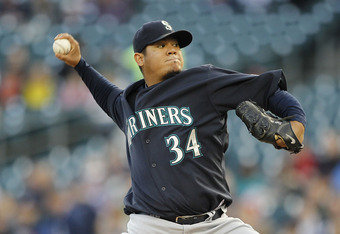 Leon Halip/Getty Images
Last season, Cashman was willing to deal Montero in a deal for Cliff Lee, who was with the same Seattle Mariners and came so close to a deal last July.
And that was going to be for a three-month rental of Lee.
This wouldn't be a trade for a rental, this would be a trade for the future, pairing Felix with Sabathia (CC could opt out of his deal after the 2011 season, but we all know the Yankees will give Sabathia whatever he wants to re-sign) and forming one of the best, if not the best, 1-2 punch in baseball.
So, now I pose the question to all of you on here.
Would Felix Hernandez be worth the deal necessary to land him?
Until Felix is a free agent or traded (maybe, eventually to the Yankees), this will still be a topic that will always be talked about and debated.
But if the Yankees really wanted to win now and in fact challenge the Red Sox and put themselves in good position for October baseball, they still need to upgrade the rotation.
King Felix would be more than just an upgrade. It would give the Yankees a clear pathway to the postseason and beyond.
Cashman has never made that major blockbuster type of deal in July.
Who knows if he ever will.