Pittsburgh Steelers: 6 Reasons to Be Excited for Their 2011 Season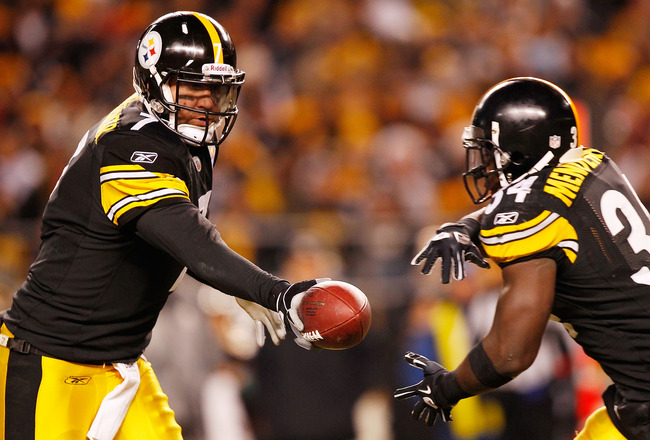 Jared Wickerham/Getty Images
With the owners having just today approved a new CBA, the Pittsburgh Steelers and the NFL's other 31 franchises are all one step closer to getting the 2011 season off on the right foot.
Now that the light at the end of the tunnel is starting to brighten, it's time to get excited about the 2011 NFL season. There are tons of reasons to get excited and get your tailgating equipment dusted off. Training camps should commence in a matter of weeks and then, before too long, Ben Roethlisberger and others will be taking the field for an exciting campaign.
Here are six reasons you should be excited for the Pittsburgh Steelers to start the 2011 season.
Trying to Travel the Road to Ring Number 7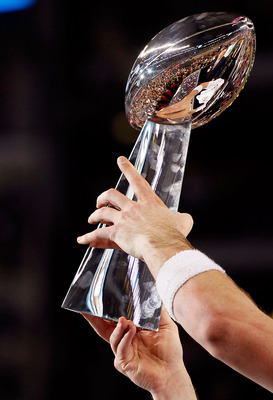 Kevin C. Cox/Getty Images
The best part about a new season is that every team is undefeated when it all starts. Everyone has hope for the postseason and Super Bowl. As the games are played, teams fall away until only one remains. But right now, as things get started, everybody should be excited.
In Pittsburgh, losing the Super Bowl might just prove to be one of the best motivators the team has ever had. Most teams wilt after a Super Bowl loss. The Steelers probably will not. They return most of the same players, have added some nice complementary pieces with the draft and also thrive on being the underdog.
As prestigious as reaching the Super Bowl is, emerging the loser automatically gives a team underdog status. The Steelers could parlay that not only into good motivation, but into a good season. Maybe it will even be good enough to put a seventh Lombardi Trophy in the case.
Big Year for Big Ben?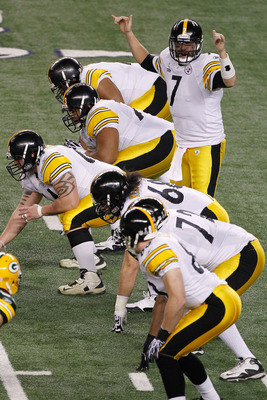 Joe Robbins/Getty Images
In only 12 games in 2010, Ben Roethlisberger put up some excellent numbers in what has become a balanced offensive system.
This year, Roethlisberger is slated to play in all 16 games, and he could put up some eye-popping numbers.
For example, in 12 games, Roethlisberger put up 3,200 yards. In a full season, he could be over 4,000. He also could approach 30 touchdown passes or more, something that's been very rare for a Steelers' passer. Put it all together, and number seven could be Pro Bowl bound and could, with a stellar season, put some of the questions about his elite status to rest for good.
Hines Ward Milestones
Doug Pensinger/Getty Images
After a down year, I fully expect Hines Ward to work harder than ever to prove that he can still be a big part of the offense. He also has some milestones in reach, so there's no shortage of motivation for him as the season dawns.
Ward currently has 954 receptions, 11,702 yards and 83 touchdown catches for his career. It's reasonable that, if healthy, he will reach 1,000 receptions this year. He also could touch 13,000 receiving yards with a good year, but should be able to get over 12,500. He also should reach 90 touchdowns or more and could push to get 100 before the end of the 2012 season.
Ward is always fun to watch, but it should be even more exciting to see the Steelers' longest-tenured player, and a huge fan favorite, reach some amazing career milestones.
Big Games Against Big Opponents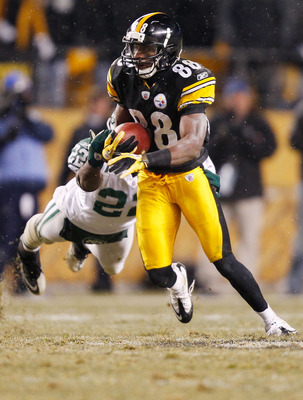 Jared Wickerham/Getty Images
Nothing is more exciting than two great teams competing. The schedule is full of great matchups this year, but none is bigger than the ones with Baltimore, Indianapolis and New England.
The Patriots have been kryptonite for the Steelers ever since Tom Brady took the helm in 2001. Will the Steelers finally be able to buck that trend and win a game against the Patriots? It's possible, but the anticipation alone is exciting.
Facing Baltimore twice a year is likely to give a few fans a heart attack (myself included), but it's always a great time. The build up to those games is fun, because there's such a great animosity between fans and even players on both sides.
If you're a fan looking to see the defense get a tough test, who better than Tom Brady and Peyton Manning to give them a run for their money? Both are on the schedule this year. The Steelers have historically been very good against Manning and awful against Brady, so 2011 could be another great chance for the Steelers to prove that they are the class of the AFC.
Rashard Mendenhall, Record-Setting Runner?
Jared Wickerham/Getty Images
Rashard Mendenhall has had a rough offseason that he's mostly brought upon himself with controversial tweets and now a lawsuit. But once he's on the field, he can be a nightmare for opposing defenders.
Mendenhall possesses a rare blend. He's bigger, yet fast. He's a tough inside runner who can be a threat on the edge. He never stops moving and is hard to bring down as well.
He tied the team's long-standing record for rushing touchdowns last season and also rushed for over 1,200 yards. This year, behind a better offensive line and with a full season of Ben Roethlisberger and his threatening abilities under center, Mendenhall could eclipse the previous record and even could make a run at the team's all-time rushing mark.
The offense, despite the continual (and mostly justified) criticism of Bruce Arians, is always fun to watch these days. With guys like Mendenhall and Ward looking to reach milestones, it's easy to see why.
Polamalu, Harrison and the Steel Curtain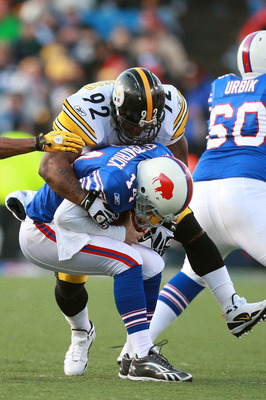 Karl Walter/Getty Images
Pittsburgh fans traditionally love their defense. Besides Ben Roethlisberger and Hines Ward, most of the jerseys sold seem to be of Troy Polamalu, James Harrison or, now, LaMarr Woodley. Defense has been the team's hallmark since the 1950s.
Yes, I said the 1950s. If you want to see a mean linebacker as proof, look up some highlights for Bill Saul.
With Troy Polamalu hopefully back to full health, he should return once again to terrorizing offenses everywhere. James Harrison will certainly be fierce despite rule changes. Woodley seems to get better every season and this year he should journey to the Pro Bowl as a starter.
It will be exciting to see one of the NFL's best defenses perform each week. They'll be tested this year. It also will be exciting to see how some of the young players, notably Ziggy Hood and Stevenson Sylvester, will start to make contributions more regularly.
Keep Reading

Pittsburgh Steelers: Like this team?