New York Yankees Should Look into Bringing Back Marcus Thames
July 20, 2011
Jeff Gross/Getty Images
We are less than two weeks away from MLB's trading deadline. The rumors about who the New York Yankees are and aren't interested in have been frantic over the last month.
One thing the Yankees haven't addressed is adding players for the bench.
A familiar face just became a free agent, and the Yankees could take a look if they need some help.
Last year, the Yankees brought back Marcus Thames on a one-year minor league deal and offered him a chance to win a job in spring training.
Thames did in fact win a job with the Yankees, and ended up hitting .288 with 12 home runs and 33 RBI in 82 games.
After the season, the Yankees decided not to bring back Thames and brought in Andruw Jones as the fourth outfielder.
Thames was with the Los Angeles Dodgers, but was just designated for assignment and then released by them this week.
With the Dodgers, Thames was hitting just .197 with two home runs and seven RBI in just 36 games.
Thames spent nearly the entire month of May on the disabled list with a calf injury.
With the Dodgers trading for Juan Rivera, another former Yankees prospect, the Dodgers decided to cut loose the 34-year-old veteran.
As far as Jones goes, he was supposed to provide right-handed pop off the bench. He has barely been that in 2011.
Jones is batting .211 with six home runs and 17 RBI and 23 strikeouts, mostly against left-handed pitching.
It's pretty clear that Jones is a shell of his former self and why the Yankees would bring in a guy that is way past his prime is beyond me.
With Jones not being what the Yankees had hoped for early on in the season, maybe they could look into bringing back Thames as an extra right-handed bat for the bench.
Thames wouldn't cost the Yankees any major money, mostly either a minor league deal or a minimum major league salary.
He isn't going to light up the scoreboard or be a full-time outfielder or DH, but as a right-handed bat off the bench, we saw when healthy in 2010 what Thames can do to help for the Yankees.
We all saw him take Jonathan Papelbon deep last season with a two-run walk-off home run in a win for the Yankees over the Red Sox last May.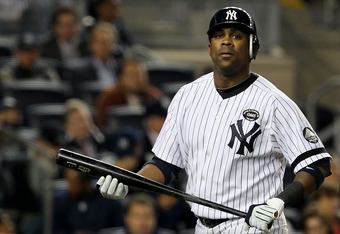 Jim McIsaac/Getty Images
If you take a look at the Yankees bench right now, it's pretty thin.
Along with Jones, you have Francisco Cervelli as the backup catcher, Brandon Laird as a backup infielder and Chris Dickerson as a left-handed backup outfielder.
The Yankees might get Eric Chavez back this week, another lefty bat, and he would likely replace Laird on the roster, but again, not a right-handed bat.
It's a minimal move, but the Yankees could use some depth on their bench.
Back in 2009, the Yankees got Jerry Hairston Jr. and Eric Hinske, who both added a lot of depth to the Yankees roster playing the infield and outfield.
Thames would mostly be used as a DH and extra outfielder if needed, but mainly a pinch-hitter against left-handers.
I've never been crazy about Jones being on this year's team.
If the Yankees get the opportunity, they should look into getting Thames and then cutting loose Jones.