10 Players the Eagles Will or Won't Re-Sign Before Free Agency Starts Up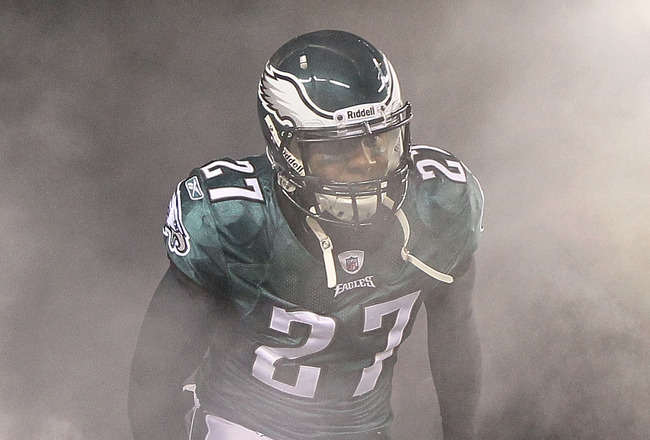 Jim McIsaac/Getty Images
With free agency beginning as early as July 25th, teams will have three days to resign players who are unrestricted free agents under the new CBA.
The Eagles will have a lot of tough decisions to make before free agency starts. Last year's starting kicker and punter along with four starters on defense and another on offense must be considered.
The Eagles are projected have around $20-30 million to spend in free agency depending on how much is spent re-signing their own free agents.
Stewart Bradley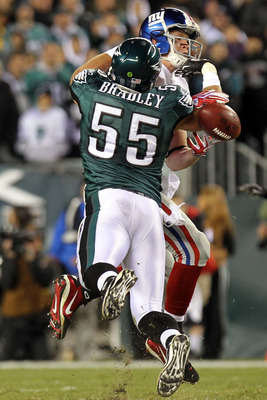 Nick Laham/Getty Images
Before Stewart Bradley tore his ACL in 2009 he was one of the most promising young players in the NFL. In 2010 Bradley suffered through a concussion and a dislocated elbow that knocked him out for four games.
There is some concern that Bradley can't stay healthy. But he should be back to full strength in 2011, two years after his ACL tear. The problem with bringing back Bradley is that his backup in 2010, Jamar Chaney, played so well that Bradley may have already lost his starting MIKE job.
The Eagles could bring back Stew to play on the strong side although Moise Fokou did an outstanding job in 12 starts as the SAM linebacker.
It makes more sense to let Bradley walk and invest in younger players who have already proven to be worthy starters like Moise Fokou and Jamar Chaney.
The Eagles don't really need Stewart Bradley so don't expect him back in 2011.
Ernie Sims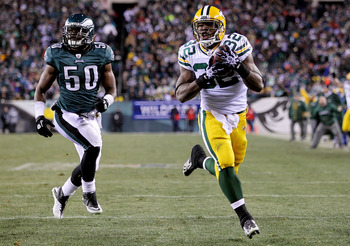 Michael Heiman/Getty Images
Ernie Sims has all the physical tools you would want out of an outside linebacker. He is incredibly fast and he hits like a freight train. It's too bad he has absolutely no football instincts or IQ.
Sims won't be offered any kind of deal from the Eagles and probably won't be offered a starting job from any team. He will get a shot to prove himself as an outside linebacker and special teams player, but anything more than that would be a huge mistake.
I wouldn't be surprised if Sims was out of the league in less than three years.
Akeem Jordan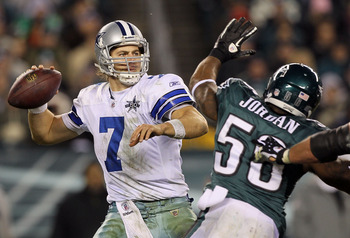 Jim McIsaac/Getty Images
Akeem Jordan has proven himself to be one of Bobby April's best special teamers on the Eagles. Unfortunately Jordan hasn't proven himself to be worthy starter.
Jordan's future with the Eagles depends on the coaching staff's confidence in two rookies—Brian Rolle and Casey Matthews. Both players have could provide the depth the Eagles need at both outside linebacker positions, making Akeem Jordan expendable.
Jordan probably won't be brought back. The Eagles spent two draft picks on outside linebackers and signed another, Rashad Jeanty, back in March.
Quintin Mikell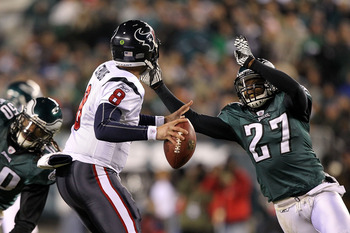 Al Bello/Getty Images
Quintin Mikell appears to have played his last game in an Eagles uniform. The Eagles drafted Jaiquawn Jarrett in the second round of last April's draft and many expect him to be the starting strong safety from day one.
There is still hope that Mikell could be brought back for a few more years to add a veteran presence in a very young Eagles secondary.
Mikell will turn 31 in September and the Eagles have never been known to give contracts to players in their 30s. But if the Eagles let Mikell walk they would have two starting safeties with less than a years experience in Nate Allen and Jarrett.
The Eagles could elect to sign Mikell to a deal with more money up front and release or trade him in two years when Jarrett is a more polished safety. If the Eagles want to be a Superbowl contender, safety has to be a position of great importance.
Nothing the Eagles have done this offseason has made it seem like they have any interest in resigning Mikell, but it would make sense for an already young defense.
Dimitri Patterson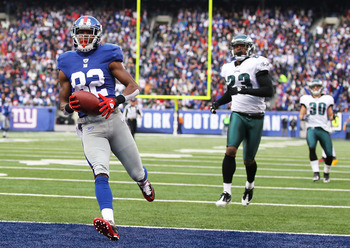 Al Bello/Getty Images
In 2010, Dimitri Patterson was the player you couldn't help but root for.
He had bounced around the league, having short stints with three other teams before joining the Eagles in 2009. Patterson had an outstanding training camp and preseason and secured one of the last roster spots. He was the fifth cornerback on the team.
After Ellis' two successful starts against the Colts and Redskins, it all went downhill for Patterson. He struggled with the deep ball, getting burned several times by Mario Manningham in Week 15. Patterson never lost his job but was still a major liability in the secondary.
It seems the Eagles are going the route of either a trade or free agency to upgrade the right cornerback position and Patterson doesn't appear to be a part of the Eagles plans.
Some team will give Patterson a shot to prove himself once again, but it won't be Philadelphia.
David Akers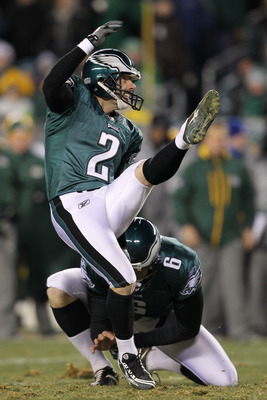 Al Bello/Getty Images
David Akers will go down as one of the greatest kickers in NFL history. He is the Eagles' all-time scoring leader and had made many clutch kicks in his Eagles career.
But Akers appears to be done as an Eagle. The Eagles drafted Alex Henery of Nebraska in the fourth round of the 2011 NFL Draft. Henery has a big leg and is extremely accurate.
David Akers should find himself another starting job in this league because the Eagles have moved on without him.
Sav Rocca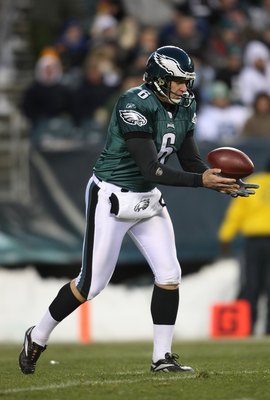 Nick Laham/Getty Images
Sav Rocca has been the Eagles' punter the past four seasons, but his fifth season is questionable. Rocca's contract expired in 2010 and the Eagles will have other, younger options at punter via free agency.
Rocca's average hasn't been the issue at 43.8 yards per punt in 2010. His ability to pin a team deep has, however. Rocca had a grand total of three punts downed inside the 10 yard line last season.
The Eagles could also use a punter with kickoff experience. New Eagles kicker Alex Henery hasn't kicked off since high school.
Sav Rocca will turn 38 years old this November and the Eagles may wish to go a younger route this season.
If nothing else, expect the Eagles to at least bring in some competition for Rocca if they re-sign him to a one or two year deal.
Jerome Harrison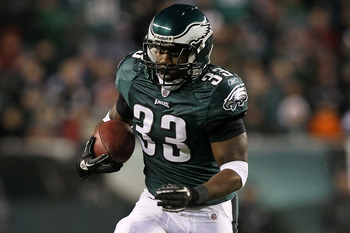 Jim McIsaac/Getty Images
Jerome Harrison showed a lot of ability as a backup to LeSean McCoy in 2010. The only problem is, Harrison wants to be a starting running back again.
In 2010 , Harrison average 6.0 yards per carry. In 2009 he had over 1,000 total yards for the Cleveland Browns.
There isn't a ton of interest in Jerome Harrison being a number one back, but he would get a lot more touches being a number two back somewhere else.
Whether or not the Eagles offer a deal to Harrison, expect him to test the market for a bigger role.
Nick Cole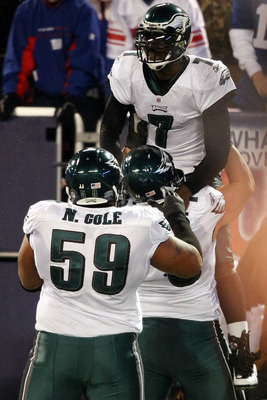 Nick Laham/Getty Images
Nick Cole was the backup right guard in 2010 who made a handful of starts in place of an Max Jean-Gilles.
Cole failed as a starting center in place of injured Jamaal Jackson in 2009 and struggled to have an impact as a starting right guard.
Cole is the exact opposite of what new offensive line coach Howard Mudd is looking for. Mudd's system calls for a leaner, more athletic lineman than the 350 pound Cole.
Expect Cole to sign elsewhere, possibly in Dallas where heavy linemen have been favored in recent years.
Max Jean-Gilles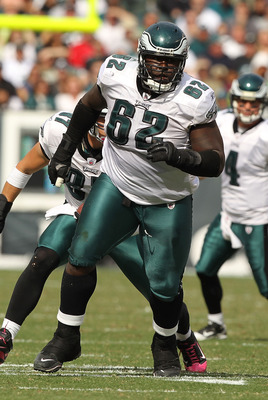 Al Bello/Getty Images
Max Jean-Gilles is similar to Nick Cole, except he has more starting experience than Cole.
Jean-Gilles could be brought back if the Eagles don't find a suitable backup for guards Todd Herremans and Danny Watkins.
The Eagles did draft Julian Vandervelde, a guard from Iowa, but it may be too much to ask of him to fill in if either starting guard went down to injury.
If the Eagles don't believe there is a more suited backup guard on the free agent market, they could hold onto Jean-Gilles for one more year to provide depth if nothing else.
Keep Reading

Philadelphia Eagles: Like this team?