Washington Redskins Free Agency: Perilous Pitfalls for the 'Skins to Avoid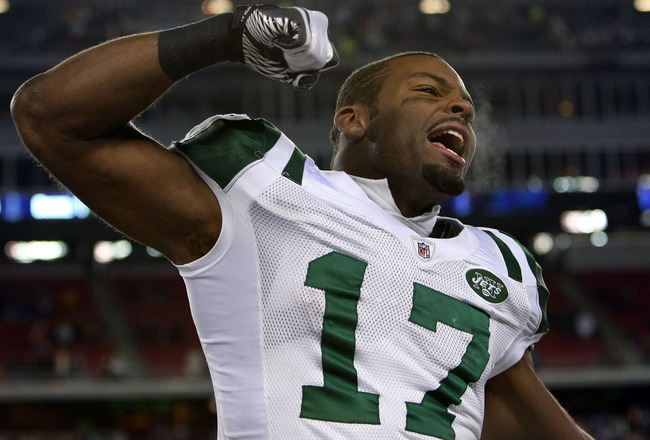 Michael Heiman/Getty Images
Though winning in the regular and postseason is a tradition that no longer resides with the Redskins, winning in the offseason (at least with headlines) is something Redskin fans have become all too accustom with.
Owner Daniel Snyder with "Yes Man" Vinny Cerrato had no problem opening the check book and signing whatever free agents had the most popular jersey from the season before.
This way of running a team has been very lucrative, monetarily, for Snyder but has generated only two play-off appearances in the decade that he's own the team.
Last season (with the exception of trading for Donovan McNabb) was a breath of fresh air for the Skins.
New head coach Mike Shanahan and new general manager Bruce Allen were pretty quiet in free agency.
In fact the biggest noise the Redskins made were the number of players the Redskins released in order to get under the cap.
Hopefully the trend of not trying to make the biggest splash in the free agency pools continues this season.
For that to happen though these are some of the players the Skins should avoid this year.
Avoid Any Free Agent QB Not Named Rex Grossman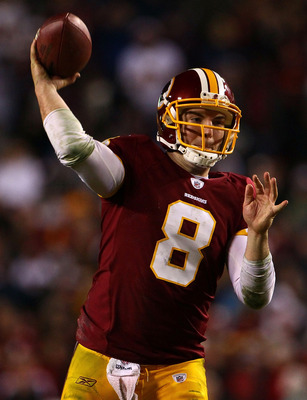 Win McNamee/Getty Images
I know the thought of John Beck starting under center in 2011 is an unsettling thing.
He was cut from Miami and traded to us from Baltimore.
In his few appearances in Miami his performance was less than stellar.
However, the Redskins shouldn't (and it doesn't seem that they are) panic.
The simple approach here is to re-sign Rex Grossman (since he knows the offense) and go from there.
Matt Hasslebeck, Alex Smith, and Marc Bulger should all be avoid unless they'd like to be the third string quarterback for the Redskins.
The Skins need a franchise quarterback but none of the guys listed above can fill that role. And as far as a stop-gap type QB Grossman is perfect for that.
The only quarterback that needs to be added in the off-season this year is one that doesn't mind riding the bench and will only see playing time if Beck and Grossman go down.
Running Backs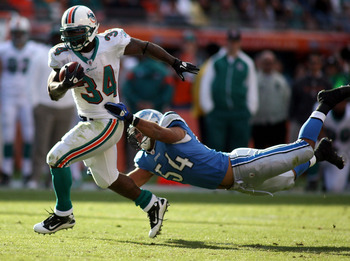 Marc Serota/Getty Images
Guys like Ricky Williams and Cedric Benson will be free agents this off-season and where the Skins might be tempted to go after one of these powerhouse guys they need to realize that they have a very capable starter in Ryan Torrain and that they drafted some young guys that could develop into very capable backs.
Another reason to avoid temptation when it comes to running backs is that with the Shanahans' zone blocking scheme it's a one cut system meaning the back sees the whole and hits it.
It's a system that has proven to make stars out of guys no one has heard of. With that in mind spending too much on a running back wouldn't make sense.
Avoid the Temptation to Grab a Wide-out Especially a Diva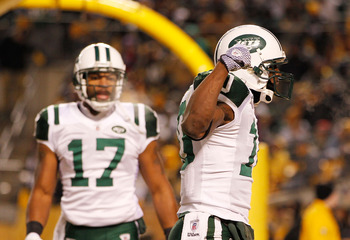 Gregory Shamus/Getty Images
The New York Jets top two wide receivers are free agents this year and they'll probably only be able to keep one of them.
Odds are that will be Braylon Edwards since he has less baggage than teammate Santonio Holmes. After all the last thing the Jets need is extra baggage. With that in mind that's the last thing the Redskins need.
Holmes, Terrel Owens, Chad Ochocinco (if the Bengals release him), Plaxico Burress, and Vincent Jackson should be avoided like the plague.
The McNabb and Hanyesworth drama looks like they are about to end so why add a guy who could cause just as much drama at some point.
The Skins just need to walk in the other direction if they see the agents of the above players coming.
Besides drama, the Skins have a host of young receivers returning like Anthony Armstrong, Brandon Banks, Malcolm Kelly, and Terrence Austin.
Also they drafted Leonard Hankerson, Niles Paul, and Aldrick Robinson.
Since the Skins are not in a position to win this season, nor do they have a franchise quarterback, why not give these kids a chance to shine and see what they can do instead of having their development hinder by a free agent coming in and taking catches away.
Don't Even Think About Signing Nnamdi Asomugha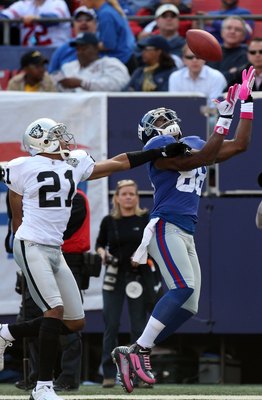 Jim McIsaac/Getty Images
Is Nnamdi Asomugha one of the best cornerbacks in the league?
You bet he is, but he's also going to be one of (if not the) most expensive free agents on the market.
What the Skins need more than a stud corner is depth.
With the money they save by not going after Nnamdi they can use to bolster the offensive and defensive lines and maybe re-sign Carlos Rogers.
Yes I know Rogers has stone hands but he is a good cover corner and the longer our corners keep guys covered the better chance our linebackers have of getting to the quarterback.
The only reason why the Redskins should even put a bid out on Nnamdi is to drive the price up if Dallas or Philly try to vie for his services. This would essentially force either team to not sign or re-sign other players.
What the Skins Should Focus on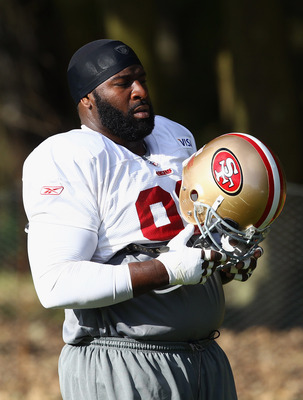 Julian Finney/Getty Images
The Redskins should absolutely focus their spending on both the offensive and defensive lines.
On the defensive line grabbing either Cullen Jenkins or Aubrayo Franklin could instantly improve the Skins' defense.
Right now the Redskins are rich with linebackers but without the proper guys up front soaking up blocks those linebackers can't roam free to kill the quarterback.
Also adding some help in the secondary would greatly benefit the Skins as well. DeAngelo Hall is a proven ball-hawk but can get beat just as well. Carlos Rogers is a good cover corner but can't catch a cold.
The Skins need to look for guys that are inexpensive and are a happy medium between Hall and Rogers.
Lastly, the Skins need to bring in a handful of kickers into camp. If the defense greatly improves the Redskins could find themselves in a number of close games and having an iffy kicker like Gram Gano could mean the difference between watching the play-offs and playing in them.
Guys I'm on the Fence About
Grant Halverson/Getty Images
There are several guys I'm on the fence about.
They don't fill the needs listed on the slide before but could contribute to the Redskins either this season or in the near future.
First off at quarterback Vince Young and Tyrell Pryor.
Young and Pryor are good quarterbacks and splendid athletes and if given time could be very successful in the Shanahan offense.
However, they'd have to come cheap. If either were signed I would expect them to be third on the depth chart and the last thing the Redskins need is an expensive quarterback that won't see the field.
If either is signed I would hope that they'd spend the entire season on the bench and only would come into the game for garbage time.
Next up isn't a free agent but has been a topic of trade rumors and that is Reggie Bush. His versatility could really help out the Redskins' offense, but once again he'd have to come at the right price.
Whatever the Redskins give up for him can't be too high and if there is a contract discussion involved the Skins can't over pay Reggie to keep his services longer.
Lastly is Santana Moss.
I know a lot of fans want him re-signed the moment the lock-out is lifted but Moss is up there in years and like I said we've got a lot of young potential on the roster that might not develop if Moss is there.
As a fan (and Moss jersey owner) I'd love to see him back, but think towards the future it might be better for the franchise if they let him go somewhere else.
Keep Reading

Washington Redskins: Like this team?