Derek Jeter and Ichiro Suzuki: End of a Leadoff Era
July 19, 2011
Pool/Getty Images
Derek Jeter and Ichiro Suzuki are both compiling the worst seasons of their Major League Baseball careers this summer. Both players are 37 years old, so we might not see another great season from either of them.
While both players suffer their first "average" seasons, let's look at a few interesting numbers they have accumulated.
Ichiro and Jeter are similar leadoff hitters in that they reach base primarily via hits. The last great pair of contemporary leadoff hitters, Rickey Henderson and Tim Raines, walked to first about as often as they hit their way there.
Jeter and Ichiro are in some ways throwbacks to the dead-ball era, at least in terms of how much more often they single than walk.
The following list displays career single and walk totals through July 18, 2011 for several notable leadoff hitters. 
Rickey Henderson: 2,182 singles, 2,190 walks, .996 singles per walk
Tim Raines: 1,892 singles, 1,330 walks, 1.42 singles per walk
Wade Boggs: 2,253 singles, 1,412 walks, 1.72 singles per walk
Kenny Lofton: 1,799 singles, 945 walks, 1.90 singles per walk
Pete Rose: 3,215 singles, 1,566 walks, 2.05 singles per walk
Derek Jeter: 2,228 singles, 973 walks, 2.29 singles per walk
Ty Cobb: 3,053 singles, 1,249 walks, 2.44 singles per walk
Ichiro Suzuki: 1,911 singles, 484 walks, 3.95 singles per walk
Notice how close Jeter is to Cobb in terms of single-to-walk ratio.
Did the power surge of the 1990s bring an end to high-walk leadoff hitters? Are the high hit totals produced by Ichiro and Jeter a result of more strikes thrown to leadoff hitters?
Jeter and Ichiro are the antithesis of the "Three True Outcome" (TTO) hitters that are now common. A TTO hitter is one who racks up lots of walks, strikeouts and home runs. Those are the true outcomes of a plate appearance according to some. Ichiro and Jeter rarely do any of those things. 
In honor of Ichiro and Jeter, I decided to create an alternate set of true outcomes, New True Outcomes (NTO). Baseball fans love a schism.
I use the NTOs to build a metric for hitters of the Ichiro-Cobb-Jeter archetype. My outcomes are based on hitting and stealing one's way into scoring position.
Outcome 1: single and stolen base
Outcome 2: double
Outcome 3: triple
Hitters shouldn't feel limited by these outcomes. NTO devotees love steals of third and home.
I use the NTOs to create what I call an "NTO average." The first thing I do is ignore the original TTOs—I want to know what happens when a hitter puts the ball in play!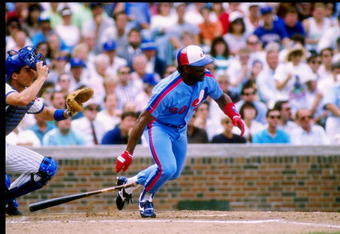 Jonathan Daniel/Getty Images
The formula for NTO average is (1B + SB + 2*2B + 3*3B)/(PA - BB - HR - HBP - SO), where 1B is a single, 2B is double, 3B is triple, PA is plate appearance, BB is walk, HR is home run, HBP is hit by pitch and SO is strikeout.
This credits a hitter for all the bases he accumulates when he puts the ball in play and for the bases he steals. The best possible NTO average is 4.000, which would occur were a hitter to bat 1.000 and subsequently steal every base, including home.
I suppose a player could go over 4.000 as I count stolen bases that follow walks, but I am not holding my breath waiting for that hitter.
I realize NTO average is a frivolous metric. I justify it by virtue of novelty and its similar evaluations of Ichiro to Jeter. If Rob Deer has a fan club based on a silly metric, I say throw a bone to two contemporary Hall of Famers.
Ichiro has a career NTO average of .480, and Jeter's career NTO average is .469. NTO average also shows 2011 to be the beginning of the end for Ichiro and Jeter. So far this season Ichiro and Jeter are putting up NTO averages of .396 and .381, respectively. Those are their worst single season NTO averages ever.
I leave you with a poll. I want to know how the B/R readership feels about the future of Ichiro and Jeter.