MLB Trade Deadline: Why the Florida Marlins Shouldn't Rush to Sell
July 18, 2011
Jed Jacobsohn/Getty Images
Let's flashback. It's the beginning of July, the Marlins are coming off of a 5-28 month of June featuring an 11-game losing streak.
Hanley Ramirez couldn't hit the ball off of a tee. Former NL Rookie of the Year Chris Coghlan was sent to the minors. Your ace Josh Johnson is probably out for the year, and big free agent acquisition Javier Vasquez couldn't get out of the first inning. Ever.
Potential future solid manager Edwin Rodriguez has run away, and you're left with Jack McKeon, possibly containing cobwebs, at the young age of 80.
What's the obvious answer here? Sell. Sell. Sell. The big franchises that have ever expanding bank accounts to blow on super stars or young talent will surely want a piece of what the Marlins have.
Hanley would definitely accrue interest, as would Josh Johnson, Leo Nunez, Anibal Sanchez, and Ricky Nolasco. Even trading All-Star Gaby Sanchez doesn't seem so far fetched.
Imagine being Marlins' owner Jeffery Loria. You are already enough of a cheapskate, having dealt away winning combinations left and right, tearing apart World Series teams and letting them win elsewhere (see Josh Beckett, Adrian Gonzalez, Cody Ross, Miguel Cabrera, etc).
The world is begging you to deal your stars so they can see them win on their teams, since nobody's team is the Marlins. Hanley has already drawn enough anti-team attention to himself, and is hitting dangerously close to the Mendoza line.
Johnson can't seem to stay healthy, and your farm system looks like trash. Deal! It's that simple.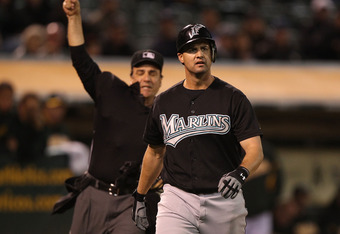 Jed Jacobsohn/Getty Images
But wait. You manage to squeeze life out of Mike Cameron and DeWayne Wise, get Hanley to learn how that big wood stick in his hand works, and get Mike Stanton to start playing like the star every one knows he can be.
The pitching improves, and the Fish trot (or swim?) into the All-Star break on a five-game winning streak.
Now having won eight of their last nine and improving to 14-9 under the ageless wonder Jack McKeon, trading seems less enticing but still believable, remember the wins have come against the Cubs and Astros.
But I assure you Mr. Loria, trading is a bad idea. Let me explain. If you trade Hanley, Anibal, and Gaby, I guarantee at least two of those three will retire with a World Series and I bet Hanley or Gaby pick up a MVP and maybe an Anibal Cy Young in there too.
That's how it happens when the Marlins trade away talent. The team is beginning to turn around, and I am not opposed to dealing one or two players to try and save that sad farm system, but stick with the solid core you have.
Hanley will improve, Gaby has been great, Mike Stanton can hit the leather off of a ball, Logan Morrison is fantastically patient at the plate, and ideally Coghlan will be able to get it together.
Nolasco might have to be dealt to get some prospects, but JJ can still pitch when he's healthy, Anibal has been dealing of late, and Javier Vasquez is picking up. Volstad shows little promise and should be replaced.
Closer Leo Nunez is better suited for a bullpen role, so go get a real closer, one who doesn't load the bases before proceeding to retire three straight batters for the save.
Michael Dunn has been nice out of the pen, and Randy Choate has accrued a ton of interest, so DO NOT SELL HIM YET.
It should be simple. The team has serious potential and is crawling and pulling themselves by the teeth back into the division and wild card races and if you look at a theoretical 2014 lineup, its pretty.
C- John Buck, 1B- Gaby Sanchez, 2B- Osvaldo Martinez, 3B- Matt Dominguez, SS- Hanley Ramirez, LF- Logan Morrison, CF- Chris Coghlan, RF- Mike Stanton, Key Bench: Christian Yelich, Emilio Bonifacio and Scott Cousins.
Starters: Josh Johnson, Anibal Sanchez, Sean West, Brad Hand, Jose Fernandez. Bullpen: Jose Ceda, Leo Nunez, Clay Hensley, Michael Dunn, Chad James
Manager: Ozzie Guillen?