MLB Trade Rumors: Is Ubaldo Jimenez Worth the "King's Ransom" for the Yankees?
July 17, 2011
Rob Carr/Getty Images
It's well known that the New York Yankees are in the market for a starting pitcher.
It all started right before Christmas when they missed out on Cliff Lee in free agency and carried right into the winter when Andy Pettitte retired.
The Yankees then took a huge risk in bringing Freddy Garcia and Bartolo Colon into the rotation. During the first half of the season, both Garcia and Colon exceeded expectations in the starting rotation.
Lately, however, as the second half of the season has gotten going, both Colon and Garcia have started to look like they are wearing down and maybe even become undependable. In his last start, for example, Colon looked as if he might still be favoring the hamstring that landed him on the DL in back in June.
Through the middle of July, the Yankees trail the Red Sox in the AL East by 1.5 games while leading the AL Wild Card by 4.5.
If the Yankees want to compete for a spot in October baseball, they are going to need to make a move for the rotation.
Rumors involving the Yankees are beginning to run rampant. They have been said to possibly having interest in Colorado Rockies ace Ubaldo Jimenez, for whom the Yankees recently sent scouts to Coors Field to watch Jimenez's start against the Milwaukee Brewers. In that start, Jimenez pitched fairly well and won.
The feeling of interest seems to be mutual, as the Rockies have sent scouts to the Yankees AAA and AA games to scout some of their prospects. George King of the New York Post said that the Rockies are really high on catcher Jesus Montero, right-handed starter Dellin Betances and left-handed starter Manny Banuelos.
Mike Axisa of River Ave. Blues also confirmed what King said about the Rockies being interested in the Yankees' prospects.
The Rockies don't view Montero as a future catcher, but as a future first baseman, which would make sense considering their long-time first baseman, Todd Helton, is about to turn 38 and is likely nearing the end of his career.
There are also rumors that Jimenez is not pleased that the Colorado organization has signed shortstop Troy Tulowitzki and outfielder Carlos Gonzalez to long-term deals, but not himself.
Although Jimenez went 19-8 with a 2.88 ERA and 214 strikeouts in 33 starts last season for Colorado in 2010, he struggled in the beginning of 2011, starting out 0-5 with an ERA of 5.86 through the first two months of the season.
Jimenez has improved since then and is now 5-8 with a 4.08 ERA in 2011.
Furthermore, on June 24 at Yankee Stadium, Jimenez pitched very well. In that outing, he went seven innings while allowing two runs on four hits with seven strikeouts to pick up the win.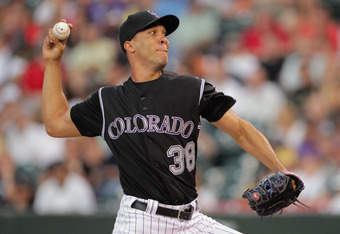 Doug Pensinger/Getty Images
On Saturday, King made a bold statement that if the Yankees wanted to bolster and jump-start their rotation, then they need to land Jimenez.
To get Jimenez, the Yankees would need to start by putting Montero in the deal, which I think the Yankees could handle. They nearly traded Montero last July to Seattle for Cliff Lee, but the deal fell apart when the Yankees and Mariners couldn't agree on the other players involved.
Plus, the Yankees have Austin Romine and Gary Sanchez in the minor leagues, both of whom could be seen as future Yankees catchers.
It's not trading Montero that would be the concern. It's the pitching prospects that they would have to trade with them.
We have all heard the buzz about the "Killer B's" in Manny Banuelos, Dellin Betances and Andrew Brackman and how highly thought of they are in the Yankees system.
Would any of them be worth trading in order to land Jimenez?
I really think it would be beneficial if the Yankees could avoid including Banuelos in a deal for Jimenez. When I saw Banuelos' makeup and style in spring training, he just had the look and aura of a potential All-Star in the Majors, and he's only 20 years old right now.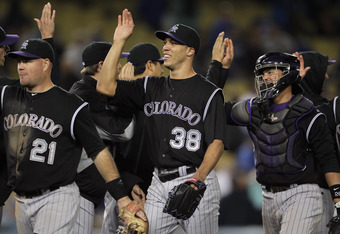 Jeff Gross/Getty Images
That turns us to the 23-year-old Betances, the No. 4-ranked prospect in the Yankees system. Betances is still viewed as one of their best prospects with a really high ceiling when healthy.
This leaves the 25-year-old Brackman, the No. 6-ranked prospect in the Yankees' system who is currently pitching in AAA ball.
Brackman has struggled in 2011 with a 2-6 record and a 7.71 ERA. He has walked nearly as many batters as he has struck out, with 53 K's and 52 walks.
Despite his struggles, he still ranks as one of the Yankees' top pitching prospects.
So again, would one or two of these guys be worth trading to land Jimenez?
Ten years ago, or maybe even five years ago, this deal would have already been done, but Yankees GM Brian Cashman hasn't been as willing to deal away prospects as he has in the past.
Banuelos, Betances and Brackman are also the reason why the Yankees didn't make a desperation signing or trade after they missed out on Lee in December.
But now in the thick of a pennant race and playoff chase, the Yankees and Cashman have to wonder if keeping those prospects is still worth it.
The Rockies and their GM Dan O'Dowd also have to wonder if they are still going to contend in 2011 or whether they should just wave the white flag.
Colorado is currently 45-49, in third place in the NL West, 8.5 games behind the San Francisco Giants and five behind the second place Arizona Diamondbacks.
So Colorado has to figure out their season and future.
Do they want to keep their ace who has reportedly been "pouting" in the clubhouse because he has not received a contract extension, or do they make a deal for the future and get younger?
And on the Yankees side, do they continue to play as is and hope for the best in 2011, or do they make the bold trade for an All-Star-quality pitcher that at times can dominate a lineup?
If it costs the Yankees one of the Killer B's, plus Montero, then I say yes, do it.
It it costs the Yankees more than one of the Killer B's, plus Montero, then I'm hesitant.
If this were a trade for Seattle's Felix Hernandez, then it might be worth it. But for Jimenez? I'm skeptical about trading away some of the Yankees' best prospects.
But then again, you also have to wonder. What if Betances, Banuelos or Brackman would fail to live up to their hype at the Major League level?
You can hype up a prospect up as much as you want to as well as see them pitch and succeed in the minors, but until they win in the Major Leagues, none of that matters.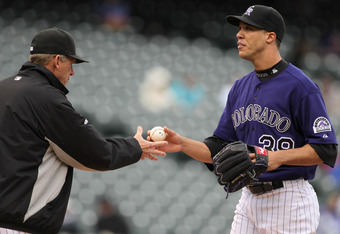 Doug Pensinger/Getty Images
Therefore, I'm about 50-50 on trading for Jimenez.
If it decimates the Yankees far system, Cashman needs to pass. He can't make the same mistakes that George Steinbrenner did in the past in trading for other teams' stars.
But if the Rockies are willing to accept a deal that is fair for the Yankees and doesn't kill their system in the long-run, then Cashman should pull the trigger.
Now, for all we know, O'Dowd might not even be willing to deal Jimenez, but a lot can still happen with two weeks to go until the deadline.
The Yankees could fall even further behind Boston and have no other choice. Or maybe not.
I also think Phil Hughes' pitching over the next two weeks could also have a lot to do with whether the Yankees further pursue Jimenez.
This story will be a very hot topic for the next two weeks and will have Yankee fans from all over talking on this site, the message boards, the talk shows and anywhere else that's possible.
Stay tuned, Yankees Universe; the Hot Stove just got turned up even more.