MLB: B/R Talks to James Shields and Joe Maddon About Pitch Sequencing
July 17, 2011
J. Meric/Getty Images
One of the biggest new fads among students of the game of baseball is the science of pitch sequencing. That is, what do pitchers throw in certain situations, in what order, and why?
I had the opportunity to attend Saturday afternoon's game between the Boston Red Sox and the Tampa Bay Rays with that question in mind. The main reason was that James Shields, who has been far and away the best pitcher on the Rays all year, was starting.
Shields is one of the best pitchers in the league in terms of intelligent sequencing. He has four quality pitches—a fastball, curveball, changeup and cutter. But on Saturday, Shields just wasn't his usual self.
He threw six innings, allowing six runs on six hits, walking three and striking out eight. He earned the loss as the Rays fell 9-5. But regardless, his 106-pitch outing provided an ample opportunity to study his sequencing.
The table below shows what Shields threw in certain situations. His rates for this season can be found here.
| | | | | | | | | | | | | | |
| --- | --- | --- | --- | --- | --- | --- | --- | --- | --- | --- | --- | --- | --- |
| Pitch Type | 0-0 | 1-0 | 2-0 | 3-0 | 0-1 | 0-2 | 1-1 | 2-1 | 3-1 | 1-2 | 2-2 | 3-2 | Totals |
| Fastball | 12 | 5 | 3 | 2 | 1 | 1 | 1 | 2 | 4 | 1 | 0 | 3 | 35 |
| Cutter | 3 | 2 | 0 | 0 | 0 | 2 | 1 | 1 | 0 | 1 | 3 | 0 | 13 |
| Curveball | 8 | 0 | 0 | 0 | 15 | 7 | 2 | 0 | 0 | 4 | 0 | 0 | 36 |
| Changeup | 6 | 2 | 1 | 0 | 0 | 3 | 3 | 2 | 0 | 3 | 1 | 1 | 22 |
| Totals | 29 | 9 | 4 | 4 | 16 | 13 | 7 | 5 | 4 | 9 | 4 | 4 | 106 |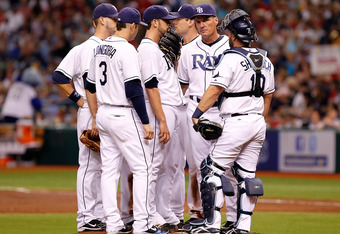 J. Meric/Getty Images
There were some very interesting anomalies about this outing for Shields. For one, his fastball command was not at all as good as it normally is. He was overthrowing on a lot of pitches, which led him to lose confidence in his heater. It showed.
With 0-1 counts, where pitchers usually want to go right after hitters, Shields threw 15 curveballs on 16 pitches. This is vastly different from the rest of the season; he usually only throws curveballs 34 percent of the time in 0-1 situations. As a result, more pitches got to deep counts.
And on those deep counts, Shields struggled.
In a second-inning at-bat against Josh Reddick, Shields went changeup-fastball-changeup before throwing four consecutive fastballs.
When asked about the at-bat, Shields said, "Got behind the count, threw two fastballs that he fouled off, then made a mistake and threw a fastball right down the middle. If I locate that fastball down and away, he might roll over it and that's the end of the inning right there."
But instead, Reddick parked a Shields fastball deep in the right-field bleachers.
Against J.D. Drew in the third inning, Shields got ahead in the count 0-2 by throwing a fastball and curveball. But then he proceeded to throw two more curves to run the count 1-2. On the next pitch, a cutter that was elevated, Drew doubled.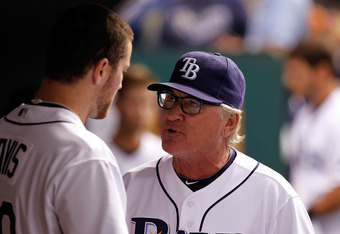 J. Meric/Getty Images
What one can decipher from all this is that when a pitcher loses his fastball command, it becomes increasingly tough to set up secondary pitches.
After the game, I caught up with Shields and Rays' manager Joe Maddon to ask about some key points regarding Shields' sequencing.
Eli Marger: Shields is usually really good about mixing his pitches. I noticed a couple of at-bats, like the home run to Reddick, he went changeup-fastball-changeup, then four straight fastballs—which you rarely ever see. Do you think his selection was a little off tonight?
Joe Maddon: Well, I think the fact that he was struggling with his command, he chose to go with his fastball. I think normally when you see him feeling command of all his pitches you might have seen a different sequence.
EM: Shields was ahead of hitters 0-1 on 16 different occasions. On those pitches, he threw 15 curveballs. Is he really that comfortable with his curve when he's ahead in the count?
JM: I just like his curve, period. I thought he had some good results with it tonight, I don't think they really hit any very well. I like his curve, I've been encouraging him to throw it more often. The predictability is not necessarily a good thing, but I like the fact that he's throwing it a lot more.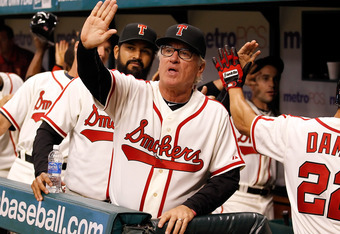 J. Meric/Getty Images
EM: No whiffs on the fastball, not even one swinging strike. Is that a pitch he throws more for location purposes to set up other pitches? 
JM: I think because the command was so off, the fastball was not going to be taken for a strike, and he did not have his typical location with that.
The biggest takeaway from Maddon's message is that command is everything, even in regards to pitch sequencing. Because Shields did not have his usual pinpoint command, he was unable to work off it and throw his secondary pitches effectively. Even Shields recognized this.
"You just get behind in the count," he said. "When you can't locate the fastball, you get behind in the count and get into more hitters counts."
Of Shields' 106 pitches, 57 of them were thrown when behind in the count. When that was the case, he tended to throw fastballs heavily. Because of that, Boston hitters were able to key in on the fastball and read his breaking balls better.
Had Shields thrown a complete game shutout, this would have been a completely different article. Instead, it is important to focus on the vitality of command when it comes to pitching a ballgame. No matter what order pitches are thrown, command is key.
But as the field of pitch sequencing grows, more emphasis will be placed on what the best pitchers do. How do the Roy Halladays and Justin Verlanders of the world sequence their pitches?
For now, though, talking to one of the American League's best pitchers and his manager is a good start.
Note—I have posted the spreadsheet where I recorded my data here. Feel free to download it and take a look, and even tweak it or use the skeleton for your own research.