Atlanta Braves: Top Ten Trade Targets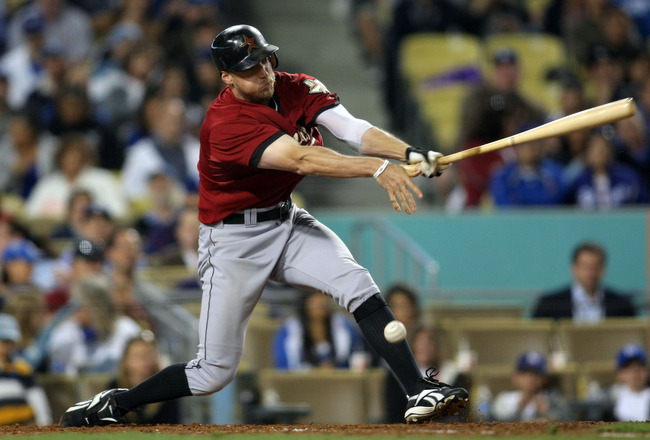 Victor Decolongon/Getty Images
As of this very moment on July 15th, the Pittsburgh Pirates are in first place in the National League Central.
This has absolutely nothing to do with the following slideshow, but I was not alive the last time Pittsburgh was in first place. I just found that incredibly fascinating, and I will be pulling for them to sustain their success.
Now that I've mentioned the Pirates, I'll move forward with the slideshow.
The Atlanta Braves are 55-38 and sit 3.5 games out of first place in the NL East. While key offensive pieces such as Dan Uggla, Jason Heyward, and Jordan Schafer have been heating up, Atlanta can still make trades to score more runs. They can also do so, without losing prospects Julio Teheran, Arodys Vizcaino, Matt Lipka, and Edward Salcedo.
I also have to let it be known that I am a believer in Jordan Schafer. I hope that he can own the leadoff spot in Atlanta and get on base at around a .350 clip. If he does so, with his outstanding range in center field and speed on the basepaths, he should get the majority of the starts in center. Still, other plans must be made.
To rank these top 10 trade targets, I've weighed position, age, skill set, which side of the plate the target bats, and price of target. I would love any one of these 10, so if Frank Wren made even one of these moves, I would be pretty happy.
Thank you for the read, and please feel free to leave a comment.
10. Carlos Quentin, Chicago White sox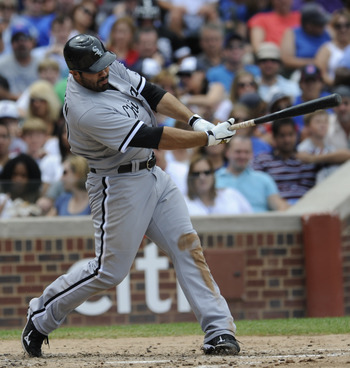 David Banks/Getty Images
I actually doubt Quentin will be available, with the White Sox only five games back. Nonetheless, if he is, Atlanta could try to trade for Quentin and make him the everyday left fielder. Martin Prado would move to center field and continue to give Chipper and Uggla days off.
If Schafer is not included in this trade, the move would mean he would get situational starts, and that he would be deemed not ready to play full time.
Batting .251 with 17 homers and 51 RBI, Quentin would add another right handed power bat to the lineup.
Reed Johnson was the odd man out here, and I love what Johnson brings to the table: hustle, contact and defense, but Quentin narrowly edged him out. I would also be happy with Johnson on Atlanta.
9. Melky Cabrera, Kansas City Royals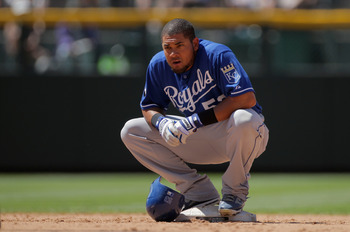 Doug Pensinger/Getty Images
I know, I know...Melky had a miserable year in Atlanta.
That said, I would add him to the Atlanta roster in an instant. A switch hitter capable of playing any outfield position, the Melk Man is hitting .295 with 11 homers and 12 steals.
In Atlanta, Cabrera would assume the familiar role of fourth outfielder, playing left when Prado plays second or third, giving Uggla or Chipper a day off. And if Schafer is unable to hold onto the center field position, Melky can simply overtake center.
The nice thing about Melky is his low price and flexibility. He wouldn't command but a C-level prospect, and he would allow Schafer to continue to get regular at bats.
8. Carlos Beltran, New York Mets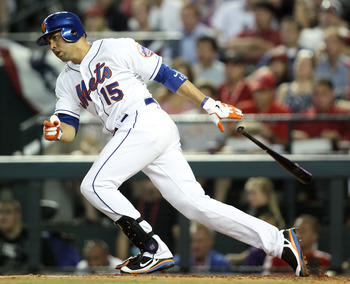 Christian Petersen/Getty Images
Another high profile name, Beltran would become a regular corner outfielder in Atlanta. Now, left field or right I do not know, but the younger, more agile Prado would probably shift over into center field.
Enjoying a bounce-back year, Beltran is hitting .287 with 14 homers and 59 RBI and would provide a consistent bat from both sides of the plate.
The concern with Beltran is his age (in which injuries have plagued him a little), and his price. I wouldn't want to give up too much for Beltran, but at No. 8, I would be willing to give up a fair amount to get him into the lineup.
7. Ryan Ludwick, San Diego Padres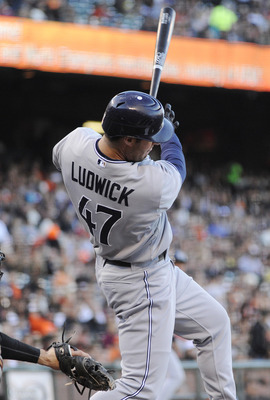 Thearon W. Henderson/Getty Images
Another right-handed corner outfield bat, Ludwick would bring power to the table for Atlanta. He could play left field and bench, giving Jordan Schafer regular at bats, and he would cost relatively nothing.
He's having a down year (.243, 11 homers), but I would expect Ludwick to pick it up in the second half.
A safe play for Atlanta, a Ludwick trade could still pay dividends.
6. David DeJesus, Oakland Athletics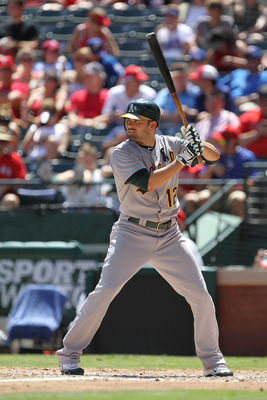 Ronald Martinez/Getty Images
Okay...I'm frustrated that I saved all of my slides, but somehow the site only saved four...so my slides might be shorter from here on out.
DeJesus is having an awful year, but for the better part of his career, he's been a high on base percentage guy that plays every outfield position.
He would cost absolutely nothing and would bring versatility to the Braves' bench.
5. Michael Bourn, Houston Astros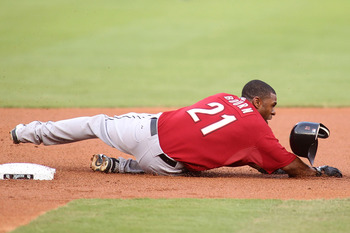 Marc Serota/Getty Images
Bringing Michael Bourn to Atlanta would probably mean the Jordan Schafer era would come to an end. Bourn gets on base at a high clip (.351), has a plus glove, leads the Major Leagues in steals, and has good gap power (22 doubles, seven triples).
I'm concerned over his price, but there's a lot to like about bringing Bourn to Atlanta.
4. Josh Willingham, Oakland Athletics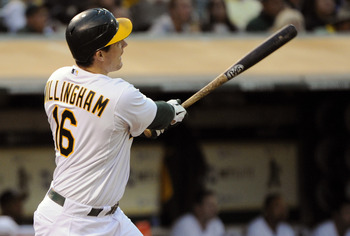 Thearon W. Henderson/Getty Images
Having a poor year average-wise, Willingham should see his numbers rise in the second half, due to baseball being a game of averages.
He would add power (as a consistent 20 home run hitter) to the left field position in Atlanta, would command relatively nothing to obtain, and would allow Jordan Schafer to continue to get regular at bats.
3. Coco Crisp, Oakland Athletics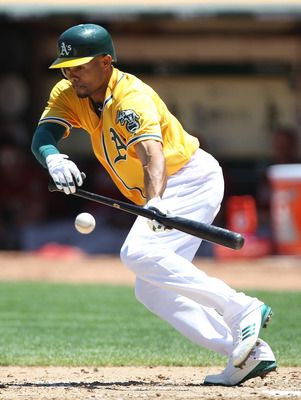 Jed Jacobsohn/Getty Images
With Crisp the third Oakland Athletic on this list, Frank Wren should obviously give Billy Beane a call.
Coco Crisp is an even better option than Michael Bourn in my opinion, because he (a) is cheaper, (b) is able to play both left and center, (c) would allow Jordan Schafer at bats, and (d) would simply provide extra speed to the lineup.
He's having a bad year in the OBP department but is on his way to shattering his career high in stolen bases, with the 26 he has at the moment.
2. Hunter Pence, Houston Astros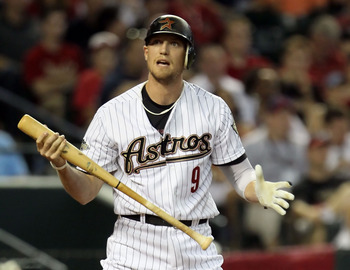 Jeff Gross/Getty Images
The hottest name in Atlanta, Pence would obviously be a brilliant fit.
He has a plus arm, good speed, good power, and can flat out hit the baseball. I would have no reservations of moving him into center field, locking him up, and playing him alongside Prado and Heyward for years to come.
My concern with Pence, and the only reason he's not No. 1, is his price tag. If he would only command Randall Delgado and a B-level prospect, I would do the trade in a heartbeat. However, if Houston comes calling for Jair Jurrjens, Brandon Beachy, Julio Teheran, Arodys Vizcaino, or Mike Minor, I would be more hesitant.
This is not to say I wouldn't pull the trigger on a Brandon Beachy or Mike Minor deal, considering how much Pence brings to the table, but I would be hesitant.
1. Alex Gordon, Kansas City Royals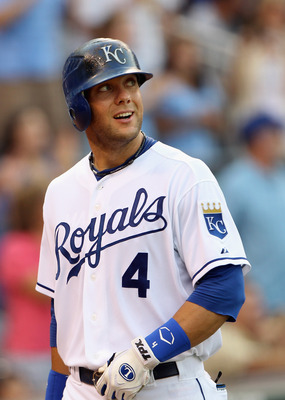 Jamie Squire/Getty Images
Meet the best deal for Atlanta.
I'm choosing to forget Alex Gordon's past, focusing only on his promise. He's hitting .299 with 11 homers, 50 RBI (in Kansas City), and seven steals, so he brings average, power, and speed to Atlanta. He's also versatile, able to play both left and third. Martin Prado can also play both left and third, but I would consider Prado in center as well.
Which of these 10 players do I most want on Atlanta? Hunter Pence. However, who might be the best trade target for Atlanta? I believe it very well could be Alex Gordon. Coco Crisp is the third option, if speed is wanted, but I could see Martin Prado leading off again.
Again, thanks for the read, and feel free to comment!
Also, I have started a baseball blog, and I am having an extremely hard time getting hits for it, so if you could help me out and visit the site, that would be fantastic.
gasolinesuitbaseball.blogspot.com
Keep Reading

Atlanta Braves: Like this team?