Donnie Avery, Sam Bradford's Deep Threat, Back in Rare Form for St. Louis Rams
July 15, 2011
Dilip Vishwanat/Getty Images
More than anything, Sam Bradford and the Rams offense lacked a consistent deep threat last season after the unfortunate season-ending injury to receiver Donnie Avery in the preseason.
This year, that deep threat looks to be back in a big way, as Avery's world-class speed has apparently returned fully intact after rehabbing his right knee intensely following season-ending surgery last year.
According to a tweet from @DonnieAvery, Avery is "Back in the saddle. Ran 40's today. 4.25, 4.29, 4.31 good day huh?"
Pretty good day indeed.
Recently, Avery reportedly ran a 4.44 40. For most receivers, that would qualify as a personal best. Regarding Avery and his elite speed, however, it only signified that he was "almost" back. With the sub-4.3 40s today, it is safe to say he is officially back, at least in regard to his straight-line speed.
With Avery "back in the saddle" for the Rams, it will make it tough for defenses to put eight in the box as they did with regularity last season. The Rams paid the price too, as Steven Jackson was held to just 3.8 yards per carry.
With both the corners and safeties likely to give a little more cushion to prevent the deep ball, Jackson is very likely to have more running room in 2011.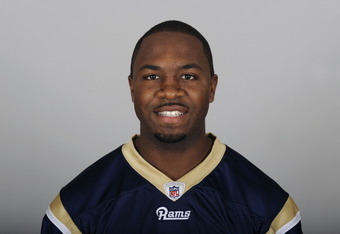 Handout/Getty Images
Keeping eight (or more) men near the line of scrimmage also thwarted former offensive coordinator Pat Shurmur's West Coast passing game during many contests.
With Avery potentially threatening a go route on any given play, few teams are likely to dare the Rams with single coverage outside, especially when he's simultaneously on the field with fellow deep threat Danario Alexander and his 6'5" frame.
With safeties likely playing deeper because of a healthy Avery and DX in the fold, look for more room underneath on crossing patterns (amongst other short and intermediate pass routes).
This should benefit the likes of Danny Amendola, who hauled in an impressive 85 balls last season.
Although Amendola's catch total was impressive, his 8.1 yards per catch was a league low, in part because defenses were constantly bunched up near the line of scrimmage, where most of Amendola's routes are run. With Avery (and DX) helping to both stretch the field and keep the safeties honest, however, that number could improve.
It should also give tight ends like rookie Lance Kendricks and second-year man Mike Hoomanawanui more room to get open on those intermediate routes down the seam.
It won't hurt the running back and/or tight end screen game either, for that matter.
Furthermore, adding the highly talented Avery to the mix gives Bradford another option in the passing game. It will afford him the opportunity to show off his big arm with more frequency.
Avery, though talented, is still a bit of a question mark in the eyes of some observers.
Avery was drafted with the first pick of Round 2 in 2008.
The selection was controversial at the time and remains so today. Avery was the first receiver selected in the draft, as the Rams passed on the Eagles' DeSean Jackson, who has become one of the NFL's best wide receivers, forming an imposing duo with Jeremy Maclin.
As a rookie, Avery averaged 12.5 yards per catch on 53 receptions in 15 games. Year two was essentially a repeat, as he grabbed 47 balls at 12.7 yards per reception in 16 games. Those performances were respectable, but certainly not ideal for a player chosen ahead of all other receivers in his draft class.
Avery, though, in his defense, played in a pedestrian Scott Linehan-led offense in 2008 that showed little in the way of aggressiveness, in-game adjustments or creativity. The offense failed to change or improve much in 2009 under new head coach Steve Spagnuolo and offensive coordinator Pat Shurmur's conservative attack.
Furthermore, Avery played amongst a group of below-average wide receivers and a quarterback in Marc Bulger who was said to be "shell-shocked" (according to Tony Softli, former Rams VP of Player Personnel).
Bulger, once adequate in delivering some nice deep balls with an average arm—remember some of those bombs to Kevin Curtis, Torry Holt, Isaac Bruce and Shaun McDonald?—had seemed to regress in that regard, perhaps due in part to the beating he was taking from defenders and a resulting hesitancy to hang in for the deep ball, an arm that may have been diminishing with age/wear and tear and shoulder issues.
Fast-forward to 2011.
Avery will be playing with a young, confident, strong-armed QB, a group of capable and talented receivers and an improved offensive line and in what should be a much more aggressive attack, considering both enhanced personnel and the addition of proven offensive coordinator Josh McDaniels.
If Avery (and Alexander) can stay healthy in 2011, the Rams running game, short and intermediate pass game and overall offense should be improved. Each of these offensive aspects should benefit from having two deep threats on the field with regularity.
Rams fans should be hoping that Avery, now 27, stays healthy and plays to the potential that enticed the Rams to choose him ahead of DeSean Jackson (and every other receiver) in 2008.
Shane Gray is a long-time St. Louis Rams fan and covers the Rams year round. To check out the rest of his work, click: http://bleacherreport.com/users/582932-shane-gray