Fantasy Baseball: 3 Biggest Infield Disappointments and Outfield Surprises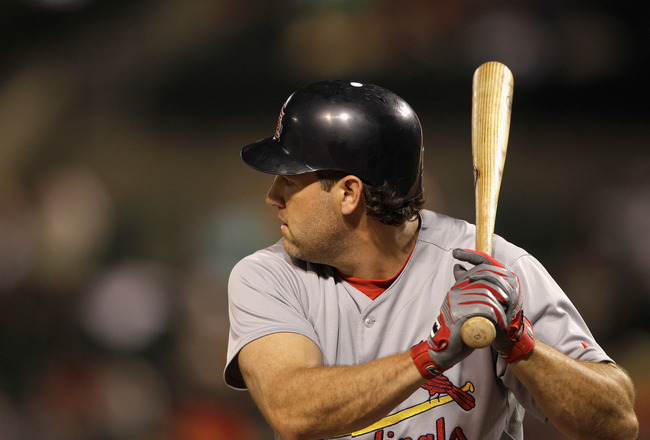 Rob Carr/Getty Images
The official (but not quite accurate) half-way point of the MLB season has passed with this week's All-Star festivities. For fantasy baseball owners, it represents a crucial time to reflect.
The first month can be fluky. The first two months, uncertain. But now, with three-and-a-half months having passed since the first pitch of the season, we can accurately assess the state of our rosters.
Can things change over the second half of the season? Sure.
Some players get off to notoriously slow starts (like, until this year, Mark Teixeira) only to turn it on as the calendar pages turn. But, for the most part, we have a good idea of what we're getting when we look at the stat lines in July.
That being said, what players have blown our meticulous preseason research out of the water? Who has emerged as a pleasant surprise, and who has caused us to shake our heads with utter bewilderment?
Here are three infielders whose reputations don't match their current feeble production, followed by three outfielders who are exceeding our expectations.
Average Draft Position (ADP) and statistics courtesy of Yahoo!
Infield Disappointment No. 1: Dan Uggla, 2B, Atlanta Braves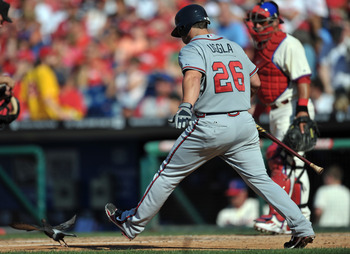 Drew Hallowell/Getty Images
Average Draft Position (ADP): Pick 35.0
Plenty of players have gone through the revolving door that is the Florida Marlins franchise to go on and have terrific seasons elsewhere. In recent years, there has been Juan Pierre, Mike Lowell and Miguel Cabrera. Unfortunately, Dan Uggla appears to have followed the less appealing Dontrelle Willis route.
Many thought Uggla was heading towards a solid season with the Braves, especially with a stronger lineup surrounding him, but he has not delivered in Atlanta so far. Sure, he has 15 home runs, but he's hitting a meek .185 with only 34 RBI.
In many fantasy drafts, he was taken ahead of Rickie Weeks and Brandon Phillips, both of whom were just seen in Phoenix as National League All-Stars.
Uggla is just a career .255 hitter, but anytime you're under the Mendoza line, you're going to be labeled a disappointment (unless you were given really, really low expectations). Possibly most discouraging of all, Uggla is slugging .365, over 100 points below his career average. If he doesn't start driving the ball with more consistency, it will truly be a lost season for him and, depending on how long you remain hopeful for a turnaround, for you as an owner as well.
Infield Disappointment No. 2: Hanley Ramirez, SS, Florida Marlins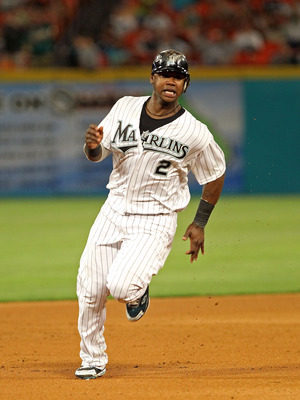 Mike Ehrmann/Getty Images
ADP: Pick 2.5
Well, at least Dan Uggla knows someone who can relate to his struggles. His former double-play partner, Hanley Ramirez, is having a disappointing season as well.
Ramirez, often considered one of the best all-around players in the game, is hitting just .242 with eight home runs on the year. He does have 15 stolen bases and 46 runs scored, which would be fairly respectable compensations—if this wasn't a guy drafted with one of the top three overall picks in most leagues.
Like Uggla, Ramirez isn't driving the ball like he's done in the past; he's slugging .370 compared to his career .508. But unlike Uggla, he's supposed to be a good overall hitter, and sporting a batting average lower than Jason Varitek's (.252) is not very encouraging.
If there's any solace to be had, it's in the fact that it has not been a strong season for shortstops overall. Excluding Jose Reyes, the best performer at the position has been a guy who was selected, on average, with pick No. 212—Cleveland's Asdrubal Cabrera.
Infield Disappointment No. 3: Adam Dunn, 1B, Chicago White Sox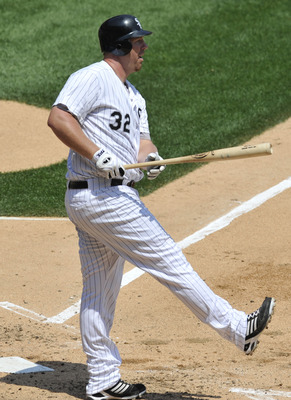 David Banks/Getty Images
ADP: Pick 42.5
I know, I know—Adam Dunn is primarily a designated hitter. But he has first base eligibility in most leagues due to the 2010 season spent in Washington, and plus, his mammoth struggles cannot go unacknowledged.
Dunn, who has hit 38 or more home runs for an astounding seven seasons in a row, has just nine so far this year. But that's not the worst of it. He's hitting a horrendous .160 with 34 RBI and 117 strikeouts.
It doesn't appear that Dunn will be benched anytime soon, so he'll at least have a chance to work out of this unbelievable funk. But unless he goes on a Ruthian tear of sorts, it'll be a disappointing season for any fantasy owner who selected him before Michael Young (remember, first base eligibility), Michael Cuddyer and teammate Paul Konerko.
(Not to mention how disappointing it is for the White Sox, who signed Dunn to a four-year, $56 million deal this year.)
Outfield Surprise No. 1: Lance Berkman, St. Louis Cardinals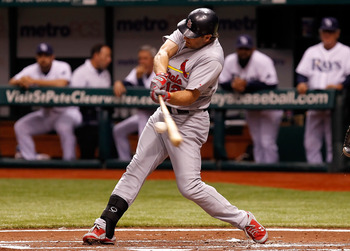 J. Meric/Getty Images
ADP: 241.4
It wouldn't be surprising if more people thought Lance Berkman would retire in 2011 than become an All-Star. But, alas, here he is, fresh off a trip to Phoenix and sporting an impressive .290/24/63 line.
Berkman ended last season with the New York Yankees and hit just one home run in 37 games while donning pinstripes. His OPS was .707, over 200 points below his career mark. The switch-hitter was almost completely useless from the right side of the plate.
Perhaps all he needed was a return to the National League Central. Berkman, who spent his entire career with the Houston Astros outside of his stint in the Bronx, is bringing back memories of his old form, which, for those who have forgotten, was quite impressive.
Still, no one is quick to bet that he'll keep up this pace for the entire season—he's already slowed down from his ferocious start. Especially with injuries always a concern (he already hurt his wrist diving in the outfield), we have to remain reasonable.
But Berkman, who was often drafted after guys like Ryan Raburn, Manny Ramirez and Bryce Harper (who, besides Raburn, have not even played a big league game this year), has already been a remarkable surprise to fantasy owners and Cardinals fans alike.
Outfield Surprise No. 2: Curtis Granderson, New York Yankees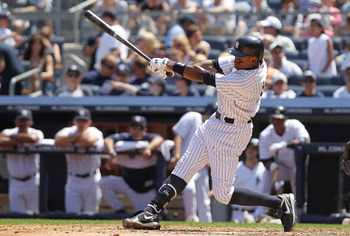 Nick Laham/Getty Images
ADP: Pick 111.1
Like Lance Berkman (sort of), people doubted Curtis Granderson based off his disappointing 2010 with the Yankees. Of course, Granderson's debut in the Bronx was scrutinized over the length of an entire season.
Granderson wasn't terrible in 2010, but he did not meet his high expectations. He batted only .247 (.234 against left-handed pitchers) with 12 steals and 24 home runs.
This year, however, he's hitting a more respectable .269 (.263 versus southpaws) and has already surpassed his home run and stolen base totals from 2010 (25 and 15, respectively).
In fact, in almost 50 fewer games, Granderson has also eclipsed his runs total from last year (79 versus 76) and has almost reached his RBI total (63 versus 67).
Considering his production, it's safe to say now that Granderson was selected too low on average, especially when you see that owners often drafted guys like Alex Rios (.212 batting average) and Jayson Werth (.215) as high as 45 spots ahead of him.
Outfield Surprise No. 3: Jose Bautista, Toronto Blue Jays
Elsa/Getty Images
ADP: Pick 35.1
Okay, so Jose Bautista wasn't drafted unbelievably low on average, even though his numbers suggest he could have easily been the top overall pick.
But, admit it—even if you were one of the lucky ones to have selected him, part of you thought last year was a fluke, right? No way could he match his 54 home runs from 2010. Right?
Well, if you were skeptical but took a chance anyway, congratulations. And if you say you weren't skeptical...I don't believe you.
Keep Reading