Pittsburgh Pirates: The Best Is Yet to Come in the Second Half
July 14, 2011
Jared Wickerham/Getty Images
Here we are in the middle of July talking about the Pittsburgh Pirates and their level of play again.  This year however, we're talking about how exceptional the ball club has been.
Their 47-43 record has them only one game out of first place in the NL Central at the All-Star break.  More importantly though, it has inflamed an otherwise melancholy community of baseball fans with a passion for their ball club that has been absent since the early 1990's.  At least one generation of fans in Pittsburgh has yet to see a winning baseball team.  That looks like it's all about to change.
They say that a team takes on the personality of its manager.  If that's the case, the Pittsburgh Pirates are reflecting new manager Clint Hurdle, to the tee.  Nothing about this man says fake or phony.  He is as authentic and genuine of a baseball man as you will find in the game today.  Hurdle's confidence in the clubhouse has translated into a winning attitude on the field, and it reflects in the team's execution this year.
The starting pitching has been ridiculously good considering how far they have come since just last season.  In 2010, Pirates starting pitching had the THE WORST ERA in the majors (5.28).  Here in 2011, under the tutelage of pitching coach Ray Searage, the Bucs' starting rotation has an ERA of 3.62.  Easily one of the most amazing turn-arounds I have ever seen.
Anchored by first-time All-Star Kevin Correia (11-7, 4.01 ERA) I would argue the staff has pitched as consistently well as any in the majors.  Youngster Charlie Morton (7-5, 3.80) seems to have found what works for him and is getting more 'season' every time out.  The lone lefty in the rotation, Paul Maholm has become a more complete pitcher this season, working on his command of the inside part of the plate against righties, a flaw which manager Clint Hurdle immediately pointed out to Maholm upon arrival in Pittsburgh.  With little to no run support to work with more times than not, Maholm has faired exceptionally well this first half, posting an ERA of 2.96 (third among LHP in NL, eighth overall).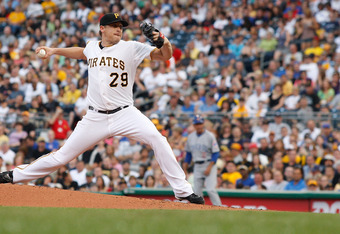 Jared Wickerham/Getty Images
The back end of the rotation has done its fair share of solid work, too.  James McDonald (5-4, 4.42 ERA), though struggling with control sometimes, shows promise as either a nice, hard-throwing, right-hander at the back of the rotation, or even potential trade bait if the Pirates elect to give Ross Ohlendorf a chance when he comes off of the DL.
Then there's possibly the best-kept secret in baseball – Jeff Karstens.  He's not a flamethrower by any stretch, but Jeff Karstens has managed to turn in as solid of a first half performance as any Pirates starting pitcher.  His 2.55 ERA ranks fifth in the NL, right behind Phillies' stud Roy Halladay (2.45).  His contributions to this ball club have been invaluable.  He has filled what seemed like a large gap so well that I don't know if Ohlendorf will get a chance to pitch when he comes back.
The Pirates may even elect to go to a six-man rotation at some point, to give their guys some extra time to rest. Many, if not all of their starters will eclipse their most innings pitched in a single season.  Clint Hurdle and Ray Searage will have to monitor the young guys closely and keep them well rested if the team wants to make a run in October.
Let me not forget to mention the bullpen either because they have been sensational.  Relievers Jose Veras, Chris Resop, and Daniel McCutchen have all pitched extremely well this year in front of All-Star closer Joel Hanrahan.  In 26 opportunities, Hanrahan has closed the door on the opposition all 26 times.  He throws as hard as anyone and has the control and moxie to throw either his fastball or slider in any count.  It is certainly a luxury to have a solid bullpen that starters can hand the baton off to, to finish games.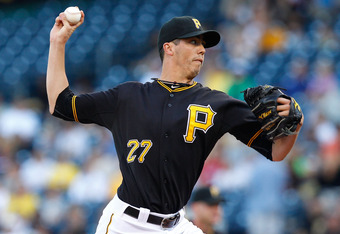 Jared Wickerham/Getty Images
It's also an advantage when you have a superstar like Andrew McCutchen hitting in the middle of your lineup.
Lead by the ever-increasing talents of center fielder Andrew McCutchen, the Pirates offense has had its woes this year, but generally speaking, they have been much more productive in critical situations compared to years past.  If you don't think so, take a look at the win column.
A .255 team average with runners in scoring position isn't much to brag about, but believe it or not that ranks in front of the mighty New York Yankees.  It's not bad company to be in if you ask me.
McCutchen leads the team with 14 home runs, 54 runs scored, and a .291 batting average.  He leads by example, which in the city of Pittsburgh will only earn him points with the fans.  McCutchen, barring any injuries or a massive slump, should set career-highs in every offensive category. 
He could not have picked a better season to shine the brightest either.  He earned his first All-Star appearance in Arizona this year after initially being left off the team.  I expect him to be a regular visitor to the Midsummer Classic for many years to come.  For as valuable as 'Cutch' has been, the Pirates have been getting a much needed boost in offense from a traditionally non-power position.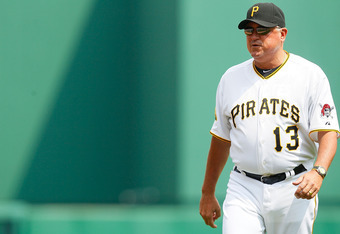 Jared Wickerham/Getty Images
A big part in the run production department has to be accredited to the young Pittsburgh native, Neil Walker.  Walker, who leads all NL second baseman in RBI (59) has shown indications that he will be a productive offensive force for years to come.  Earning the everyday second base job, Walker has excelled at the plate as much as he has in the field (.991 fielding percentage).  Despite striking out more times than you would like him to, Walker is still a young player learning the league's pitchers.  Give him time and he could become a potent force in driving this Bucco's lineup for the foreseeable future.
While I'd like to say there are more positive notes offensively for the Pirates, there really aren't.  Recent call-up Alex Presley has been impressive thus far with the big-league team, hitting .365 in 13 games while notching multi-hit performances in seven of those games.  Beyond that though, the Pirates' projected run producers have been extremely underwhelming. 
Third baseman Pedro Alvarez has battled injury for the better part of the season.  It will be important for the club to get him going after the All-Star break as he could prove to be extremely important down the stretch run.
First baseman Lyle Overbay has had his good stretches, but has yet to put up a consistent month of production.  The same goes for Garret Jones.  Now primarily only facing right-handed starters, 'G.I. Jones' flashes brilliant power from time to time, but Hurdle is looking for more consistent production from a guy whose batting average has slipped to .248.
So what you ask is it going to take for this Pirates team to contend?
For one, the starting pitching must remain as sharp as it has been.  The Pirates are a notoriously bad second half team.  Over the last five seasons they have managed to only win, on average, 27.8 games.  That simply won't cut it. 
By being well rested and keeping an even-keel attitude, I think the Pirates staff will continue to pitch well against division opponents.  With three consecutive series against division opponents to begin the second half of play, those first nine games should be a good test for a team that hasn't played a meaningful game since 1992.
Secondly, the Pirates need to find more offensive production from their corner infield and outfield positions.  This could be answered simply with a healthy Pedro Alvarez in the lineup.  If Pedro comes to play the way he did the second half last year, I think the Pirates will be very close at the end.
I like Alex Presley in the outfield with McCutchen, too.  He provides legitimate speed in the leadoff spot and already has six extra base hits in his brief time in the majors.  Since the Pirates won't be out-slugging anyone this season they're going to need players like Presley who can force the issue on the base paths.
If the fixes can't be made internally, there's no reason to think the organization won't look outside to find a remedy.  They have reportedly been in the market but have yet to give any real indication of players they're considering.  Undoubtedly they'll want someone that they could sign to multiple years.  Renting players is not something the Pirates can afford to do.  If they're going to give up any top minor league talent, I hope they bring back a player on the rise.  I think a rental player would be counterintuitive to what the Pirates' front office is trying to do right now with the team.
One thing is for certain.  This second half of the Pirates' season will be the most closely watched thing this summer in Pittsburgh.  Even if they do come up a little short, won't it just be nice to watch a team take the field, knowing that they're only going to get better in years to come?  It's exciting and fresh, and exactly what all Pittsburgh Pirates fans deserve – a winner.
You can follow me on Twitter @mcfarlands412 or e-mail me at stmcfarland5@gmail.com