New York Giants: Odds New York Signs These 10 Stud Free Agents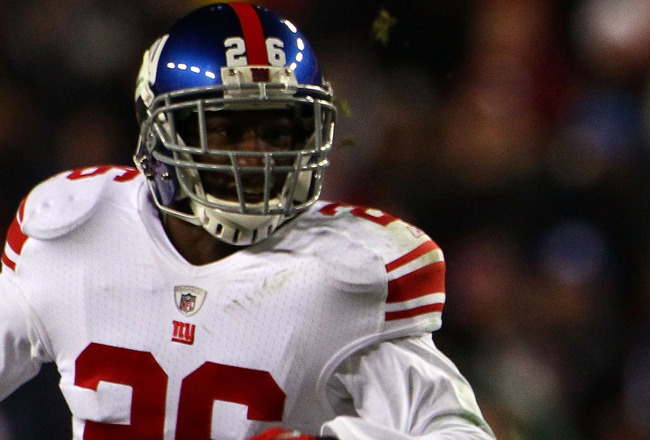 Win McNamee/Getty Images
ESPN's NFL Insider Adam Schefter said the weeks after the lockout is resolved and before training camp are going to be the craziest in NFL history.
Teams are going to be jamming six months of signing and evaluating free agents in to a two week window—needless to say the NFL front offices are going to have some 20-hour days.
For the New York Giants, the task becomes clear. They have to hold on to as many as their big name free agents as they can, while also having backup plans.
Teams are said to have three days after the lockout ends to sign their own free agents, after which time hell will break loose and teams can sign anyone.
During those three days, the Giants will be looking to re-sign big name free agents like Steve Smith, Mathias Kiwanuka, Barry Cofield, Kevin Boss and Ahmad Bradshaw.
Obviously the Giants won't be able to give big money to all of these players, so it will be interesting to see which one(s) is(are) left out.
But who will be on the Giants list of free agents from other teams? There are many great players hitting the market this year, especially on defense. Let's look at the odds that the Giants sign some of these high profile guys.
Nnamdi Asomugha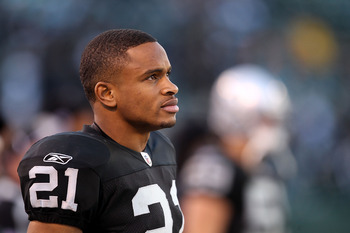 Ezra Shaw/Getty Images
You can't make a list of stud free agents without including the best cornerback in the NFL, and definitely the best free agent on the market.
Nnamdi Asomugha has been a much talked about commodity for multiple NFL teams, and the New York Giants are not one of them.
With the addition of Prince Amukamara to an already loaded secondary, the chances the Giants pay Asomugha $18 million are slim.
Odds: 10000-1
Randy Moss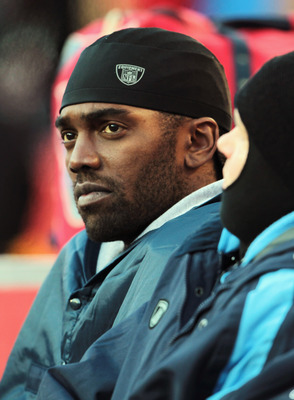 Jamie Squire/Getty Images
Randy Moss spent his 2010 season with three teams, and didn't perform for any of them. His agent came out today and said Moss is motivated and been working out the entire off season to become the player defenses once feared.
He's been linked to a team in New York, thankfully it's not the Giants.
Not only do the Giants not need a wide receiver, but they don't need to waste their time or money on a washed up prima donna.
Odds: 10000-1
Chad Greenway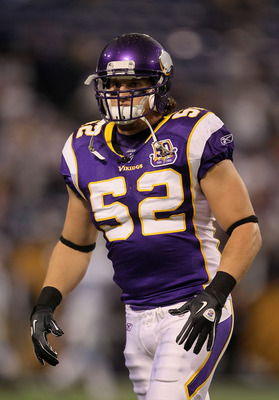 Jeff Gross/Getty Images
Chad Greenway had a fantastic 2010 season with 144 tackles, one forced fumble, and one sack. He could be a quick fix to the Giants linebacker problems as he has been the Vikings starting strong side linebacker the previous four seasons.
The only problem is, Greenway was franchised by the Vikings, making it cost an arm and a leg to sign him. Although it seems like a match made in heaven, the Vikings will be holding on to Greenway.
Odds: 30-1
Stephen Tulloch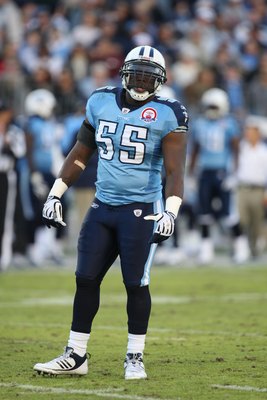 Streeter Lecka/Getty Images
Stephen Tulloch is one of, if not the best middle linebacker prospect in free agency, and you better believe the Tennessee Titans know that.
Though Jonathan Goff had a great season stopping the run, though he did struggle at times in pass coverage.
However the money that Tulloch is worth may be too much for the Giants to afford. If Goff struggles against the pass again in 2011, the Giants may have to look to the 2012 draft to replace him.
Odds: 30-1
Plaxico Burress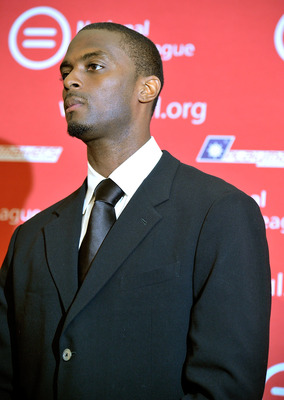 Joe Corrigan/Getty Images
Plaxico Burress talked with the Rookies at the NFLPA sponsored Rookie Symposium, warning them about carrying guns in public.
He interviewed with several different networks since his release from prison on June 6th, and seems like a changed man on a mission to educate people about gun control.
However, his views on New York Giants head coach Tom Coughlin have seemingly not changed.
Though he said he would welcome a potential return to New York, Burress mentioned his relationship with Coughlin was ambivalent and that he was forced to rebel to get his point across. He praised his former coach Bill Cowher and said how much he would love to play with current Jets coach Rex Ryan.
Frankly, it doesn't seem like the Giants or Burress are interested in a reunion. Yes, the players have come out in support of it, but the Giants front office does not share their sentiments.
Odds: 25-1
Zach Miller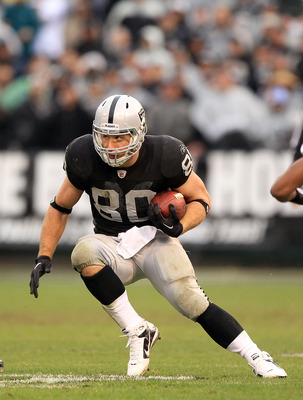 Ezra Shaw/Getty Images
The Giants did not draft a tight end in the 2011 NFL Draft, and their only proven player at the position—Kevin Boss—is set to hit the free agent market.
Could the Giants let him go in an effort to sign All Pro tight end Zach Miller? I would be all for this, however the truth of the matter is Miller will come at a much higher price than Boss, so if the Giants sign Bradshaw, Smith, etc., to long term deals, there may not be enough money to throw at Miller.
As much as I would like, I don't see this as a high probability.
Odds: 20-1
DeAngelo Williams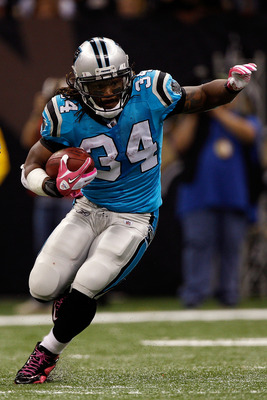 Chris Graythen/Getty Images
DeAngelo Williams is a high profile running back free agent that could find his way to New York if the Giants are unable to reach an agreement with Ahmad Bradshaw.
The Giants have made it clear that Bradshaw is a priority, but you never know what might happen.
Williams is two years removed from a 1500 yard dominate season and is only 27 years old. The former first round pick would bolster the Giants offense, adding a receiving threat out of the backfield.
Odds: 18-1
Barrett Ruud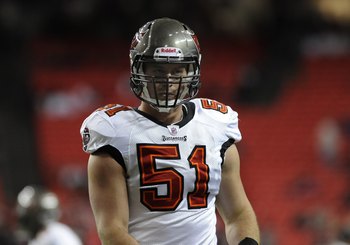 Al Messerschmidt/Getty Images
Yet another linebacker prospect. There is a theme here due to the fact that the Giants are currently without a starting strong side linebacker.
Goff could potentially be moved over to the strong side if the Giants reach an agreement with one of these high priced middle linebacker free agents—his run stopping skills lend him to be successful at the position, and the Giants could sub him out in pass defense packages the way they did with Keith Bulluck.
Ruud has had four straight seasons with 100 tackles. Though not the best statistic, that's generally a good measuring stick for a middle linebacker, and the Giants defense could jump to elite status with his signing.
Odds: 15-1
Paul Posluszny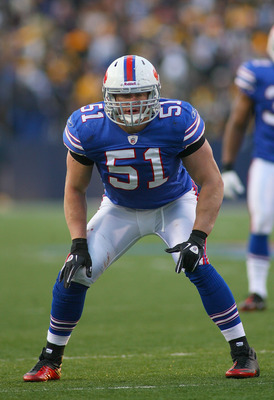 Rick Stewart/Getty Images
Paul Posluszny has many ties to the New York Giants: he's a North East guy having gone to school at Penn State and played his first seasons with the Buffalo Bills; Giants defensive coordinator Perry Fewell is his former defensive coach; and Posluszny said in an interview on SiriusXM NFL Radio that he would love to play for the Giants.
Posluszny was No. 3 in the NFL in tackles in 2010; though he had a ton of chances to make those tackles—the Bills were ran on a league high 581 times—that doesn't take away from his good season.
Again, having spent his career playing in the middle, it would seem as though the Giants would move Goff over if they sign Posluszny.
It's clear the Giants are in the market for a linebacker; the lockout needs to end soon so they can get their hands on one of the best before camp starts.
Odds: 7-1
Ahmad Bradshaw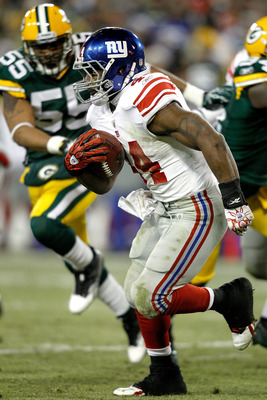 Matthew Stockman/Getty Images
Although benched in the middle of the season due to fumbling issues, Ahmad Bradshaw still had a tremendous 2010 campaign and should look to benefit in his wallet as a result.
He finished with 1,235 yards and eight touchdowns and the Giants made it clear to Bradshaw before the lockout that he is going to be a priority when free agent begins.
I don't see any reason why a deal won't get done, Bradshaw has admitted to loving it in New York, but there's always that small chance of it going awry.
Odds: 3-2
Keep Reading

New York Giants: Like this team?