Albert Haynesworth to the Philadelphia Eagles Speculation Now Scaring Redskins
July 14, 2011
Win McNamee/Getty Images

According to a report by NFL Network's Jason La Canfora on July 12th, he implies that Mike Shanahan and the Redskins want to purposely keep Albert Haynesworth away from the Eagles.  Here is the exact excerpt from the report:
Team sources maintain that they can't foresee the Redskins keeping either quarterback Donovan McNabb or defensive lineman Albert Haynesworth. Receiving much for either in a trade will prove quite difficult given their contracts, and several team sources believe Shanahan ultimately will take anything he can for Haynesworth.

The Redskins are particularly concerned that if they release Haynesworth, he will sign with the NFC East rival Philadelphia Eagles and reunite with his former Tennessee Titans position coach, Jim Washburn.
If this is the case, should this be considered a smart tactical move by the Redskins or should it be considered an admission of fear for an opponent?  At the very least, it means they believe Haynesworth would be a force with Jim Washburn and the Eagles.
My opinion is that the only reason for them to play "keep away" is because they're scared.  Scared of being humiliated on not just one, but two successive personnel moves involving the Eagles.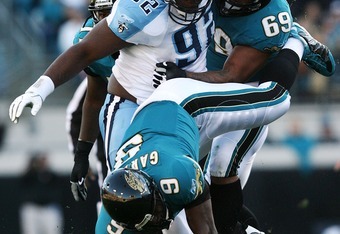 Doug Benc/Getty Images
Were the Eagles afraid to deal their star quarterback to a division rival last year?  Nope.  That's because they were confident it wouldn't come back to bite them in a certain place just south of the lumbar region.  McNabb was a flop in D.C. so therefore Eagles 1, Redskins 0 on the personnel department scoreboard.
If Haynesworth ends up with the Eagles somehow and gets back to his dominant ways, that would be the whipped cream on top of the humiliation pie that the Redskins would be forced to eat.  Eagles personnel department 2, Redskins 0.
Just imagine how unmerciful the Washington, and perhaps national, media would be if that were to happen.  Losing games on the field to the Eagles would pale in comparison to the off-field harassment they would get for "allowing" themselves to get snookered twice in two years by the Eagles.
But the Redskins are in a tough position.  Understandably, they don't want to just cut him and get nothing in return but they may not find many potential trade partners either.  Especially if other teams have questions about Haynesworth's work ethic, attitude, etc.
Would the Redskins trade Haynesworth to another team even if the Eagles were giving them the best offer?  Would their fear impact their actions to that extent?

Imagine this: The Eagles offer either a 3rd or 4th round draft pick for him and that is the best offer the Redskins get.  But instead, they trade him to some other team who only offered a 6th rounder (or anything lower than what the Eagles offered).
If you were a Redskin fan, wouldn't you lose a little respect for the organization?
This is a feasible scenario in that for one, the Eagles may have extra draft picks after a likely Kolb trade, and two, there probably won't be anyone willing to give up much for Haynesworth due to all the questions surrounding him as well as the thought process that he will likely be cut anyway.
Depending on how confident the Eagles are that Haynesworth would be motivated and play to his potential, they could easily feel that he is worth a 3rd round pick.  And if he did, he would be a steal at that price.  The Titans' version of Haynesworth is easily worth a 3rd rounder.
Last but not least, there has also been talk about whether or not Shanahan and Snyder could just let Haynesworth sit rather than release him if they can't find a trade partner.
That would be the worst move of all for a historically dysfunctional franchise under Dan Snyder.  If they keep him on their roster out of spite, mainly because they don't want to "give him his way", that would show cowardice and immaturity.
It's obvious that they wasted their money on him and even though Haynesworth should have ultimately just acted like a professional and played his best, the Redskins do share some responsibility in his ineffectiveness. 
At this point they need to move on.  They should trade him to the team that gives him the best offer or release him.  If they're afraid of him joining the Eagles, they need to remove their skirts and man up. 
They're attitude should be that they're the better team no matter what.  Of course that isn't reality, but it's what they should be thinking.