James Harrison: Art Rooney II, Mike Tomlin Must Set the Standard for Pittsburgh
July 15, 2011
Jared Wickerham/Getty Images
The outrage following James Harrison's rant on just about everyone in the football world except Troy Polamalu is at its peak.
Fans have called for the Steelers to trade him, while others want him flat-out released. They believe he is too much trouble.
It's not because of Harrison's words against Roger Goodell, which many agreed with but felt were out of bounds, or comments on current and former players from around the league.
Instead, fans are upset at what Harrison had to say about his own teammates.
Harrison said Ben Roethlisberger should, "…stop trying to act like Peyton Manning," and called Rashard Mendenhall a "fumbling machine." This is not good for locker room chemistry, nor is it good for the image of the Pittsburgh Steelers.
Are these words enough to trade or release Harrison? Only time will tell, but for now I will call this an overreaction.
Just a few months ago Mendenhall tweeted comments regarding 9/11 and Osama Bin Laden, which were met with backlash as well.
We heard cries to release Mendenhall not for anything illegal, but rather what he said. That blew over, and Harrison's case should too, albeit after possible fines and maybe even a suspension by the team.
Granted, Harrison bashing teammates and the NFL commissioner are completely inappropriate, but is it a real reason to release him?
Harrison has established himself as one of the best defenders in the game and would be immediately courted by other teams. There isn't one of the other 31 teams in the league that wouldn't want him on their defense, comments and all.
Last offseason, the Steelers traded Santonio Holmes, who was facing a suspension for violating the league's substance-abuse policy, and fans were upset that they could not get more than a fifth-round pick. Others were disappointed he was traded at all.
His production could have been useful at several points last season, including the Super Bowl.
The Steelers may be able to get a mid-round pick for Harrison, who is a much better player than Holmes.
It would be interesting to see how the fans who want him gone would react when he accumulates 12 sacks and eight forced fumbles for another team, while Jason Worilds learns how to play the position.
What happens with Harrison will happen, and that really isn't the point right here. The point is that the Steelers have a façade that they have a higher moral standing than other teams.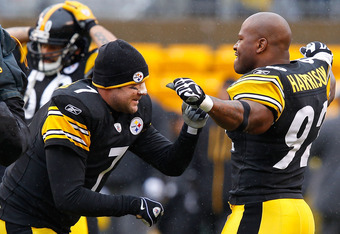 Jared Wickerham/Getty Images
The Steelers only draft character players and do not consider bringing in anyone with a rap sheet.
They do not bring anyone in with baggage because they already have enough of it going on with their own team, and more often than not they have stood behind those players.
Holmes was given many opportunities before the Steelers shipped him out. Roethlisberger has had two allegations of sexual assault, Mendenhall tweeted too much, Hines Ward was arrested on a drunken-driving charge and now Harrison runs his mouth—again.
How could the Steelers justify keeping Roethlisberger, who put more negative attention on the franchise than anyone ever has, and rid themselves of their star linebacker?
Last year I wrote the Steelers were sending mixed signals on standards. Art Rooney II and Mike Tomlin will be tested on those standards again.
One of Tomlin's famous quotes is, "The standard is the standard."
It was the theme for the 2010 highlight video. It also brings into question, what is the organizational standard?
"If we can win without you, and you put a black-eye on the franchise, see ya! But if you're an integral part to winning championships and putting butts in seats, it's OK, it was all a misunderstanding."
If every time a player that did something to embarrass the team was released, the Steelers would be without a franchise quarterback. Gone would be their best pass-rusher, as well as their all-time receiving record-holder.
Even Polamalu called the NFL a "pansy league." Maybe that was OK because he's so polite and talks softly.
Where is the line? I don't know, but it sure appears to be with winning and losing.
Regardless, the Steelers are not above any team in the league. When it was suggested last year that Pittsburgh could sign Michael Vick or that it could be a destination for Plaxico Burress this year, there was a collective voice saying that the Steelers do not sign those types of players.
That is correct. They don't need to sign them because they already have a nice collection on their own team.
I am not going to advocate trading or releasing any of these players only to watch them go and have great success on another team. What does that really accomplish? They still get to play, and they still collect a big paycheck.
But what does need to be done is that Rooney and Tomlin need to have a team meeting once the lockout is over and set some clear guidelines on what they expect.
However it has to be accomplished, it must be done.
The standard is the standard.
Follow me on Twitter.