Plaxico Burress' Only Chance of Redemption Is with New York Giants
July 13, 2011
Donald Miralle/Getty Images
Plaxico Burress is now a free man and a free agent. The former New York Giant and Pittsburgh Steeler wide receiver is eligible to sign with any team of his choosing.
Burress, who was released from prison in June, has not played in the NFL for the past two seasons after illegally carrying an unlicensed firearm in a Manhattan nightclub. Plaxico's punishment was very severe. He let down his New York Giant teammates in the latter half of the season with his off-the-field distractions. Plaxico was also suspended for the remaining 2008 season following the crime in the nightclub.
The Giants released Plaxico Burress from his contract in April 2009 before the wide receiver pleaded guilty on the charges. Plaxico received two years for his crime, which resulted in him missing two NFL seasons, the birth of his second child, his family and friends.
Now it seems that Plaxico is looking for redemption after his foolish act in the Manhattan nightclub that night of November 2008. The question is not over which team is the best fit for Burress, but which team can aid him in seeking the redemption he is looking for?
Over the past month, the big talk with Plaxico has been speculation over which team he will end up on ever since he was released from prison. Fans and sports articles/networks everywhere took his appearance out of line, suggesting that the Philadelphia Phillies hat that Plaxico Burress was wearing the day of his release could indicate that Plaxico will go join Michael Vick in Philadelphia with the Eagles.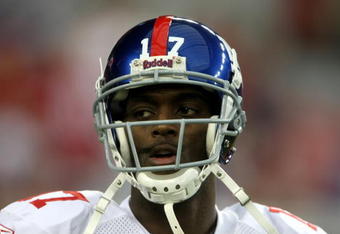 Stephen Dunn/Getty Images
Plaxico has not mentioned his previous team, the New York Football Giants, as much as New York fans had hoped. The only mention of his previous team was regarding the visits he received from former and current New York Giants athletes while he was in prison. Burress did, however, mention his relationship with Giants head coach Tom Coughlin. The words were neither comforting nor unpleasant towards New York Giants fans. However, it seems that Plaxico has not ruled out a return to the Giants, but has little confidence that it will occur.
Plaxico has mentioned teams of interest that intrigue him to restart his NFL career. He has mentioned the Houston Texans, the Chicago Bears, the New York Jets and the Philadelphia Eagles. Even Pittsburgh Steelers quarterback Ben Roethlisberger has shown interest toward his former wide receiver teammate.
All of the teams seem very reasonable choices for Plaxico Burress, however the only way to fully redeem himself is to return to the team he's hurt for the past two years with his troubles. If Plaxico wants to earn forgiveness and redeem the acts he committed two years ago, then his best bet is to return to Eli Manning and the New York Football Giants.
Fans have argued that the Giants should move on without Burress and place future faith in receivers Hakeem Nicks, Mario Manningham and possibly Steve Smith. However, since it was Burress who jeopardized his NFL career with the Giants, it only seems fitting that the Giants welcome Burress back.
Ever since the Giants released Burress and have gone two seasons without him, they have failed to make the playoffs or defeat the Philadelphia Eagles and increased Eli Manning's interception rate. Can all these things be blamed on Burress? No, but his return could spark an improvement on a few of these matters.
There are good things to come if Burress returns to the Giants, but there are also a few not-so-fortunate things for the Giants. 
The Good
With Burress back with the Giants, the team will have their old friend back. And let's face it: A team works better with the more friends they have. A few Giants players, such as Brandon Jacobs and Justin Tuck, have expressed their concern and believe Burress should return to Big Blue. But will it happen is another matter. Despite Jacob's wish for a Burress reunion, the reality seems unlikely to him at the time.
Eli Manning will have another wide receiver with speed, agility and in addition, height. Plaxico was Manning's favorite target while Burress wore the No. 17 jersey. And with the addition of Hakeem Nicks and Mario Manningham, it gives Eli not two possible strong targets, but three (four if you count either one of his tight ends, Kevin Boss or Travis Beckham).
Burress has given the Eagles a run for their money. Need more proof? Just watch the last three games Burress played with the Giants against the Eagles before his misfortune. Two of the games are from the 2007 season, and the first game was against in the 2008 season.
Plaxico has been a 6'5" wideout for eight NFL seasons, and with the 6'6" Ramses Barden, Plaxico may be able to mentor the upcoming wide receiver.
Plaxico's relationship with the players has been a very good one, especially with Brandon Jacobs and Eli Manning.
If Plaxico joins the Eagles, it will make Philadelphia look like a recruiting center for ex-convicts. And Philadelphia may have a stable quarterback, but they also have stable wide receivers—so from the looks of it, they don't need any more help in those areas. The Giants, on the other hand, could use an extra boost.
Unfortunately, there are some downsides for the Giants if they decide to go Round 2 with the former star wideout. 
The Bad
If the Giants do decide to take another chance on Burress, the likelihood of Steve Smith (from USC) returning to the Big Blue will diminish. In fact, if Burress returns, New York's No. 1 team (the Giants) will have to make some crucial decisions regarding their wide receiving corp.
Unfortunately, this may include the departure of some key players like Derek Hagan, Michael Clayton, Devin Thomas and Darius Reynaud, and fans can only speculate what will happen to rookies Duke Calhoun and Victor Cruz. The only sure fact is that the only receivers staying put are Hakeem Nicks, Mario Manningham, Ramses Barden and drafted rookie Jerrel Jernigan (who may be used for special teams work for right now).
And then there's Tom Coughlin. Every New York Giant fan either hates or loves Tom Coughlin. Although Coughlin did bring one championship to the Giants organization, his relationship with Burress is really not a bad one, but it's not a good one either.
However, there are two ways to look at this conflict. Either Burress needs to be a big man and deal with Coughlin like the rest of the team does, or the Giants organization needs to do what most fans think they should have done last year, and send Coughlin packing. But as of right now, if Coughlin is around, the chances of Burress returning are not good.
Finally, Burress' age is of concern, and while it's optimistic that the wide receiver appears in perfect health, his two-year absence could suggest he's a little rusty. Burress will turn 34 in August, and as all sports fans know, football takes a lot more out of an athlete than baseball does.
There are a lot of factors to put into play here when it comes to any team adding Plaxico Burress to their roster. But in the end, it all depends on the front office. Where Plaxico goes is his decision. However, this is not to be all focused on Burress' interest; this also must be the concern of the New York Giants front office.
As stated before, there are a lot of ups and downs when it comes to signing one single outstanding wide receiver. But if the Giants do not make a move on Burress, it may end up hurting them in the long run. All I can say for the Giants is they better pray Burress does not sign with Philadelphia or the rivalry with the Giants and the Eagles will become more hostile than before.