Atlanta Braves: 5 Ways They Can Make a Splash at the Trade Deadline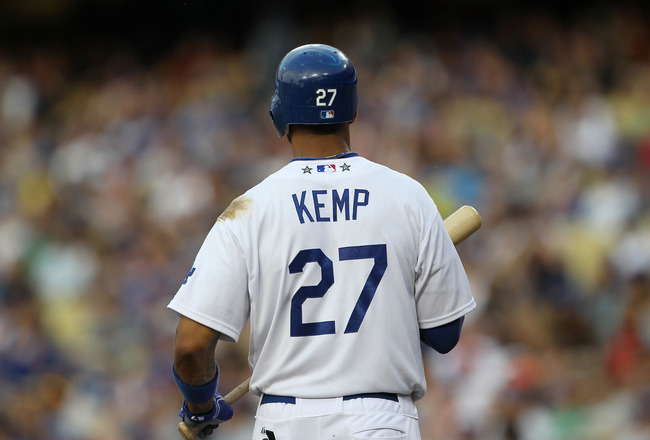 Stephen Dunn/Getty Images
At the All-Star break, the Braves are 3.5 games out of first place.
Fans are beginning to worry about the team's struggling offense and wondering if it will ever improve.
It is very necessary that their offense does improve so they can continue to compete with the Phillies.
The most definite way of doing this would be to make a trade, and it just so happens that the Braves possess ideal trade bait.
And instead of making a slight, temporary improvement that won't provide much reassurance, my suggestion to the Braves is to go all out and make a splash on the trade market.
In this article, I will explain five ways they can achieve this.
Trade for Hunter Pence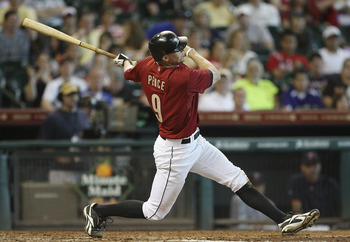 Bob Levey/Getty Images
Hunter Pence, a Houston Astros outfielder, would definitely be a solution to the Braves offensive difficulties.
He is hitting .323, the third best in the National League.
His OBP is .364, which would make him a valuable lead-off hitter.
He has 11 HR, and his 60 RBI are more than anyone currently on the Braves roster.
The Braves could acquire him through a trade involving multiple prospects, such as Mike Minor, Randall Delgado and Arodys Vizcaino.
If the Braves were to trade for Hunter Pence, it would make a splash and raise their chances of taking over in the NL East.
Trade for Michael Bourn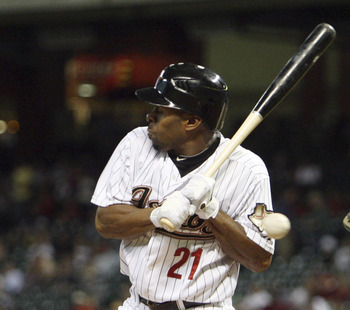 Bob Levey/Getty Images
A second trade option for the Braves is Michael Bourn, yet another stellar Astros outfielder.
His batting average is .287, also very impressive.
He is not a power hitter, but he has a .354 OBP and a league-best 35 stolen bases, which is ideal for the lead-off hitter the Braves currently lack.
While his contributions to the Braves would not likely be quite as helpful as Pence's, he would take less to acquire.
He would probably require a few lesser prospects, such as Jordan Schafer and Christian Bethancourt.
Keeping this in mind, Bourn would still be extremely useful to the Braves offense and could assist them in their division race.
Trade for Matt Kemp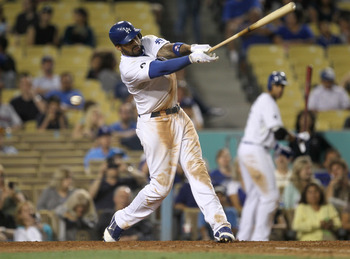 Stephen Dunn/Getty Images
The greatest improvement the Braves could manage would be to add Matt Kemp to their starting lineup.
His bat would be ideal to the Braves offense: .313 batting average, .398 OBP, 22 HR, and 67 RBI.
However, while his offensive contributions would be of great worth to the Braves, the drawbacks to this trade may be too much to risk.
If the Braves were to make a deal for Matt Kemp, they would be forced to trade away top players such as Julio Teheran and Jair Jurrjens.
For these reasons, I recommend the Braves avoid such a trade.
Although, if they do acquire Matt Kemp, he would definitely be an immense improvement over the production currently being received from the Braves outfielders.
Trade Away Nate McLouth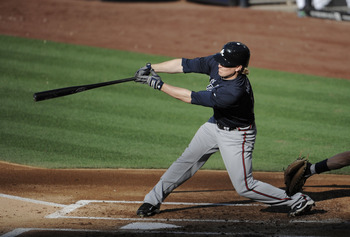 Denis Poroy/Getty Images
While a trade such as this could go nearly unnoticed by the majority of baseball fans, it would be greatly celebrated by Braves fans.
Nate McLouth is, by far, the Braves worst player, and his at-bats rarely consist of much more than outs.
He has become progressively worse this season, and his batting average has now dropped to a lowly .225, and .179 for the month.
His only advantage is his .345 OBP, which still isn't very impressive.
However, there are teams desperate for offense, teams such as the Mariners and the Indians, who would accept even the offense of McLouth on their team.
And though it is still very unlikely, I am hoping for the Braves to find a way to shake McLouth from their lineup.
Trade Away Jair Jurrjens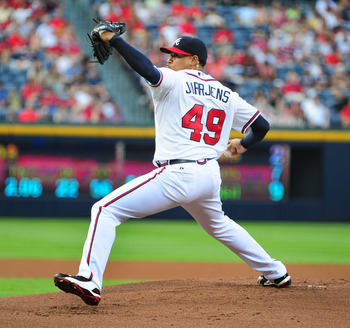 Scott Cunningham/Getty Images
Although I am entirely against any trade involving Jair Jurrjens, it would definitely make a splash in the trade market.
The reason the Braves may consider trading Jair Jurrjens is that he currently has a very high value which could, apparently, eventually lessen.
Arguments against his being the "real deal" are based on his high FIP, and his low BABIP.
My counter-arguments are based on his skilled fielders, and his amazing 2009 season.
I am thoroughly convinced Jurrjens is for real and is not to be traded.
Trading him away may be considered because of the offense it could bring back; however, losing Jurrjens would not be advisable.
Keep Reading

Atlanta Braves: Like this team?