MLB Predictions: Jose Bautista's Home Runs and 12 Second-Half Forecasts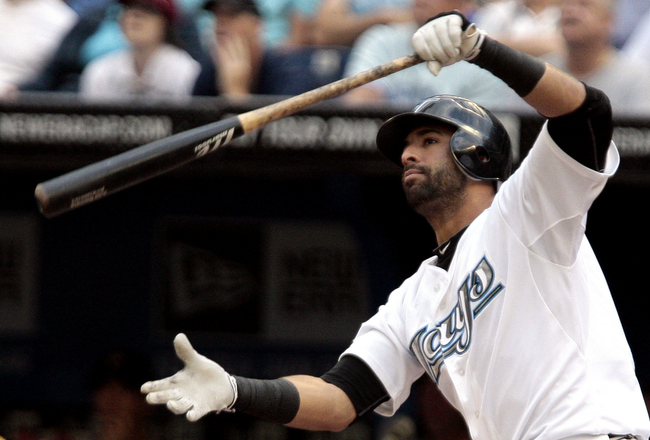 Abelimages/Getty Images
The MLB All-Star break has come and gone. The players either got a few days rest or a fun All-Star experience in Phoenix. Either way, the second-half stretch run is about to commence, and the time to look ahead with some predictions has come.
Many simultaneous storylines run throughout the baseball universe right now. Statistical benchmarks, awards and division championships are up for grabs as the dog days of summer give way to the crisp autumn nights of baseball immortality in October.
At risk of getting ahead of ourselves, let's reset some of baseball's most compelling stories that are sure to heat up with the summer temperature and make some predictions about how they'll play out.
Alex Rodriguez Will Slump Upon Returning from Knee Surgery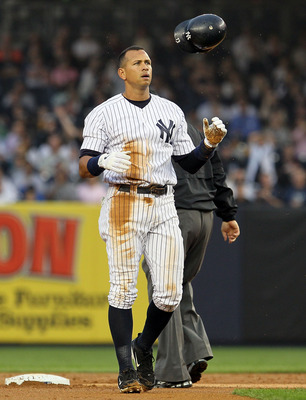 Jim McIsaac/Getty Images
There's nothing in Alex Rodriguez's career second half splits to suggest that he'll hit poorly in August and September, but Father Time is starting to catch up to the three-time AL Most Valuable Player.
A-Rod had surgery on a partially torn meniscus on Monday instead of opting to tough it out for the rest of the season. His expected return lands around mid-August, giving him about 45 games to get right for the start of the playoffs.
A midseason knee surgery, no matter how minor, is still a big cause for concern. The injury itself might be healed by the operation, but lingering pain and slow recovery will likely keep A-Rod from hitting at full capacity for the rest of the season.
It would be hard for a young, vigorous player to recover fully from an in-season knee operation. How much harder for a soon-to-be 36-year-old who has been on the disabled list with a lower body injury now four years running?
The Yankees' reliance on A-Rod's bat has decreased over the last couple years with the arrivals of Mark Teixeira and Curtis Granderson and the ascent of Robinson Cano. A-Rod remains a very productive hitter, but he's no longer the focal point of the New York offense.
Because of this and due to his knee surgery, I expect to see a down tick in production over his abbreviated second half.
Jose Bautista Will Eclipse 50 Home Runs for the Second Straight Year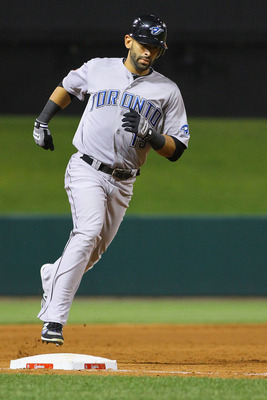 Dilip Vishwanat/Getty Images
Watching Blue Jay Jose Bautista trot around the basepaths has become a familiar sight. The 3B/OF sits at 31 first-half HR in just 299 at-bats, for an astounding rate of one home run every 9.6 at-bats.
To put that number in perspective, his AB/HR rate during last year's 54 HR campaign was 10.5.
Just 18 months ago, Bautista was a journeyman who averaged 14 HR and his just .242 from 2006-2009. The tide turned instantly for a 29-year-old platoon player last year during his unfathomable season for the ages.
No advanced metric, talent evaluator, magic eight-ball, crystal ball or psychic could have indicated what Bautista was about to do in 2010.
In such a short time, Bautista has gone from baseball nobody to the most popular player in the league, even setting a record for All-Star votes this season.
He has clubbed 85 HR in his last 245 games and to top it off, rounded out his game by posting a ridiculous .334 AVG to date in 2011.
Honestly, who could have predicted the level of statistical prominence and baseball fame that Bautista would achieve in a season-and-a-half?
He is an insult to the Law of Averages as it applies to baseball, sabermetricians and talent scouts who couldn't have seen him coming and every preconceived notion that we as baseball fans had of a conventional career trajectory.
He flies in the face of everything we thought to be true of baseball individuals as he shockingly adds new aspects to his repertoire at alarming rapidity.
There are few superlatives left to describe Jose Bautista's last season-and-a-half on the baseball diamond, and I've certainly tried to give a framework for what he's done over that time.
The time to look back has gone, and it's time to look for an expectation for the remainder of 2011. My prediction is that Bautista, despite a stretch of 23 games with just one HR in May and June, will ascend the 50 HR plateau with ease for the second straight year.
He has 19 HR to go and 70 games to do it. A conservative estimate of three at-bats per game gives him roughly 210 chances to get those 19.
He only needs to hit one home run every 11.05 trips to the plate to break 50, which seems like a walk in the park for Bautista, given his current rate.
Jose Reyes Will Be a New York Met Come Aug. 1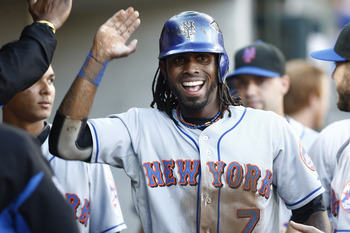 John Grieshop/Getty Images
There is a lot to smile and high-five about for Mets' SS Jose Reyes this season.
Despite his current DL stint for an injured right hamstring, Reyes is in the middle of a hot streak like none he's ever experienced. The 28-year-old is having a career year as his contract is expiring, with a .354 AVG, 65 R, 30 SB and 15 triples.
The steal total equals his mark from last season in just 80 games, which signals the return of his signature fleet feet, the likes of which haven't been seen since 2008.
Reyes has been the object of persistent trade rumors since the beginning of this season. The Mets, saddled with bloated contracts, have long been thought ill-equipped to make a long-term offer to a player of Reyes' caliber coming off a career year.
That doubt still remains, but it seems more and more unlikely that the Mets will move Reyes before the July 31 trade deadline, according to Joel Sherman of the New York Post.
Sherman wrote last week that New York GM Sandy Alderson is closer to signing off on a huge extension for his injury-prone star than he is to trading him this season.
The fact that the chances of a Reyes trade, however large or small, are decreasing at this point shows just how unlikely it is that he'll be anywhere but in a Met uniform on Aug. 1.
Whether the Mets move to shed other high salaries remains to be seen, but it looks like Reyes' most value to the team at this point is, well, on the team.
Pirates' Surprise Rotation Collapses, Taking Playoff Hopes Down With It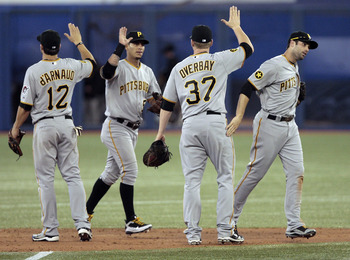 Abelimages/Getty Images
The Pittsburgh Pirates are, without doubt, the feel-good story of the first half of the season. No Pirates team has held a winning record this deep into the season since the early 1990s, the last time the franchise was competitive.
So what's the secret to success for a virtually the same roster as the one that went 57-105 in 2010?
A surprisingly strong rotation and an airtight bullpen. Pirate starters deserve a ton of credit for the team's rise this year, achieving the eighth-best team ERA in all of baseball.
Jeff Karstens and Paul Maholm have been brilliant, Kevin Correia and Charlie Morton have held their own and James McDonald has been sporadicly impressive. All together, the group has surpassed all expectations to remain just one game out of the NL Central driver's seat.
The bullpen has equaled or bettered the rotation. All-Star closer Joel Hanrahan has been perfect over 26 save attempts and boasts a microscopic 1.34 ERA. Jose Veras looks to have found a home at PNC Park after journeying to three other teams and has a 2.61 ERA.
The Bucs already had a great bullpen, with a 3.30 ERA as a group last year. They've gone above and beyond that this year, with a stout 2.47 mark this year.
A lot of those numbers, many will claim, are the product of extremely hot play and are a lock to regress by the law of averages. For example, does anyone believe that Karstens (2.55) and Maholm (2.96) are of sub-3.00 ERA caliber?
Can Joel Hanrahan, he of the 4.04 career ERA and career best six saves, continue on the lofty course he's charted for himself thus far?
I answer no to both questions. The baseball season is a marathon, not a sprint, as the old cliche goes. The Pirates, no credit withheld, have played the season as a sprint so far. The roster is still deplorable at many positions, and the marked differential in year-to-year record is inflated.
Maholm, Karstens and Co. are about to enter uncharted territory: a meaningful pennant race with real stakes. Mix the pressure of expectation with a high innings toll and a pinch of burdensome offense, and the weight will be too much for the overachieving Pittsburgh rotation.
Momentum can carry a team for a period of time, but sooner or later, you always find out what a team is really equipped to handle.
My feeling is that the Pirates pitching staff isn't ready to compete with St. Louis and Milwaukee, and that it will succumb to the heat and pressure as the summer marches on.
The Only Notable Division Race in the American League Will Be in the West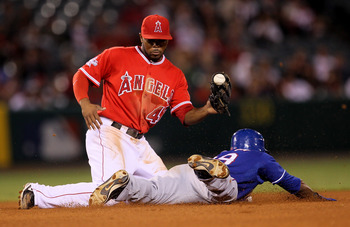 Stephen Dunn/Getty Images
Before we break down the AL West race, let's examine what the slide's title statement excludes as we roll a few predictions into one.
AL East: The Boston Red Sox will take all the drama out of the division race with the New York Yankees. They are finally playing consistent baseball, even with hardly any help from Carl Crawford, and are in the midst of liftoff with a six-game winning streak and one-game advantage on New York.
Boston has scored the most runs in the majors despite spotty production from Kevin Youkilis and Crawford. The fact that Jacoby Ellsbury, David Ortiz, Adrian Gonzalez and Dustin Pedroia are all having fantastic seasons concurrently should frighten all opponents.
If Crawford and Youkilis wake up, and the pitching staff is merely average the rest of the way, the Red Sox should have enough to win the East going away.
AL Central: The Detroit Tigers' seizure of the lead right before the break is foreshadowing of how the second half will play out in the Central.
They'll win this division for two reasons: Justin Verlander's brilliance is enough to stabilize an otherwise shaky rotation and dictate a division race, and the contenders (Indians and White Sox) are playing punchless and uninspired ball.
The Indians had their 15 minutes of fame with a fast start, but the honeymoon is over for the Tribe, who will be hard-pressed to beat out the veteran Tigers even though they trail by just a half-game at the break.
AL Wild Card: This one's easy. The Yankees and Red Sox are so vastly superior to the other 12 AL teams that whichever doesn't win the AL East will have the easy consolation of the wild-card berth.
There is no second place team that will even approach the loser of the AL East battle in competition for the Wild Card.
Now, to the topic at hand. The AL West is, to me, the only division that will truly be in doubt for most of the second half. The Texas Rangers feature a potent lineup, but their pitching is league-average at best. And really, it's hard to imagine their pitching getting any better than it's been so far.
Matt Harrison (who?) has spun an impressive 3.04 ERA in over 100 innings for 13 quality starts and seven wins and rookie sensation Alexi Ogando has been unhittable at times with a 2.92 ERA and nine wins.
Colby Lewis, C.J. Wilson and Derek Holland are pitching right around their ability level, so I'm not expecting much to change for those three.
The Angels are the Hyde to Texas' Jekyll. They rank near the bottom third in most offensive categories, but trot out a top-10 pitching staff in every category that matters. The rotation is especially strong with a one-two punch as good as any team's with Jered Weaver and Dan Haren.
Ervin Santana, Joel Piniero and Tyler Chatwood are about as good a 3-4-5 combo as any team could wish for.
The Rangers currently lead the streaking Angels by one game, and the winner will be decided by one battle: whichever of the Texas rotation or Anaheim lineup performs better in the final 10 weeks will win the division.
To me, it's that simple. The Ranger hitters and Angel pitchers are essentially a wash and will engage in quite a tussle over the remaining 13 head-to-head games they'll play.
Unlike the other AL division races, this one will be full of drama and could still be up for grabs when the Rangers arrive at Angel Stadium for a three-game set to end the season.
Hanley Ramirez Will Rise to Life and Lead the Marlins Into the Wild-Card Race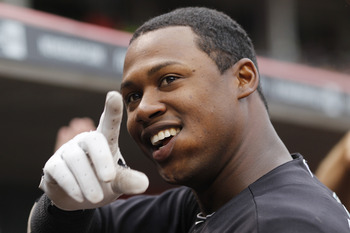 Joe Robbins/Getty Images
The first half of the 2011 season has Marlins' star SS Hanley Ramirez on track for the undisputed worst campaign of his six-year career.
Ramirez, the 27-year-old cornerstone of the Marlins, has been dreadful at the plate, in the field and in the clubhouse.
His immense struggles at the plate, where he's hitting just .242 with eight homers and 37 RBI, are equaled by his 13 errors and career-low .952 fielding percentage and frequent clubhouse disruptions.
His troubles on and off the field have become this season's most compelling exhibit of the classic chicken or the egg. Is he unhappy and angry because he's playing poorly or the other way around? Your guess is as good as mine.
All I know is that baseball is a game of averages. Great players who have a sustained track record of elite production don't fall off the grid at 27 years old without explanation. Ramirez averages 28 HR, 83 RBI, 118 R, 41 SB and a .307 AVG for his five completed seasons.
He is way off each and every one of those paces, and unless we find out that he kept a major injury under wraps all year or that his wife cheated on him and filed for divorce, he will do what it takes to approximate his career averages by year's end.
One of those scenarios will play out, otherwise we will have one of the most curious season-to-season statistical nosedives in MLB history.
He's already started melting the ice off his first half with a torrid July pace. In 10 games this month, Ramirez is batting .382 with a .500 on-base clip. His three HR and 13 RBI represent large proportions of his season's total.
Not surprisingly, the Marlins have followed their leader, playing 7-3 ball for the month and winning five straight going into the All-Star break. The team currently stands at 43-48 and 14 games out of the NL East lead, which doesn't lend much room for second half optimism.
However, it's been a tale of two first halves for the fish. Just six weeks ago on May 28, they were a season-high 10 games over .500 at 30-20. Since that day, they dropped an abominable 28 out of 41 games, including 19 out of their first 20 games in June and an overall month record of 5-23.
The current landscape is bleak for the Marlins' playoff chances. However, they and their star have nowhere to go but up from the NL East basement, and they've already shown they are competitive this year by pacing the division for nearly two months to start the season.
Lots of baseball remains to be played. With Hanley Ramirez heating up, the team could be poised for a second-half surge toward the NL Wild Card.
Jose Bautista, Not Adrian Gonzalez, Will Challenge for AL Triple Crown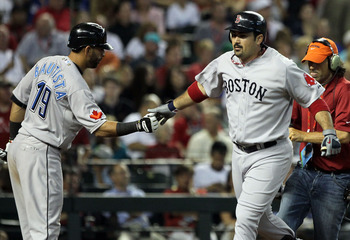 Jeff Gross/Getty Images
Conventional wisdom has Boston slugger Adrian Gonzalez as the favorite, if there is one, to win the AL Triple Crown. He leads the league in batting at .354 and 77 RBI at the break but has belted just 17 HR.
The batting and RBI paces are sustainable, but the 14 home run deficit that he faces is almost certainly too much to overcome to win the Triple Crown.
The man who leads that home run race, Toronto masher Jose Bautista, is a much more likely candidate for the Triple Crown despite leading only one category of the three.
The reason is that the deficits in those categories, RBI and batting, are surmountable, and the nature of those categories is such that a player can make up ground quicker than in home runs.
Bautista leads the home run race by six over Mark Teixeira, and I'd be shocked of Bautista slumped so much as to relinquish that lead. He trails Gonzalez by 12 RBI and two-hundredths of a point, both reasonably overcome over a 70-game span.
While both Bautista and Gonzalez couldn't really be hitting any better than they are now, there is reason to believe that Bautista might outproduce A-Gon in the second half. That reason is that Boston's surrounding hitters have given Gonzalez a ton of help, either by protecting his batting average or getting on base for him to drive home.
Bautista's Toronto teammates are not nearly on par with Boston at the plate, and if they rise up in the second half, Bautista could get more protection and more run-scoring opportunities.
It's great that we're able to even have a conversation about a possible Triple Crown, because that doesn't happen very often. The fact that two guys, in direct competition with each other, have a passable shot at achieving it is an absolute treat.
Look for Bautista, not Gonzalez, to be the serious threat to win the thing.
Only 4 Teams Will Reach 90 Wins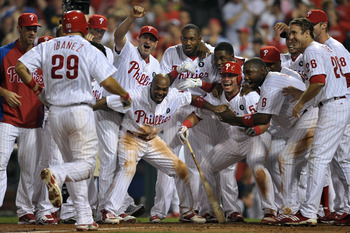 Drew Hallowell/Getty Images
Parity has been the theme of MLB's competitive balance over the last few years. All one must do verify that fact is examine the list of World Series winners since 2001:
In the last 10 seasons, nine different teams have won the World Series, with only the Red Sox winning twice in that span. Among the winners are the Florida Marlins, Arizona Diamondbacks and San Francisco Giants, three teams that went worst to first or first to worst during those 10 years.
The main point is how baseball, though inherently favorable to big market teams with deep pockets, fosters a competitive balance unrivaled in American pro sports. Either that, or its current playoff and schedule structure empowers the unexpected.
This season's standings reflect this trend even further. Sixteen of 30 teams have a winning record, and no team has a win percentage higher than Philadelphia's .626 or lower than Houston's .326.
Nearly half the league's teams, 14, are within five games of leading their respective divisions, displaying a competitive equality not seen in many years until last season.
Only a few teams are on comfortable pace to reach 90 wins, and four of them will directly compete with one of the others within their divisions. The Yankees and Red Sox will beat up on each other nine more times, while the Phillies and Braves do battle six times.
These are the only four teams strong enough and in position to accumulate 90 wins, in my opinion, with the Rangers, Angels, Tigers, Giants and Cardinals possessing varying bleak chances.
Reaching 100 wins has never been an easy thing to do, but is certainly attainable for any given strong team in any given year. It seems like parity is making that number obsolete and that the 90-95 win range is the new 100.
Parity is great for sports and anything relating to a free market, but it sure makes for a boring baseball season.
St. Louis Cardinals Emerge from NL Central Race as Champions
Stephen Dunn/Getty Images
Does Albert Pujols' expedited recovery from his broken wrist tell you anything about this guy's drive?
Pujols returned after missing just 15 games, beating the expected recovery time by two to four weeks. He did it because he senses the urgency of the NL Central race and his own contract situation.
For that reason, I'm picking the Cardinals to win this division even though the top four teams are separated by just four games.
A normally motivated Pujols is scary enough, but when he's hyper-motivated like he seems to be now, he transforms into The Machine at the plate.
If you're picking one player in the NL Central race who could single-handedly influence the outcome, you've got a handful of worthy candidates: reigning NL MVP Joey Votto in Cincinnati, Prince Fielder and Ryan Braun having career years in Milwaukee and Pujols threatened by the prospect of losing the division and missing the playoffs.
Place those players in the heat of a playoff race with the ability to dictate the outcome at the plate, who do you most trust?
Votto's having a great year, but can he beat out Pujols like he did for the MVP and division last year?
Fielder and Braun are playing possessed, but don't get any help aside from Rickie Weeks and Corey Hart. If one or both of them falters, that offense could flounder at the worst moment.
Pujols remains. He's healthy and healed, with a mini two-week vacation on top of it. The Cardinals were sustained by their pitching, who have the best rotation in the division going forward.
Pujols is backed by the best starters in the division (sorry, Pittsburgh) and the Matt Holliday-Lance Berkman combo hitting behind him.
There's no clarity right now, but look for the Cardinals' experience to assist them in separating from some surprising divisional upstarts.
Jered Weaver and Justin Verlander Will Have Only Sub-2.00 ERAs in over a Decade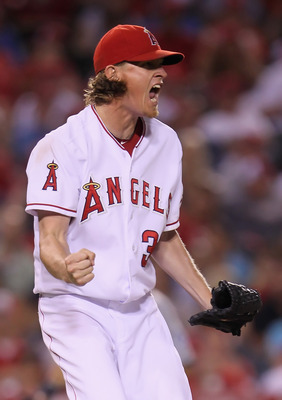 Jeff Gross/Getty Images
To date, Jered Weaver, at 1.86 ERA, and Justin Verlander, at 2.15, have been the best pitchers in the American League, with apologies to James Shields and Josh Beckett.
Weaver and Verlander have been at their best since the beginning of June and are poised to do something that no pitcher, aside from a juiced-up and perjured Roger Clemens, has done in 11 years: finish a season with a sub-2.00 ERA.
Check out what they've done since the start of June:
| | | | | | | |
| --- | --- | --- | --- | --- | --- | --- |
| | IP | W/L | K | BAA | ERA | WHIP |
| Jered Weaver | 54.2 | 4-0 | 43 | ~.185 | 1.49 | 0.87 |
| Justin Verlander | 64.1 | 7-1 | 71 | ~.180 | 0.84 | 0.78 |
Those gaudy numbers certainly represent pitchers who are pitching at unsustainable heights, but how much of a regression should we expect from them?
Some, to be sure, but I don't suspect much. The reason why is that both are control pitchers who strike out a lot of batters and don't allow many baserunners. Verlander leads MLB in strikeouts, while Weaver sits 11th.
They are first and second in WHIP, which is an indicator of how many runners are allowed in proportion to innings pitched, in which they are both ranked top six.
I could continue to spout off statistics to support my claim, but the fact is that these are two workhorses pitching at their absolute best in the midst of division races. Their teams haven't exhausted their dependence on them this year, and they'll have to continue what they're doing on the mound for their teams to make the playoffs.
They have their work cut out for them, and I think a pair of late-20s starters are primed to do something that no one has done since Pedro Martinez in 2000.
Note: you might think the absence of Jair Jurrjens was a mistake in this slide, given his current 1.87 ERA. You might be upset at his exclusion from contention for a sub-2.00 ERA.
In response to that, I'd urge you to check your head and remember that HE'S JAIR JURRJENS. If he pulls off a sub-2.00 ERA, shame on me.
Phillies, Yankees, Red Sox, Cardinals and Giants Headline Terrific Playoff Slate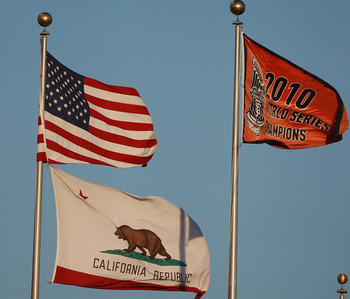 Jed Jacobsohn/Getty Images
Barring a couple unforeseen collapses, the 2011 MLB Playoffs are shaping up to be one of the most star-studded and competitive we've seen in a couple years.
The Phillies, Yankees, Red Sox, Braves, Giants, Rangers and Tigers would qualify for October baseball if the season ended today. The Brewers and Cardinals would be fighting out a one-game playoff to break their tie.
That is a playoff lineup full of heavy hitters and includes all the best teams in baseball. I've explained my reasoning for a few of my predicted playoff berths, but for the division races I haven't covered, here are my predictions in full.
AL East: Boston Red Sox
AL Central: Detroit Tigers
AL West: Texas Rangers
The LA Angels are playing their best ball right now and have quite possibly turned the corner on an amazingly mediocre first half. Dominant pitching is in place, but the lineup has serious weaknesses.
Barring a deadline trade for a power/average hitter like Aramis Ramirez, I don't think they'll overtake the Rangers.
(That's coming from a diehard Angel fan and season-ticket holder. How's that for objective?)
AL Wild Card: New York Yankees
NL East: Philadelphia Phillies
The most complete team in the NL, and likely all of baseball, hands down. The starting rotation of Roy Halladay, Cliff Lee, Cole Hamels and a healthy Roy Oswalt is far and away the best in the majors and will be the primary reason for all the success Philly has.
The lineup is potent, but looks very average at times, and can be shut down by a strong pitching effort from the opponent. If the Phillies avoid overlapping bad offensive nights and pitching letdowns, they should be the prohibitive favorite to win the NL pennant.
NL Central: St. Louis Cardinals
NL West: San Francisco Giants
In a crummy division, the Giants are the best team. The defending World Champions have many flaws offensively and in the field, but the pitching is stellar. Throughout last year's magical playoff run and this year's first half, the Giants have gained a reputation as a clutch and timely hitting bunch.
As long as they continue to do that, the rotation of Tim Lincecum, Matt Cain, Madison Bumgarner, Ryan Vogelsong, Barry Zito and Jonathan Sanchez should lead this team to a division title.
NL Wild Card: Atlanta Braves
The Braves boast a top-three pitching staff in most categories and with an improving offense, are looking like contenders. They're likely the NL's second best team, but are destined for the Wild Card because the top team happens to play in their division.
With Martin Prado returning from a staph infection and rookie stud Freddie Freeman, Dan Uggla and Brian McCann heating up, the question mark that is the offense is beginning to look like a strength.
How Will October Play Out?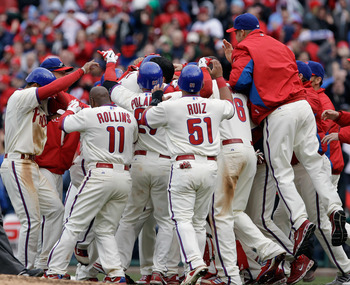 Rob Carr/Getty Images
American League Division Series: Boston defeats Detroit, New York defeats Texas
National League Division Series: Philadelphia defeats St. Louis, San Francisco defeats Atlanta
American League Championship Series: Boston Red Sox vs. New York Yankees
The Yankees meet Boston to renew their bad playoff blood. The Yankees will forever taste the sourness left in their mouths from the 2004 collapse against Boston that enabled the Red Sox to win their first World Series in 300 years.
By mid-October, both lineups will be mashing the ball and won't produce any advantage. The mound is where this battle will be won.
The patchwork Yankee rotation has been surprising, led by the resurrections of Freddy Garcia (seven wins, 3.13 ERA) and Bartolo Colon (six wins, 3.24 ERA). C.C. Sabathia has been brilliant, especially of late and is capable of anchoring this group deep into the playoffs, but he'll help.
The keys will A.J. Burnett and Phil Hughes, two guys that can hardly be trusted with a big game start. Those guys will probably get one start per series, and what they do with that one start could decide this series.
Boston's rotation hardly looks any better right now, and has been getting hammered by injury all season. Jon Lester has made a trip to the DL already, and the same goes for Josh Beckett and Clay Buchholz, who is currently stuck there.
Daisuke Matsuzaka is out for the year, and you never know which way Tim Wakefield's knuckleball will break, metaphorically speaking.
The Boston bullpen has been shaky as well, so they'll depend on the starters even more heavily. What was supposed to be the team's strength heading into the season has become its greatest point of anxiety.
Tito Francona's offense must keep its offensive pace in order to compensate for the pitching deficiencies as they currently are.
This series could be a barnburner with a lot of early exits for starters. In the end, I think the Red Sox are better built and have more depth for the October run.
If Buchholz comes back and pitches well, they have the three-headed starter combo that every championship contender needs. The Yankees don't really have that.
Boston defeats New York in seven games
National League Championship Series: Philadelphia Phillies vs. San Francisco Giants
This matchup favors Philly on the surface, but I don't think the advantages are so clear-cut. The Giants approach or surpass the Phillies in most prominent pitching categories and could certainly rival their best three-man rotation in a best-of-seven series.
Lincecum-Cain-Vogelsong/Bumgarner is just a notch below Halladay-Lee-Hamels right now, and the latter trio has been virtually unhittable.
This series comes down to the offenses. The Giants are a rather light-hitting bunch, so don't expect any scoring outbursts from them. The Phillies have a powerful lineup but, as stated before, are prone to the prolonged team slump.
Plus, they're hitting splits for night games are shockingly bad in comparison to their day game offense. If the Giant starters could induce one of those dizzying dry spells for Rollins, Victorino, Utley and Howard, the Giants might be able to take them.
They did it in the 2010 NLCS, why couldn't they do it again in 2011?
Philadelphia defeats San Francisco in six games.
World Series: Boston Red Sox vs. Philadelphia Phillies
This is the matchup of the two best, most complete, teams in baseball. Both reloaded with offseason acquisitions after dissatisfying finishes last season.
For Boston, a pair of All-Stars, Adrian Gonzalez and Carl Crawford came in to bolster an already-loaded lineup. For Philadelphia, it was the return of Cliff Lee to a pitching rotation that boasts an embarrassment of riches.
Both have definite kinks they are working out, Philly's hitting consistency and health issues and Boston's shallow rotation. Despite noticeable shortcomings, both teams are pacing their respective leagues and haven't visibly broken a sweat in so doing.
Barring a hot October underdog meddling in their plans, these should be the teams that meet in the Fall Classic.
This is the best pitching staff (Philly) pitted against the best lineup (Boston). Whichever one is better will win, I think it's that simple. You couldn't ask for a better matchup on the game's biggest stage.
I like the Phillies' pitching to carry them to their second championship in four years. There is still a lot of season left, but if Halladay, Lee and Hamels are pitching like this in the playoffs, it's lights out for everybody else.
They're simply too strong to be beaten four out of seven when those three start six of the games. Great pitching always beats great hitting, and while that hasn't always rang true, it should in the 2011 World Series.
Philadelphia defeats Boston in six games.
Keep Reading