NFL Free Agency: 3 Reasons Why Nnamdi Asomugha Isn't Worth It for the Eagles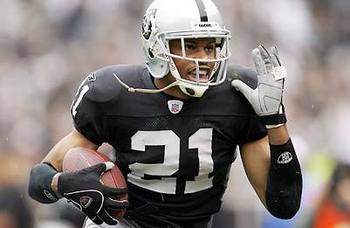 Contrarians not only serve as good tools for stimulating discussion, but they also serve importance in decision-making as well. It allows you to grasp the big picture and analyze a situation at a comprehensive 360-degree perspective.
Whether you are a General Manager of a professional football franchise, the CEO of a Fortune 500 corporation, or serve any other role that involves decision-making, one must look at not only the positives but also the negatives as well when assessing a situation.
There really isn't an argument as to whether Nnamdi Asomugha deserves to be labeled as one of the best cornerbacks in the game. Not to sound harsh, but anyone that disagrees is simply misinformed or has an agenda against Asomugha.
However, would he be a good fit for the Eagles if they were to decide to go after him? It would be hard to say no, but for the sake of it, let's assume the role of devil's advocate and engage in role-play as the vital position of contrarian.
There are two sides to everything, and the attractiveness that is naturally inherent in Nnamdi Asomugha as a free agent is no different. Let's take a look at three main reasons as to why Asomugha may not necessarily be worth it for the Eagles to sign.
1. Father Time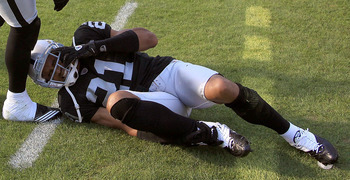 Asomugha literally hit the dreaded age that many fear in NFL circles when he celebrated his 30th birthday last week. It's not necessarily the same for all positions considering those such as quarterback and linemen still see success after turning 30.
However, cornerback is different considering it's one of the positions such as running back and wide receiver that is so predicated on your physical skill-set. Cutting, sprinting, jumping, swatting, physicality, and accelerating are all invaluable traits that a cornerback must have, but sadly deteriorate over time. As much as one would like to deny it, essentially every single player eventually hits a wall where they see a decline in their performance.
It will most likely be the same case with Asomugha, but the question is when? Keep in mind that he did miss two games last season due to injury. Perhaps he will still be able to play at a high level until he turns 35, however, if he hits that point now it would be very, very ominous for the Eagles.
And conceivably disastrous. Especially given reason number two.
2. Salary Demands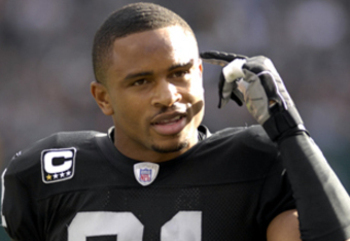 Something that goes hand in hand with the age concern is salary. If Asomugha does indeed hit that metaphorical wall next season, the Eagles will get little to no return on their steep investment. Exactly how exorbitant will the investment have to be to acquire Asomugha? The Raiders signed the all-pro to a deal that gave him approximately $15 million per year ($45.3 million over three years).
One would have to think that Nnamdi will be asking in the same ballpark as that number, if not more.
Now, the Eagles certainly don't have a problem opening up their checkbooks for players that they believe they need. They signed Asante Samuel to a record deal at the time for cornerbacks, they made Jason Peters the highest paid offensive lineman a year later, and they franchise tagged quarterback Michael Vick back in February which will pay him approximately $15 million next season.
But eventually, continuing to do this will end up taking a toll on you from a salary cap perspective. Especially when it comes to re-signing key components that currently exist on the team.
According to EaglesCap (which is a tremendous site for financial nuts like myself that are interested in seeing how much the players are currently making), the Eagles find themselves over $42 million under the salary cap. Asomugha alone would take up approximately one third of that chunk if they decided to cut him a check for the amount that he will be demanding.
Is it really necessary though? I personally don't think so and reason number three helps further support that.
3. Alternative Investments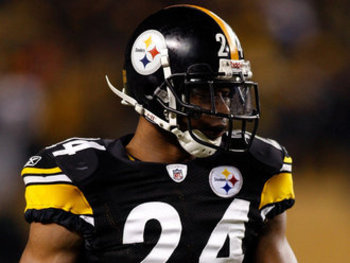 The cornerback free-agent market is very stout this year, and Asomugha isn't the only option in the litter that teams will have to pick from. Players like Ike Taylor, Jonathan Joseph, Brent Grimes and Antonio Cromartie are all legitimate alternatives.
Now, are any of them as good as Asomugha? Absolutely not, but they are more than serviceable given the role that they would serve with the Eagles, which is as a second cornerback behind Asante Samuel.
Personally, I would love to see the team go after Ike Taylor. I think he would bring physicality to a secondary that severely lacks it. Ike not only excels in his coverage skills, but he also contributes in stopping the run as well.
Taylor was a landmark contributor for the Steelers for eight seasons,and fit defensive coordinator Dick LeBeau's aggressive system perfectly. He would be a breath of fresh air compared to the more finesse corners such as Lito Sheppard and Asante Samuel that have inhabited the cornerback spot over the years in Philadelphia.
More than anything, Taylor's services could be had for more than half as much than what Asomugha would demand.
If Taylor does decide to stay with Pittsburgh, even younger alternatives such as Joseph, Grimes and Cromartie would make sense as well.
Keep Reading

Philadelphia Eagles: Like this team?